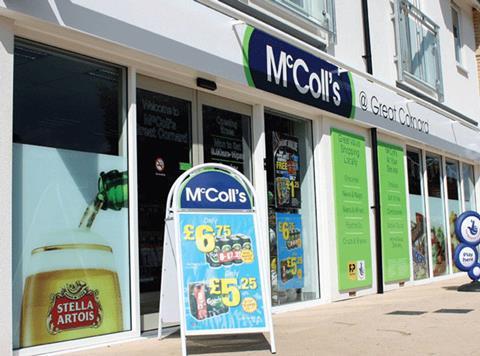 Top story
McColl's Retail Group (MCLS) has signed a deal with Morrisons (MRW) to supply grocery goods across its estate under the relaunched Safeway brand.
McColl's said this "long term partnership" would provide its 1,300 convenience stores and 250 newsagents with "best-in-class fresh food and grocery offer" through the relaunched Safeway brand, which it will stock exclusively for a period of 12 months.
McColl's said the deal will boost its fresh food credentials and provide its customers with an enhanced range.
The agreement also allows McColl's to improve its commercial terms and simplify its operations as it migrates to a single wholesale partner for the entire estate. The new partnership will replace all McColl's existing supply arrangements in time, most notable its supply agreement with Nisa.
Morrisons will supply both Safeway and branded products to McColl's, with a phased rollout programme starting in January 2018.
Jonathan Miller, Chief Executive of McColl's, said: "As a large, leading multiple grocery retailer with its own outstanding food manufacturing capability Morrisons stands apart from the competition, and we are truly delighted to be entering into partnership with them.
"In McColl's, Morrisons gain a long-term partner of significant scale with a growing neighbourhood convenience estate and in Morrisons we gain access to their best-in-class sourcing and manufacturing capabilities. This will enable us to provide our customers with the highest quality fresh food through the relaunch of the much loved and trusted Safeway brand. This is a defining moment for McColl's and builds on the transformational deal we announced last year to acquire 298 high quality convenience stores."
Morrisons CEO David Potts added: ""We are very pleased to partner with McColl's, and look forward to developing a long and successful relationship together. We are also pleased to be reviving the Safeway brand which we know customers will enjoy.
"This new partnership is a further example of Morrisons leveraging existing assets to access the UK's growing convenience food market in a capital light way. Wholesale supply will help make us a broader, stronger business."
Morrisons said the agreement will take its wholesale supply sales to more than £1bn in due course.
By the end of 2018, the supermarket expects total annualised wholesale sales to all our partners to be in excess of £700m (inc. tobacco) and that this new initiative to make an initial profit contribution in 2018/19, and increase thereafter.
Morrisons revealed it has been developing a new Safeway range since the end of 2016. It now comprises over 400 fresh, frozen and ambient food products, many of which are made in Morrisons food manufacturing sites.
The supermarket added: "The new wholesale supply initiative allows Morrisons to partner with a growing, centrally managed convenience retailer and helps McColl's on its journey towards developing a broader convenience food offer."
McColl's has jumped 7.4% in early trading to 247p, while Morrisons is up 0.6% to 242.4p.
Morning update
Greggs (GRG) has shrugged off mounting input cost pressures to post a first half rise in like-for-like sales and operating profits.
It said the business traded in line with plans during the first half of the year, with total sales for the 26 weeks to 1 July 2017 up by 7.3 per cent to £453m.
Like-for-like sales in company-managed shops were up by 3.4%.
The business said it experienced pressure from cost inflation, but despite this operating profit before property gains and exceptional items grew by 1.8% per cent to £27.6m. Underlying margin slipped back to 6.1% from 6.4% in the same period last year.
Pre-tax profit including all property profits and exceptional charges was £19.4m – down from £25.4m in the first half last year.
The group also incurred a one-off charge of £8.7m in the first half of the year as part of its £100m programme to reshape its manufacturing and distribution operations.
It continues to grow its estate, opening 61 new shops in the first half of 2017 (including 24 franchised units) and closing 19 shops, giving a total of 1,806 shops (of which 181 are franchise units) trading at 1 July 2017.
It updated 107 shops to its new food-on-the-go format in the first half of 2017. In order to maintain a steadier number per year it now plans to refurbish 130 shops in 2017 and a similar number in the following two years, before returning to the more recent run rate of 200-plus shops from 2020.
Greggs added it has made a "good start" to the second half of the year and that the strategic investments it is making will enable the business to continue delivering further profitable growth.
"In the short term we remain alert to pressures building on consumers' disposable income and the continuing economic uncertainty. Over the year as a whole we expect to deliver results in line with our previous expectations as well as further progress against our strategic plan."
CEO Roger Whiteside added: ""The business has traded in line with our plans during the first half of the year. We have made good progress with our strategic plans and remain confident of future prospects although we remain alert to short-term pressures on consumers' disposable income. Over the year as a whole we expect to deliver results in line with our previous expectations as well as further progress against our strategic plan."
Real Good Food (RGD) has announced a profits warning for the year to 31 March 2017, which will not be released until the end of August.
It said that during the audit process of its full year accounts, two substantial anticipated claims regarding its sugar purchase arrangements have not yet materialised meaning it will not meet its previously forecasted profit figures.
Additionally, certain development costs, which had previously been capitalised in its 2017 financial year, "should more appropriately have been expensed". This adjustment will reduce anticipated EBITDA to approximately £2m for the year.
Following the recent injection of expansion capital announced on 29 June 2017, the board has undertaken a full re-forecasting exercise for the year ending 31 March 2018. As the injection of expansion capital was agreed about three months later than anticipated this has resulted in some delay in the implementation of these projects, particularly at Renshaw. This, combined with slightly softer trading conditions in the first quarter, means EBITDA is now anticipated to be approximately £2.3 million lower than previously expected.
The company now expects to announce results for the year ended 31 March 2017 at the end of August 2017.
British American Tobacco (BATS) has this morning stated that the Serious Fraud Office has opened a formal investigation into allegations over paying bribes in East Africa.
BAT stated today that, as previously announced, it is investigating allegations of misconduct via external legal advisers. It said it has been co-operating with the Serious Fraud Office and it has now been informed that the SFO has now opened a formal investigation, which it intends to co-operate with.
On the markets this morning, British American Tobacco has dropped a further 2.7% back to 4,743p on this morning's news, Real Good Food has plunged by almost 40% back to 21p from 36p yesterday and Greggs is down 0.6% to 1,095p.
Aside from McColl's, risers include PayPoint (PAY) up 2.4% to 913.4p and PureCircle (PURE), up 1.2% to 365p.
Yesterday in the City
The FTSE 100 ended the day 0.1% up to 7,372pts as early day gains ebbed away somewhat in later trading.
Weekend accusations that the globe's big tobacco suppliers have been manipulating cigarette prices to negate taxes on smoking and an announcement from the US Food and Drug Administration (FDA) on plans to cut nicotine in cigarettes saw the share prices of the two FTSE 100 tobacco firms plunge yesterday.
British American Tobacco, now subject to an investigation by the SFO, dropped 5% back to 4,713.5p and Imperial Brands (IMB), plunged 5.9% to 3,120p.
Elsewhere, fallers included Greencore (GNC), down 1.6% to 223.8p, C&C Group (CCR), down 1.9% to €3.03, and Just Eat (JE), down 2.5% to 620.5p.
The day's risers included McColl's (MCLS), up 3.8% to 233.5p, PayPoint (PAY) 3.6% to 896p, Conviviality (CVR), up 2.4% to 384.8p, Hotel Chocolate (HOTC) up 2.3% to 317p, PZ Cussons (PZC), up 1.7% to 362.7p.
Heineken, which saw first-half sales increase by 5.7% to €10.5bn (£9.4bn) despite the delisting of its brands by Tesco holding back volume growth, ended the day down 0.2% down to €88.17.