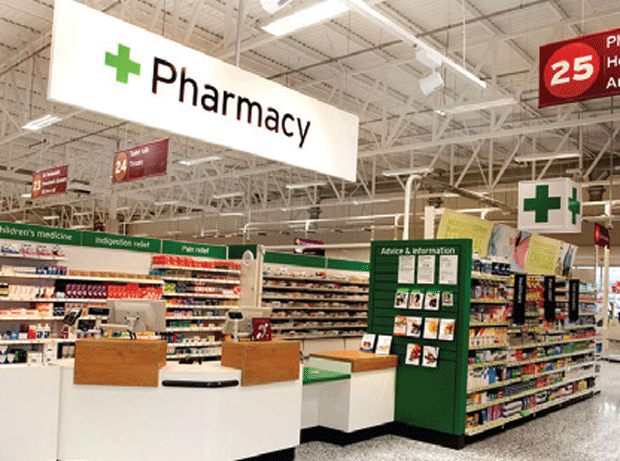 Top story
Sainsbury's (SBRY) sale of its pharmacy business is facing an in-depth investigation by the UK's monopoly watchdog.
Lloyds Pharmacy – and its owner Celesio – agreed to acquire 281 pharmacies from the supermarket back in July, including 277 in-store and four located in hospitals, to add to its own portfolio of 1,542 sites across the UK.
The Competition and Markets Authority's (CMA) initial investigation identified 78 local areas where customers could be affected by a loss of competition between Lloyds and Sainsbury's pharmacies.
The regulator added that in other local areas it had been unable to reach a "positive conclusion" on whether the merger would lessen competition.
"The majority of consumers in the UK need to use pharmacies at one time or another and they evidently provide an important service," said Sheldon Mills, CMA senior director of mergers and decision-maker in this case. "At a local level, pharmacies compete on a range of factors that are important to customers such as availability of medicines, waiting and opening times and the quality of advice.
" After the merger, Lloyds will no longer face competition in certain local areas from one of its rivals and following our initial investigation we are concerned that this might affect choice, quality and service for customers. We think a detailed investigation is needed to look at these concerns."
Morning update
AB InBev (ABI) has revealed plans to list on the Johannesburg Stock Exchange from mid-January next year. The Budweiser brewing, which is currently in the middle of finalising a £68bn merger with SABMiller (SAB), has received approval from the Financial Surveillance Department of the South African Reserve Bank and the JSE for the secondary listing of its shares. The group currently trades on the New York Stock Exchange. CEO Carlos Brito said: "We are pleased to announce our plans to establish a secondary inward listing of AB InBev on the JSE. The listing will provide us with access to the South African investor base and broaden participation in AB InBev's strong prospects for future growth. The secondary listing is also an important step towards our proposed combination with SABMiller, and signals our commitment to South Africa, and the African continent. We are excited about the prospects of making a significant investment in Africa, a region that will play a vital role in the future of AB InBev."
Morrisons (MRW) has appointed Greene King CEO Rooney Anand as non-executive director and as senior independent director, starting from 1 January 2016. Anand has worked at United Biscuits and Sara Lee, joining Greene King in 2001 as managing director of its brewery company. Morrisons chairman Andrew Higginson said: "Rooney had the vision at the start of the credit crunch to reinvent Greene King as a branded food based pub retailer. He is a widely admired and successful plc CEO. His experience in retail, in fmcg and in turning around the fortunes of a major retail business, will all be put to good use at Morrisons."
Animal food health business Benchmark has acquired fish nutrition manufacturer INVE Aquaculture for $342m (£227m). The Aim-listed group is planning to fund the majority of the $300m cash part of the deal through a placing to raise £186m. Benchmark said this morning that the deal would create a global leader in the aquaculture technology market, with the enlarged group serving customers in more than 70 countries across six continents. CEO Malcolm Pye added: "Since listing, Benchmark has a proven track record of successfully integrating acquisitions - as with SalmoBreed and StofnFiskur last year - and this deal underpins our future growth ambitions. The potential opportunities and synergies presented by INVE offer a step-up both in terms of the technology applied in our products, and the marketing and distribution network already present in some of the fastest-growing markets in the world."
Israeli-headquartered ingredients group Frutarom Industries has signed, through subsidiaries, agreements for the purchase of Austrian company Sagema, which owns 50% of Canadian subsidiary Wiberg Corporation and 51% of Turkish subsidiary Wiberg Baharat Sanayi Ve Ticaret Anonim Sirketi, as well as the purchase of 100% of the shares of the German company Wiberg for approximately $130.4m (£86.1m).
This week in the City
There is a dearth of scheduled market news in the final full week before Christmas. However, tomorrow brings the latest information on how the supermarkets have been faring in the past 12 weeks as Kantar Worldpanel and Nielsen release market share data.