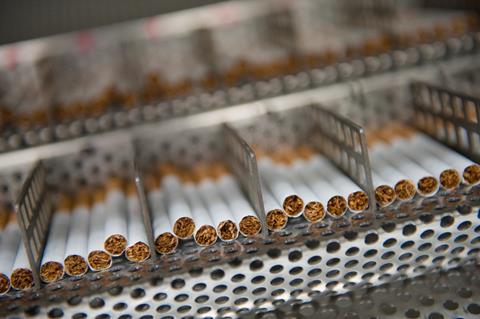 Top story
Revenues and profits have soared at British American Tobacco (BATS) as the cigarette giant completed its £41.8bn takeover of rival Reynolds and continued to take advantage of the growth of next generation products.
The completion of the acquisition of Reynolds, which makes the Newport and Camel brands, transformed BAT into the world's biggest tobacco company.
Sales in 2017 jumped 37.6% to £20.3bn as a result, with a 39.1% increase in operating profits to £6.5bn.
Stripping out the impact of the deal, the top line grew a more modest 6.5% to £15.7bn, with the business benefitting from a favourable currency exchange thanks to the weak pound – at constant rates sales were up 2.9%.
Adjusted operating profits rose 7.8% to £5.9bn at current rates and 3.7% at constant rates.
Next generation products (NGP), such as vapours, generated revenues of £397m for the group, helping drive top and bottom line growth – with the figure rising to £500m when including Reynolds.
BAT expected to double sales of NGPs to £1bn this year, rising to more than £5bn by 2022.
Since 2012, together with Reynolds, the group has invested approximately $2.5bn in the growth of the NGP business.
"Our investments are now coming to fruition and, recognising that not all consumers are the same, we now have an unrivalled range of exciting and innovative products across the potentially reduced-risk categories – including vapour, THPs, oral tobacco, tobacco-free nicotine pouches and moist snuff," CEO Nicandro Durante said.
"With the increased size and scale coming from Reynolds, we are clear leaders in the potentially reduced-risk product space and we are confident of leading the NGP category."
Volume of cigarettes and tobacco heating products (THP) grew by 3.2% in the year, driven by the acquisition of Reynolds, but fell on an organic basis by 2.6%. BAT the volume decline outperformed the market, which fell back by an estimated 3.5%.
The group's cigarette market share grew 40 basis points, driven by the global drive brand (GDB) portfolio, including Dunhill, Kent and Lucky Strike, with volume up 7.6% on an organic basis with market share up, excluding the US, by 110 bps.
BAT chairman Richard Burrows added: "The transformational deal to acquire Reynolds marked a record year in 2017.
"The group continued to deliver on its commitment to high single figure constant currency earnings growth, substantially reinforced the long-term sustainability of that growth with the largest acquisition of a tobacco company ever completed and achieved significant success in its next generation products business.
"This is an exciting time for the group and the board has confidence in the group's ability to continue delivering sustainable growth in the years to come."
Shares in BAT fell by 4.2% to 4264.5p as markets opened as the City was potentially spooked by the decline in volume in the year.
Morning update
Profits have slumped at private label group McBride (MCB) as inflationary pressure in its personal care & aerosols (PCA) business saw the division slump to a trading loss.
Revenues in the six months to 31 December 2017 increased 2.2% to £368.4m, aided by the translation effect of a strong euro and the acquisition of Danlind during the period. However, on an underlying basis, sales were lower by £17.6m (4.7%), with household sales falling 3.4% and PCA by 9.7%.
Operating profits dived 70% to £6.7m and pre-tax profits slumped 79% to £4m during the half.
The group said it remained confident in the development of its strategy and that it was "particularly well placed" in light of its recent success in securing a number of significant business wins as a result of competitor weakness.
"As a consequence the group's household activities are progressing well and are expected to deliver significant growth in the second half," McBride added.
"The PCA business has seen disproportionate impact from inflationary pressures and market dynamics resulting in trading losses. The group expects to shortly launch an accelerated transformation plan to return the division to break even within 18 months."
CEO Rik De Vos said: "Our outlook for the current year remains unchanged from our trading update in January.
"Whilst the accelerated growth opportunity we are now seeing is an encouraging validation of the group's strategy and the positioning of our household business, the immediate task of accommodating such substantial growth presents challenges and choices.
"Despite the near-term margin pressures we are experiencing, we remain focused on delivering our medium-term financial targets, investment in efficiency projects will recommence once this growth has been effectively consolidated into our operations. Meanwhile, restoring the performance of our Personal Care & Aerosols business, the plans for which are under review, remains a top priority.
"Overall, we continue to expect the group's full year adjusted profit before tax and adjusted earnings per share to be broadly in line with last year. Looking further ahead, we are well positioned to benefit from volume growth in our household business."
Shares in McBride opened down 1.5% to 153p.
Yesterday in the City
Shares in Hotel Chocolat (HOTC) melted yesterday despite sales and pre-tax profits both surging by 15% in the first half. Sales grew by 15% to £71.7m in the six months to 31 December, boosted by 10 new store openings during the period. However, the share price ended the day down 2.3% to 315p. The group was held back by rising cost pressures in the period, but mitigated these with efficiencies and bigger capacity.
Irish ingredients group Glanbia (GLB) crashed 8.3% to €13.37 as its margins were squeezed in 2017. Revenues from continuing operations increased 7% to €2.39bn, but EBITDA climbed a more modest 3.6% to €283.2m.
Investors sold off shares in British American Tobacco ahead of results this morning, with the stock down 1% to 4,450p. Other fallers included Greencore (GNC), PZ Cussons (PZC) and Reckitt Benckiser (RB), down 2.9% to 182p, 1.6% to 280p and 1% to 5,869p respectively.
SSP Group (SSPG), Cranswick (CWK) and Tesco (TSCO) were among the risers, up 3.4% to 631.5p, 1.3% to 3,100p and 0.4% to 207.3p.