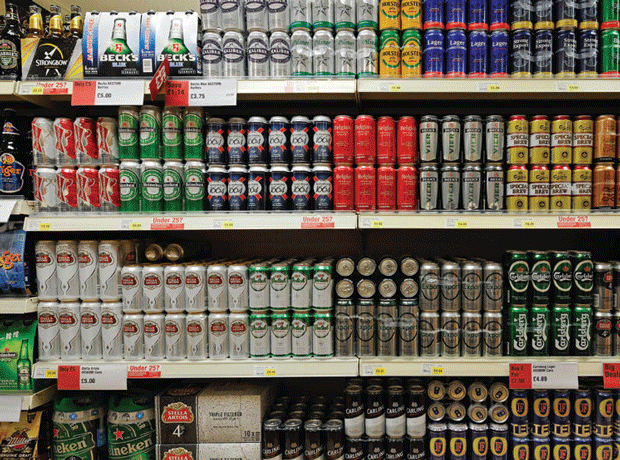 Top story
Grocery sales jumped almost 11% in the four weeks to 4 October as shoppers prepared for new lockdown restrictions, with consumers spending an extra £261m on alcohol to drink at home as the Eat Out to Help Out scheme ended as a 10pm curfew was enforced.
However, the latest Kantar market share report found limited evidence of consumers stockpiling, with supermarket trips were well below those made just prior to the first national lockdown. But, the seven days from Monday 21 to Sunday 27 September were the busiest since March, with 107 million trips recorded.
Sales of toilet roll and flour rose by 64% and 73% during the week, showing that consumers were wary of potential new restrictions. And 37% of households bought toilet roll in that time, compared to the more typical 25% the week before, meaning increases were down to a greater number of buyers, rather than people packing trollies.
Take-home grocery sales rose by 9.4% during the 12 weeks to 4 October 2020 – and were up 10.6% over the latest four weeks, an acceleration from September.
Fraser McKevitt, head of retail and consumer insight at Kantar, said: "Shoppers are moving a greater proportion of their eating and drinking back into the home. This is likely a response to rising Covid-19 infection rates, greater restrictions on opening hours in the hospitality sector, and the end of the government's Eat Out to Help Out scheme."
Online sales continued to boom, registering a further 76% growth year on year in the past month, with one in five households ordering groceries via the internet. Ocado, in particularly, benefitted from the boom. The ecommerce retailer increased sales by 41.9% in the latest 12-weeks period, buoyed by its new partnership with Marks & Spencer.
Waitrose, which fully operated its own ecommerce offer for the first time in September following the end of the Ocado deal, kept pace online. It was the fastest growing online retailer, although starting from a relatively low base. The supermarket also increased sales through its physical stores, with overall sales increasing by 8.9%.
"Ocado has increased the number of shoppers using its service in the latest period – the only retailer to do so – adding 22,000 customers," McKevitt added. "Its new partnership with Marks & Spencer is no doubt part of the appeal.
"Since it started to sell M&S products on 1 September, two-thirds of Ocado shoppers have ordered Percy Pigs at some point, including an introductory period when the famous sweets were included free."
Ocado's share of the market rose this period by 0.4 percentage points to 1.8%.
Lidl has been in continual double-digit growth since December, accelerating its rate in the past 12 weeks to 11.7%. Iceland, which is marking its 50th birthday in November, also had cause for celebration as growth of 17.3% took its market share to 2.3%. Aldi recorded growth of 7.8%, and currently holds 8% of the market.
Changing personnel or owners were the major stories for Tesco and Asda in the latest period. New Tesco CEO Ken Murphy took over the reins at Britain's biggest supermarket in October, with positive news to report – Tesco maintained its market share year on year for the second period in a row. It now holds a 26.9% slice of the market – backed by sales growth of 9.2%.
Asda, which was bought by PE firm TDR Capital and the Issa brother this month, saw sales grow by 5.4%, but its market share fell to 14.4%. It was the slowest growth rate of any retailer in the past 12 weeks.
Morrisons also gained market share, up by 0.2 percentage points to 10.1% on the back of 11.5% growth, while Sainsbury's increased sales by 6.8% and posted a market share of 14.9%.
The convenience channel, which was vital to shoppers early in the pandemic, has seen annual growth rates fall back in line with the market. The single biggest operator, Co-op, held market share at 6.6%, with growth of 9.3%.
Morning update
The latest till roll report from Nielsen showed similar findings, with the end of the government's restaurant scheme and renewed restrictions saw consumers spending more on their shopping.
Sales growth in the four weeks ending 3 October hit 8.3%, up from 5.6% in the prior period.
Nielsen data revealed that beers, wines and spirits (+17%) remained the fastest growing category, followed by frozen (+16%).
While there has been a significant rise in sales of disinfectants (+92%), toilet tissue (+34%) and household cleaning accessories (+24%), these growths are far below the levels seen during the peak of the pandemic, suggesing there hadn't been a return of panic buying.
Shoppers are continuing to move towards online shopping, with online fmcg growth up by 91% in the past four weeks as supermarkets continued to add additional delivery slots. Nielsen data also showed that in the past 12 weeks, 10.6 million shoppers used online to do their grocery shop – up from 7.2 million at the same time last year.
Whilst this has compromised store visits – down 11% in the past four weeks compared with this time last year – they are up from the low point of April. Spend per visit at stores was up 15%.
In terms of retailer performance over the past 12 weeks ending 3 October 2020, Morrisons (+8.7%) remained the top performer of the 'big four' supermarkets. However, Ocado is still the fastest growing retailer, with fmcg sales up +46% in the past 12 weeks.
There was also strong growth from Lidl (+14%), which overtook Iceland (+12.9%). This was likely a result of Lidl launching its new loyalty app at the beginning of the month, offering shoppers multiple savings and adding momentum to its sales, Nielsen said.
Mike Watkins, Nielsen UK head of retailer and business insight, added: "Since March, households in the UK have had to continually adjust to new ways of working, living and eating. This is reflected in the volatility of weekly fmcg sales.
"Yet, after many months of living with the pandemic, some shoppers are getting more accustomed to this 'new normal' and there hasn't been any strong signs of stockpiling like we had earlier in the year.
"Whilst shoppers are slowly becoming more comfortable returning to stores, online remains the biggest winner and a third of shoppers who shopped online in the last 12 weeks are new to online.
"Shoppers who first shopped online in the early summer are staying online and making repeat purchases. Which means online is likely to take an even bigger share of sales as we head into the festive period, and we expect it to hit around 15% of all fmcg sales over the next few months."
The end of the Eat Out to Help Out scheme and local lockdowns led to the best retail sales growth for more than a decade in September.
On a total basis, sales increased by 5.6% last month, against a decline of 0.6% in September 2019, according to the latest data from the BRC-KPMG. The figure – above the six-month average decline of 1.1% and the 12-month average decline of 1% – is the best growth since December 2009, excluding Easter distortions.
In September, UK retail sales increased 6.1% on a like-for-like basis, compared with a 1.3% decline a year ago.Food sales increased 5.1% on a like-for-like basis and 5.6% in total over the same period – higher than the 12-month total average growth of 3.8%. For the month of September, food was in growth year-on-year.
"The end of the Eat Out to Help Out scheme combined with local lockdowns, has resulted in shoppers increasing their spend in retail," said IGD chief executive Susan Barratt.
"Furthermore, late September has seen some stockpiling as shoppers react to rising Covid-19 cases and possible further restrictions, although this is far from the level of panic buying experienced in March.
"Speculation concerning further lockdown measures and a possible no deal EU exit is leading to uncertainty among shoppers, with IGD's Shopper Confidence Index remaining low but stable."
The decline of instore sales for non-food slowed over the three months to September, down 12.3% on a total and 9.5% on a like-for-like basis six better than the 6-month and 12-month total average declines of 29.6% and 18.8% respectively.
Over the three-months to September, non-food retail sales increased by 5.2% on a like-for-like basis and 3.2% on a total basis. This is above the 12-month total average decline of 5%. For the month of September, non-food was in growth year-on-year.
Online non-food sales increased by 36.7% in September, against a growth of 3.5% in September 2019. It is below the three-month average of 39.7% but above the 12-month average of 26.3%.
Non-food online penetration rate increased from 30.8% in September 2019 to 40.1% last month.
Paul Martin, UK head of retail at KPMG, said the resilience of British retailers had been "nothing shy of remarkable" in recent months.
"That said, this month's uptick is against the woeful performance recorded in September 2019 and so caution remains vital," he added. "Last year, the prospect of a no-deal Brexit loomed over purchasing decisions dampening demand, but now that same prospect is accompanied by the recent resurgence of Covid-19 numbers. Combined, these factors could have a significant impact on retail growth over the next months.
"As we enter the all-important 'golden quarter' – when many retailers make the majority of their annual revenue – the fight for survival couldn't be more intense. Close attention has to be paid to how players choose to tackle key events, like Black Friday, within a consumer landscape that has changed entirely."
British Retail Consortium CEO Helen Dickinson said September sales had given retailers early signs that consumers were starting their Christmas shopping earlier this year."The industry is beginning to recover," she added.
"However, forced store or warehouse closures during any future lockdowns could put paid to this progress. Retailers have invested hundreds of millions in making their premises Covid-secure, with Perspex screens, social distancing, additional staff and hygiene measures. The industry also provides essential employment for three-million workers in the UK and is already helping to contribute to the economic recovery."
Shoppers continued to flock to supermarkets in September as the end of the government's Eat Out to Help Out scheme and fresh fears of renewed coronavirus restrictions saw Britons stockpiling once more, according to the latest spending report from Barclaycard.
Consumer spending grew 2% year on year last month, with food sales, home improvements and return-to-school shopping contributing to the largest uplift since February 2020.
Data from Barclaycard, which accounts for almost half of the nation's credit and debit card transactions, revealed spending on essential items grew 6.1% year on year, with a 15.4% rise in supermarket expenditure.
This comes as more than a quarter (27%) of Brits admitted to stockpiling items such as tinned food and toilet roll in case of shortages in the near future.Spending on non-essential items also grew 0.6% in September, the first rise since February, with strong increases in home improvement & DIY (25.7%) and furniture (28%). The desire to decorate comes as 30% of Brits say they are spending more on home improvements than usual in case new lockdown restrictions lead to more time inside.
Looking at the high-street, face-to-face spending was down just 1.9% – a notable improvement on August (-6.7%) – suggesting Brits are becoming more comfortable visiting shops. Clothing spend saw a substantial improvement of 4.2% growth, as shoppers invested in autumn/winter wardrobes and parents prepared their children for a return to school. This is a significant improvement on last month's clothing figure of 0.3%, which was the first growth in the industry since March 2019.
Some positive signs of recovery were also seen by the hospitality sector. Spending at bars and pubs saw a 9% rise – the first increase since February – as pub-goers admitted to feeling less cautious visiting their local now. Despite restaurant spend declining 18.7% year-on-year, it was a marked improvement on the 39.1% decrease seen in the previous month, indicating diners continued to take advantage of a range of extended discounts following the official 'Eat Out to Help Out' initiative ending in August. However, despite this popularity, spending on takeaways and fast food saw the highest increase ever (25.8%) as eating at home remained a very popular option.
The nation is also the most optimistic it has felt about the UK economy since March (24%) – an improvement on the 19% seen in August – while confidence in household finances remains high at 70%. Although, this is tempered by just more than a third (34%) expecting coronavirus or other economic changes to have a direct impact on their income over the next 12 months.
"Consumers clearly made the most of the sunshine by socialising in September, with spending at pubs and bars seeing the first increase since before the national lockdown was introduced in March," said Raheel Ahmed, head of consumer products at Barclaycard.
"There were also signs that many Brits squeezed in a last-minute summer holiday in the UK, as spending on accommodation stayed at similar levels seen in August.
"However, we also saw households preparing to spend more time inside as winter draws closer, with home improvement increasing as a result. While the nation's confidence in the UK economy has improved slightly, many are still cautious about the upcoming winter months, and the subsequent uncertainty it may bring has caused some to start stockpiling once more."
Yesterday in the City
The FTSE 100 was fairly calm yesterday despite new briefings from the government's scientific advisers and a new tiered Covid managment system introduced by the Prime Minister.
The London blue-chip index fell 0.2% to 6,007pts.Brewer Marston's was among the fallers yesterday as renewed fears for the hospitality sector were raised as Boris Johnson announced pubs and restaurants in Liverpool would close again. The pub group stock was down 4.9% to 47.7p.
McColl's Retail Group were also down 4.6% to 21.9p, SSP Group fell 4.4% to 199.6p, Naked Wines declined 2.7% to 428p and Compass Group was down 2.5% to 1,223p.
Risers included Applegreen, up 3.3% to 310p, Bakkavor, up 2.5% to 65.8p, and Greencore Group, up 1.8% to 107p.