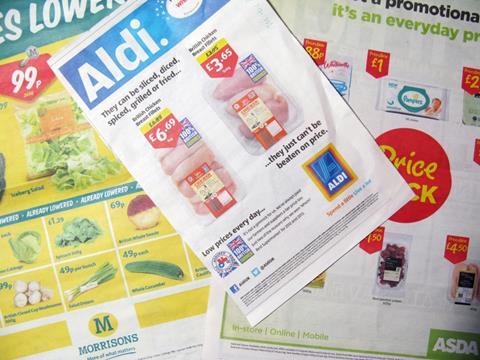 Top story
Small food manufacturers are being hit the hardest by the raging supermarket price war, with margins being squeezed by more than a third, according to a new research.
The gap between the profit margins of SME food suppliers and their bigger competitors is widening as a result.
SME food manufacturers saw profit margins fall by more than a third in the past year, from 3.5% to 2.1%. During the same period, the biggest suppliers recorded an increase of 2 percentage points to 5.4%, the research from commercial law firm EMW showed.
On average, the profit margin for food manufacturers was 3.9% in 2014, an increase from 2.9% in the previous year.
"Smaller suppliers are one of the main casualties of the supermarket price war," Sebastian Calnan, a consultant at EMW, said. "These SMEs tend to have a smaller number of contracts so find themselves in an impossible position when they come to the negotiating table.
"Larger suppliers often feel more confident about pushing back against the supermarkets because they have a stronger market position and greater demand for their products. SMEs are often too afraid of losing what may be their biggest contract so there is often significant pressure from the supermarkets on smaller suppliers to accept contracts with unfavourable terms."
Morning update
The Co-operative Group has today launched a recruitment drive among its millions of members to identify potential directors for its main group board. The appointment of up to two member nominated directors (MNDs) was an important step in further strengthening the board its new governance structure, the group said. Chairman Allan Leighton added: "We now have a highly experienced board in place and we are already seeing the benefits of this translate through into the performance and strategic direction of our business. This is a fantastic opportunity for Co-op members to make their contribution felt in the boardroom, ensuring our co-operative values and principles are woven into the fabric of the commercially and socially motivated decisions we make."
Bonmarché is the latest retailer to have been stung by this winter's, so far, mild weather. The women's value retailer said in its half-year results that trading conditions during November had been "challenging", due to very mild, wet weather. Total revenues in the six months to 26 September rose 6.5% to £97m.
The FTSE 100 is down 0.5% to 6,301.8 points so far this morning, with Tesco (TSCO), Morrisons (MRW) and Sainsbury's (SBRY) all contributing to the losses, with Morrisons down more than 1%.
City diary
The big event this week is the Chancellor's Autumn Statement as retailers, being led by Tesco CEO Dave Lewis, wait to see if there is any movement to reduce business rates.
On the markets there are full-year results from sandwich maker Greencore (GNC) tomorrow, followed by Robinsons owner Britvic and African agri-businesses Zambeef Products on Wednesday, with Finsbury Food Group also holding its AGM.
In the realm of wider retailer, Pets At Home reports on interim figures tomorrow, with pub groups Mitchells & Butlers and Marston's updating on half-year progress on Thursday, as does PayPoint. There is also a trading update from B&Q owner Kingfisher on Thursday and final results from Patisserie Holdings, aka Patisserie Valerie, on Friday.
The week finishes, if you haven't already heard, with Black Friday, with Britons expected to call in sick and spend almost £2bn in store and online.