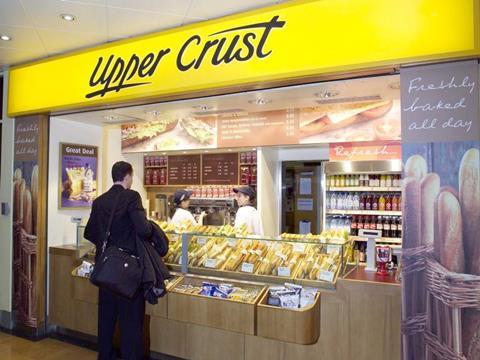 Top story
Travel specialist SSP Group has reported a near-50% plunge in annual revenues and a £426m pre-tax loss as the coronavirus and collapse in traveller numbers weighed on the business.
The operator of Upper Crust has reported a 47.9% constant current revenue drop in the year to 30 September, comprising a like-for-like sales reduction of 50.8% offset by net contract gains of 2.9%.
At actual exchange rates, total revenue fell by 48.7%, to £1.4bn as a "good start" to the new financial year unravelled in the second half due to the rapid decline in trading across the entire group as the pandemic spread across the world.
During the third quarter, with the global lockdowns continuing, like-for-sales sales in April and May were approximately 95% below last year, improving slightly to 90% lower in June. Helped by a limited return of some short haul air travel over the summer holiday period, the fourth quarter saw a further gradual improvement in like-for-like sales, which were around 80% lower than the prior year.
The underlying operating loss for the year was £315.4m. On a reported basis, the operating loss was £363.9m, including one-off items of £48.5m.
On a statutory basis, pre-tax losses were £425.8m compared to a £197.2m profit in the previous year.
Capital expenditure fell £50.5m to £134.5m as investment programmes were frozen as the pandemic spread.
At the end of the reporting period, the Group had approximately £520m of available liquidity, including cash of £185m and committed undrawn revolving credit facilities of £150m, as well as a further £175m available to be drawn down under the Bank of England's Covid Corporate Financing Facility (CCFF).
CEO Simon Smith said: "Covid-19 continues to have an unprecedented impact on the travel industry and on SSP's businesses in all geographies. We have taken rapid and decisive action to reduce costs, preserve cash and to substantially strengthen the group's financial position. I want to thank our teams for their dedication and professionalism during this time, especially when faced with extremely difficult decisions.
"Our priority continues to be the health, safety and welfare of our people and our customers, and this has been front of mind as we've re-opened our units. By renegotiating rents, rationalising our menus and reducing our unit overheads, we've created a new, more flexible operating model. This has allowed us to respond rapidly to passenger demand, successfully re-opening more than a third of our units by the end of September and delivering an important service to the travelling public.
"Whilst we expect passenger numbers to remain subdued over the winter, we are optimistic that, alongside good progress with the vaccination programme, we will see a significant upturn in both domestic and international travel from the Spring. We are ready to respond quickly. The actions we are taking to rebuild the business will put us in a strong position to capitalise on the recovery as well as future new business opportunities, enabling us to deliver long term sustainable growth for the benefit of all our stakeholders."
Since the summer it has opened over one third of its units globally. However, since the end of the year, the re-emergence of the virus and further lockdowns, notably in the UK and Continental Europe, have resulted in further volatility in passenger numbers.
Consequently sales during the first quarter of the 2021 financial year will remain broadly in line with the final quarter of the year, approximately 80% lower year-on-year. This volatility is expected to continue through the second quarter of the new financial year.
However, SSP Group said it is "optimistic" that, alongside the roll out of the Covid-19 vaccination programmes, its business will start to see a recovery in travel in the second half of the new financial year.
"SSP has an important role to play in providing food and beverage services to the travelling public, and we will continue to re-open units rapidly in response to demand," it stated. "Looking further out, we firmly believe that demand for travel will return and the actions we have taken since March, together with the evolving market backdrop, will ensure SSP is well positioned to capitalise on future market opportunities."
SSPG shares are down a further 4.2% this morning to 312.6p.
Morning update
Less than 24 hours after confirming it was in the race to buy petfood manufacturer Inspired Pet Nutrition, Cranswick has dropped out of the bidding process.
In a short statement to the market this morning, Cranswick said it had "withdrawn from the acquisition process" for IPN, which is expected to be completed in the coming days.
Cranswick sold its former petfood business in 2009 to LDC to concentrate on growing its share of its core pork category.
Elsewhere, Sainsbury's has announced that Lesley Jones has been appointed as the new chair of Sainsbury's Bank.
She will replace outgoing chair, Roger Davis, who in February informed the board of his intention to step down.
She has more than 35 years' experience in banking and was group chief credit officer at RBS Group between 2008 and 2014. Prior to RBS, she worked at Citigroup, where she held a range of senior roles in relationship and risk management over a period of 30 years.
Jones is currently a non-executive director of N Brown and Close Brothers Group and is also an Independent member of Moody's Investor Services.
Her appointment as chair is effective from 30 January 2021.
Martin Scicluna, chairman of Sainsbury's, said: "I am delighted to welcome Lesley as chair of the Sainsbury's Bank board. Her extensive experience in banking will be highly valuable to us as we work to deliver the five-year plan we set out at our capital markets day in September 2019.
"On behalf of the board, I would like to thank Roger for his stewardship over the past seven years. He played an important role during the bank's transition to its own flexible banking platform and in driving the bank's integration with Sainsbury's. We wish him well."
Jones said: "I am delighted to be joining Sainsbury's, whose reputation as a values-led business attracted me to the role. I look forward to working with the Sainsbury's Bank management team and to being part of the wider Sainsbury's business."
On the markets this morning, the FTSE 100 is up another 0.2% to 6,585.9pts.
Early risers include McColl's Retail Group, up 2.5% to 26.5p, McBride, up 2.2% to 81.8p and Coca-Cola European Partners, up 2% to €39.30.
Fallers so far today include Britvic, down 2.4% to 801p, Morrisons, down 2% to 179.6p and Nichols, down 1.9% to 1,275p.
Yesterday in the City
The FTSE 100 had another positive day, ending the day up 0.9% to 6,570.9pts.
The supermarkets were amongst the market's biggest risers, included Tesco, which jumped 3.5% to 231.6p, while Morrisons was up 2.4% to 183.2p and Ocado rose 2.2% to 2,282p.
Other risers included McBride, up 5.5% to 80p, Nichols, up 2.8% to 1,300p, Hilton Food Group, up 2.6% to 1,036p, Cranswick, up 2.5% to 3,562p, Britvic, up 2.4% to 820.5p and Unilever, up 1.8% to 4,381p.
The day's fallers included Science in Sport, down 2.9% to 33.5p, Compass Group, down 1.5% to 1,414.5p and Just Eat Takeaway.com, down 1.3% to 7,758p.