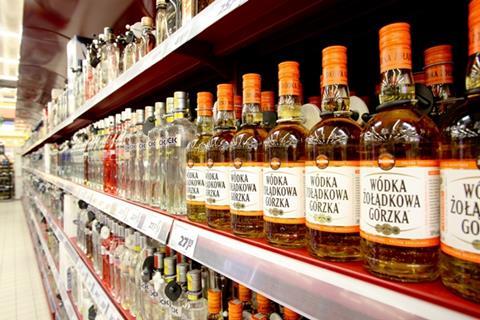 Top story
Stocks Spirits Group (STCK) has appointed a new CEO as it seeks to put its boardroom troubles behind it.
Miroslaw Stachowicz will take up the role he has carried out on an interim basis since April 2016 when Chris Heath bowed to shareholder pressure and stepped down from the helm. Stachowicz was appointed as an independent non-executive director to the European spirits group in November last year.
The appointment comes as the London-listed business posted improved results in the six months to 30 June, compared with the "very weak" financial performance a year ago.
Sales were up to €116m in the half, from €108m in the same period last year, as the group's attempted turnaround of its Polish business took shape and it increased volumes.
Operating profits also more than doubled €12.5m thanks to a number of cost saving initiatives put in place.
Stachowicz said: "I am very pleased to have been appointed CEO. Today we have reported EBITDA growth across all our markets for the first half of this year, after a difficult 2015, showing that the many initiatives we have put in place in Poland are starting to show positive results.
"Although the recovery is in its early days, I am confident that, along with our strengthened management team in Poland, we will be able to build on this encouraging start over the coming months."
Chairman David Maloney added: "Having commenced an international search, we concluded that with his extensive knowledge of both the Stock Spirits business and consumer brands across the CEE region, Mirek was the ideal candidate. He has already made a significant impact on the business and we are delighted to see improved performance in our important Polish market under his leadership."
Stock has been involved in a battle with the group's largest shareholder, Western Gate Private Investments, this year. The investment vehicle, which has an almost 10% stake in Stock and is run by Portuguese businessman Luis Amaral, expressed worries about the Polish strategy as market share declined. Amaral was also successful in installing two new non-executive directors on the Stock board against the wishes of the leadership team after other shareholders backed the move at its AGM in May.
Stock, which operates across Central and Eastern Europe, has struggled in recent years with a significant loss of market share in Poland, its largest market, as a result of increased competition and weak demand as consumers buy cheaper vodka brands from supermarket chains. The group's share price has more than halved since early 2014 as a result.
Shares are up 1.6% to 162p so far this morning and are up 16% so far this year after falling off a cliff in November.
Morning update
The markets are fairly quiet this morning with not much change in share prices to take note of. B&M Bargains (BME) is the one exception, rising 2.5% so far to 270.5p. After a good run, the FTSE 100 is in the red this morning, down 0.1% to 6,841.99 points.
Yesterday in the City
Investors continued their Ocado (OCDO) shopping spree yesterday, adding almost another 20p, or 6%, to the online grocer's share price to 293p after a new agreement with Morrisons was officially announced. Its stock was down more than 26% in the first six months of 2016 as the City waited for Ocado to sign an agreement with its first international partner. The shares are up almost 13% this week as rumours of the new Morrisons deal emerged to take Ocado down just 5% in the year to date. The new agreement seems to suit both parties, with Ocado getting some certainty for its new Erith CFC, currently being built, and Morrisons cutting down its contribution to R&D costs and scrapping the profit share first agreed back in 2013.
Morrisons (MRW) was also on investors shopping lists, but appetite was a bit more subdued for the Yorkshire supermarket. The stock ended the day 2% higher at 191.7p (4% up this week), getting closer to Sainsbury's market cap of £4.5bn.
Tesco and Sainsbury's completed a decent day for the listed grocers as the latest BRC-KPMG retail sales showing food sales holding up in July despite Brexit, climbing 2.4% to 158.4p and 1.2% to 236.5p respectively.
Other risers on a positive day for markets included PZ Cussons (PZC), Marks & Spencer (MKS) and Associated British Food (ABF), up 3% to 352.2p, 2.5% to 338.7p and 1.6% to 2,949p.
London's blue-chip index had another good day rising 42 points (0.6%) to 6,851.30 points following the latest economic data from the high street showed sales were buoyed in July by a good run of weather in the face of uncertainty caused by the result of the EU referendum.