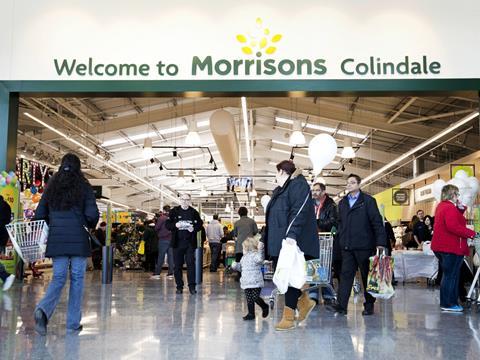 Grocery sales jumped by by 3.2% in the 12 weeks up to February 25, according to the latest grocery market share results from Kantar Worldpanel
It marks the 12th consecutive period that sales have exceeded the 3% mark.
Morrisons has caught up Tesco as the fastest growing of the big four supermarket chains, with both recording sales growth of 2.7%.
While Aldi and Lidl again went head to head to be crowned as the UK's fastest growing supermarket, with Aldi finishing first past the post this month as sales increased by 13.9%, surpassing the 13.3% of sales that Lidl reported.
Both chains have benefited from increased foot fall alongside growth in basket size.
The Co-op retuned to growth for the first time since July 2017 with sales up for 0.4%, while Iceland reported increased sales of 1.3% compared to the same period for last year.
There were no signs of a slowdown for Waitrose, which saw sales growth of 2.3%, it has toasted uninterrupted growth since March 2009.
Fraser McKevitt, head of retail and consumer insight at Kantar Worldpanel, comments: "The grocery market remains in good health, spurred on by February festivities such as Valentine's Day and Chinese New Year, which lend themselves to a focus on ready meals.
"Over the month, sales of chilled ready meals which form part of a meal deal jumped by 26% as retailers offered customers the opportunity to WINE and dine at home without the fuss, while Chinese ready meals also rose by more than a quarter."
Meanwhile, Nielsen retail data has found that grocery sales rose by their highest year on year rate for 18 months.
Shoppers' bought 0.8% more groceries in the four weeks up to February 24, when compared to the same time last year.
Despite the increase in growth, consumers were tightening their belts, spending less as price inflation took its toll.
Year on year sales grew at supermarkets by 1.8%, and up to 2.9% including the discounters.
"In contrast to non-food retailers, which are seeing weaker consumer demand than a year ago, grocery retailing continues to look positive," says Mike Watkins, Nielsen's UK head of retailer insight.
He added: "Much of the credit goes to the grocery retailers who've displayed a great balancing act at not passing on too much of the increased supply chain costs to the end shopper. As a result, consumers in general don't feel the need to hold back on grocery shopping."
Morning update
Just Eat (JE) has announced a 45% jump in annual sales to reach £546m, but headline profits were hit by a one-off charge relating to its operations in Australia and New Zealand.
The online food order and delivery service boasted an surge in orders by 26% throughout last year, with 172 million purchases made.
Underlying EBITDA was up by 42% climbing to £142m. Pre tax profit was £104m, though this excluded a non cash impairment charge of £180m recognised against Australia and New Zealand goodwill.
Net operating cash flow also climbed significantly, rising to £167m.
Just East was further boosted by the acquisition of Hungry House, which delivered revenues of £304m.
Additionally international growth rose by 75%, which now accounts for 44% of the group.
The company believe that have a bright future, its underlying EDITDA forecast for this year is £215 to £235 million, as they are looking to expand their brand investments, developing markets and delivery services.
CEO Peter Plumb commented: "2017 was a record year for Just Eat. More restaurant partners joined our platform, increasing the breadth of choice for our customers and strengthening the group's geographical coverage to over 82,000 restaurants.
"As the new CEO, I will be increasing our investment in brand, developing markets and delivery services that will be engineered to complement our thriving marketplace business by bringing more choice to our takeaway-loving customers."
Stevia sweetener producer PureCircle (PURE) has returned double digit growth of 13.3 %, with an excellent performance in the United States and Europe.
Gross profit increased to $19.7m, although margins were hit by adverse impacts such as currency fluctuations, and the transition to an improved leaf variety.
Adjusted EBITDA improved by 21.9% to climb to $7.8m, while operating cash flow before working capital changes also rose by $3m to $7.7m.
The company suffered a net loss of $4m, mainly driven by currency impacts and the revaluation of deferred tax assets in the Unites States, following a tax Reform.
Net debt also increased to $98.4m, but PureCircle said that this in line with expectations.
Group CEO Magomet Malsagov said: "After a difficult year in FY17, where access to one third of our market was denied due to the CBP action, I'm pleased that the business is back on track and this is reflected in our 1H FY18 results where we have returned to double-digit growth.
"I am particularly excited about our launch of Starleaf, a proprietary non-GMO stevia plant that yields roughly 20 times more of the newest and best-tasting stevia leaf sweeteners than conventional stevia varieties. Starleaf is at the heart of our evolving strategy where over the next 5-years we believe this will transform both our business and the stevia market by providing breakthrough solutions."
Elsewhere, retail sales were up 0.6% in February, according to the BRC/KPMG Retail Sales Monitor, with strong food sales wholly responsible for overall growth.
The four weeks to 24 February saw UK retail sales rise 0.6% on a like-for-like basis compared to the February 2017, when sales decreased by 0.4%.
Sales were up 1.6% on a total basis, up from total growth of 0.4% a year ago.
However, over the three months to February, in-store sales of non-food items declined 2.4% on a Total basis and 3.3% on a Like-for-like basis.
Instead, food sales increased 2.8% on a like-for-like basis over the same three month period and by 4% on a total basis.
This food sales growth is now in line with the 12-month total average growth of 3.9%, the highest since October 2012.
Click here for the full story.
On the markets this morning, so far today the FTSE 100 has jumped by 0.9% to reach 7.176pts in response to falling below the 7.100 mark at the end of last week.
Just Eat (JE) has collapsed by 11.9% to 750.8p after the surprise one-off charges dragged back profits at the group this morning.
Tesco (TSCO) has responded well to the Kantar Worldpanel market share results this morning, with its share price leaping by 3.1% to 210.40p.
While Morrisons (MRW) has also responded well to this morning figures, as its share price was up by 0.9% to 227.60p in early trading.
Other stocks on the up so far this morning include Imperial Brands (IMB) , which is up by 1% to 2606.5p and SSP Group (SSPG), up 1.1% to 614p.
Fallers include Sainsbury's (SBRY), down 1.5% to 249.2p and PureCirlce (PURE), down 6% to 389.3p.
Yesterday in the City
The FTSE 100 Index started a comeback from last week's falls, opening the week up 46 points to 7116pts.
On the day Tesco (TSCO) finally completing its protracted £3.7bn takeover of Booker, the supermarket ended the day up 1% at 204p.
Other risers included Conviviality (CVR), up 4.1% to 307.5p, Kerry Group (KYGA), up 4% to €81.40, Premier Foods (PFD), up 3.4% to 39.5p and FeverTree (FEVR), up 3.2% to 2,628p.
Dairy Crest (DCG) also had a good start to the week, rising 2.9% to 550.5p, as did Greencore (GNC), up 2% to 174.5p, SSP Group (SSPG), up 1.9% to 607.5p and TATE & Lyle (TATE), up 1.5% to 562.8p.
Unilever (ULVR) started the week up 1.3% to 3,759.5p, but some multinational fmcg giants were amongst the few fallers yesterday. Associated British Foods (ABF) dropped 0.7% to 2,590p and Reckitt Benckiser (RB) fell 0.4% to 5,665p.
PureCircle (PURE) fell 1.6% to 414p ahead of its earnings release today, while Vimto maker Nichols (NCLS) dropped 1.6% to 1,535p and Greene King lost 1.9% to 498.9p