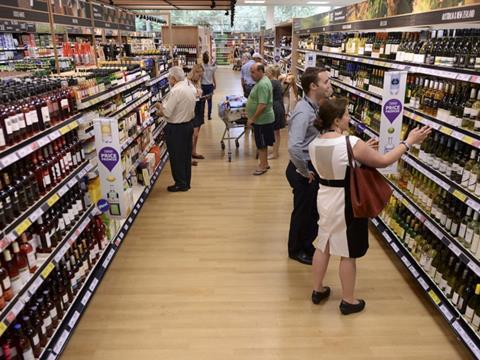 Top story
Deflation is biting the supermarkets as hard as ever as they head into the vital Christmas trading period, new figures from the Grocer Price Index have revealed.
Defying industry expectations that the deflationary picture may begin to ease towards the end of the year, the GPI has found that annual price deflation actually intensified again last month to move back towards its peak.
The GPI, collated from more than 60,000 SKUs across the big four supermarkets, moved to -2.36% year on year in the month to 1 November from -2.12% the preceding month.
The year-on-year price falls are the second-largest yet recorded by the GPI - only topped by the 2.53% drop in the month to 1 April 2014.
The level of deflation is especially notable because the year-on-year comparison references a month of heavy price drops in the period to 1 November 2014. That month saw deflation go past -1% for the first time (-1.24%) and means that over a two-year period it stands at a huge -3.6%.
Click here to ready the full story on GPI and here for a full statistical breakdown.
Morning update
The Grocer has the story this morning that Scottish beef processor Stoddarts has been sold by owner Neil Stoddart to a group of private investors.
The new investors in the consortium, supported by merchant banking group Close Brothers, are former Vion UK CEO Ton Christiaanse, Grant Moir, formerly MD of the JJ Tranfield meat business, Colin Wright, previously of JJ Tranfield Group, and Jeremy Carr of private equity firm Energize Capital.
Click here for the full story.
The Grocer also has an analysis of Premier Foods' sharp share price recovery and whether the listed food producer is finally back on the up.
Elsewhere, it's a typically quiet Friday morning with nothing of note on the markets.
Waitrose saw a big 5.4% boost to (ex petrol) sales in the week to 7 November which the supermarket – somewhat unconvincingly – put down the 'Nigella effect' as the week saw the launch of her new show.
Perhaps more materially, wine sales were up by more than 18% driven by its 25%-off-six wine offer. The 10% off all gin promotion increased sales by almost 54%, while vodka sales were up by more than 20% and rum sales up by 28%. Organic meat sales also had a strong week – with organic beef up by 20%, chicken up by more than 17%, pork up by 7% and lamb up by 36%.
The FTSE 100 has opened slightly (0.3%) down this morning at 6,159.8pts.
Most grocery stocks are trending downwards - Reckitt Benkiser (RB) is 1.1% down this morning to 6,196p and Unilever (ULVR) 0.8% down to 2,775p.
Sainsbury's (SBRY) is one of the few stocks edging into the green, starting a small recovery from two days of heavy falls by rising 0.2% to 243.4p.
Yesterday in the City
Given the £44 per share deal carrot dangling in front of SABMiller (SAB) investors, the UK-listed brewer's shares are unlikely to be knocked off course too badly by SAB's trading performance until the deal is finalised late next year.
So it's no great surprise that its interim results – which saw solid organic growth but currencies cause double-digit falls in headline earnings and profits – only wobbled the shares by 0.5% to remain above £40 at 4,029p.
The FTSE itself had a more dramatic day, with the FTSE 100 plunging 1.9% to 6,178.6pts after more falls for the mining companies and a share price collapse at Rolls Royce.
Sainsbury's had another day to forget – dropping 4.1% to 243p after its 7%-plus share price fall on Wednesday on concerns that the price war will continue to hit Sainsbury's bottom line for harder and for longer than investors had hoped.
Ocado (OCDO) was down 4.3% to 368.6p and Booker (BOK) dropped 1.7% to 182.7p. Among suppliers, Greencore (GNC) fell 3.2% to 323p, Finsbury Foods (FIF) was 2.3% down to 104.5p and Premier Foods (PFD) dropped back below 40p, falling 1.9% to 39.75p.
Conviviality (CVR), which announced it has agreed to acquire a majority stake in bar and events company Peppermint and a 38% acquisition-driven jump in first half revenues, ended the day unchanged at 200p.