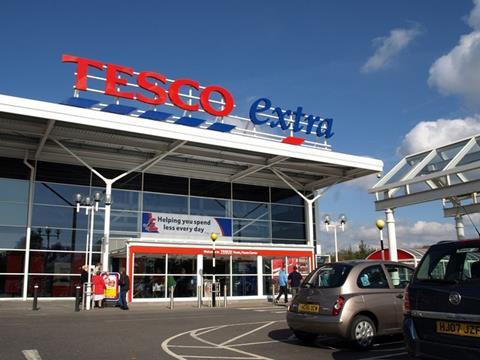 Top story
The UK supermarket real estate investment trust announced this morning it has acquired Tesco Extra in Newmarket, Suffolk, from Standard Life Pooled Pension Property Fund for £61m (excluding acquisition costs).
It said Tesco has a long history of trading from this prominent 9-acre site which was originally developed in the 1980s and completely rebuilt in 2016.
The site comprises a 68,000 sq ft net sales area Tesco Extra with a 12-pump petrol filling station, 654 parking spaces and purpose-built online fulfilment distribution docks, supporting Tesco's online grocery business across the region.
It is being acquired with an unexpired lease term of 16 years with annual, upward-only, RPI-linked rent reviews and the purchase price reflects a net initial yield of 4.6%.
Meanwhile, the company has arranged a new revolving credit facility of £60m with Wells Fargo to support future growth.
The secured, interest-only, RCF has an initial five-year term and two further one-year extension options. Once drawn, the RCF has a margin of 2% above 3-month Libor which is currently equivalent to a total cost of 2.1%. The RCF also includes a £100 million uncommitted accordion option, exercisable at any time over the term of the facility.
Ben Green Director of Atrato Capital, the Investment Adviser to Supermarket Income REIT, said: "This modern Tesco Extra is a great addition to our growing portfolio of omnichannel stores. The property has attractive lease terms, strong fundamentals and is a key online grocery fulfilment hub for Tesco supporting both home delivery and click and collect.
"We are also delighted to have secured Wells Fargo as a new lender to Supermarket Income REIT. Our new facility provides us with very competitively priced, seven-year funding with room to grow to support the company's future investment requirements."
Morning update
Carr's, the agriculture and engineering group, has announced that Kristen Eshak Weldon has been appointed as an independent non-executive director, joining the board from 1 October 2020.
She was until recently a member of the Executive Group at Louis Dreyfus Company, one of the world's largest traders of agricultural commodities, where she focused on innovation and forward-looking investments across global agriculture. As head of food innovation and Downstream strategy, she led the group's investment activities in the ag-tech and food technology industries.
Prior to Louis Dreyfus, Kristen spent thirteen years at Blackstone, the leading global investment business, where she was co-head of the London office for the company's $75 billion Hedge Fund Solutions business.
Carr's said that Eshak Weldon's "extensive strategic experience in creating and appraising investment opportunities, and knowledge of agricultural markets, will help support the development of the group's agriculture businesses and the wider group's future strategy, driving long-term shareholder value".
Eshak Weldon said: "The Group's market leading brands and focus on technology and innovation position it well for an exciting and prosperous future, and I look forward to supporting the group on the next stage of its journey."
Chairman Peter Page added: "Kristen brings extensive expertise in agriculture and a global viewpoint gained at one of the largest agricultural commodities businesses in the world, as well as strategic thinking and commercial discipline. Her experience will be immensely useful in guiding the group as it continues to grow market share and increase its range of value-adding products".
City Pub Group will host its AGM later today and will update investors on trading for the three weeks since 4 July, when pubs were permitted to reopen in England following the easing of social distancing restrictions.
On 4 July, the group reopened 24 of its 48 pubs, with a further 8 pubs reopening over the last two weeks, taking the total number of pubs open and trading to 32. The remaining pubs will be opened over the course of the next two months, or earlier if social distancing measures are relaxed further.
It said: "We are pleased with our encouraging performance to date since reopening, with our staff working under new rules and adapting to the new socially distanced trading environment with pubs operating at reduced capacities."
Total sales for the three week period since 4 July were £1.8m. On a like-for-like basis, sales were at 63% of previous levels.
Following thorough work during lockdown, significant reductions have been made across its cost base, including payroll costs, consumables, satellite TV, entertainment, recruitment, and these together with operational efficiencies have allowed the company to trade profitably and generate cash during the 3 week period.
Furthermore, the board is continuing to review of the group's head office and pub costs. Savings have already been made at these levels and further savings have been identified, with the review expected to be completed by the end of September.
It said the board remains confident it will be able to rebuild its sales to previous levels on a much lower cost base.
On the markets this morning, the FTSE 100 has opened the week down 0.5% to 6,093.2pts.
Early risers include Just Eat Takeaway.com, up 1.9% to 8,322p, McBride, up 1.7% to 59p and FeverTree, up 1.4% to 2,116.1p.
Fallers so far today include McColl's, down 5.4% to 35p, SSP Group, down 4.5% to 226.7p and WH Smith, down 2.6% to 994p.
This week in the City
The week kicks off with interim results with luxury goods specialists LVMH Moet Hennessy when the market closes in France this evening.
A busy day tomorrow sees interim results from Reckitt Benckiser in the UK, Greencore will issue a third quarter trading update, while Greggs will post its interim results.
Overseas, French retail giant Carrefour in France will post its interim results on Tuesday and in the US McDonald's, Starbucks, Mondelez and tobacco giant Altria.
Premier Foods will post its first quarter trading update on Wednesday after a strong recent share price run, along with interim results from Devro.
Thursday sees interim results from Nestle, AB InBev, Danone, L'Oreal and Casino in Europe and Amazon, Kraft Heinz, P&G, Kellogs and Keurig Dr Pepper in the US.
In the UK Compass Group will post a trading update on Thursday.
Friday brings interim results from British American Tobacco and McColl's Retail Group, while Pets at Home will post a Q1 trading update.