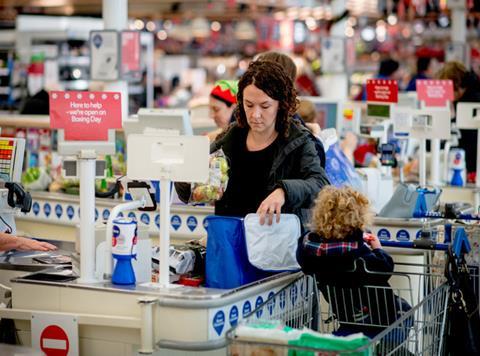 Top story
Supermarket inflation fell back in June as the return of promotions and the threat of a price war took the sting out of pandemic-driven price hikes.
The Grocer Price Index, collated by Edge by Ascential from over 60,000 individual SKUs, contracted to 0.9% year-on-year price inflation in June, compared with 1.6% in May.
The GPI had previously jumped to over 2% in April – its highest level for more than three years – as supermarkets cut promotions to keep shelves stocked.
Offers and promotions have since started to rematerialise, damping the overall level of grocery inflation.
The Grocer and Assosia found that the number of multibuys and single product discounts offered by the major mults almost halved from 35,197 in the week before the lockdown to 18,838 in early April, but had recovered back to a more modest 17% drop by mid-June.
Additionally, overall price inflation has been limited by Tesco's launch of a major new price war against the discounters.
Tesco had recorded the highest rate of annual inflation in each of the four months before June, peaking at 2.6% in April.
However, its early moves to focus on price saw its level of annual inflation fall from 2.5% in May to 1% in June.
Sainsbury's had the highest level of inflation at just 1.1%, with Asda at 1% and Morrisons 0.9%.
Waitrose, not included in the overall GPI calculation, displayed a 0.8% rise in annual prices.
Morning update
The Grocer this week has stories on wholesale giant Brakes falling to an annual loss, profits halving at potato giant McCain amid the "worst potato harvest for 40 years", million-pound plus fundraisings from This and Mighty Pea and more.
Check out thegrocer.co.uk/finance later this morning for full details.
Elsewhere, Carlsberg has announced a 7.7% drop in volume sales in the first half of the year and an 11.6% drop in revenues, driven by a 14.6% slump in revenues in the second quarter.
Based on preliminary earnings figures from, the group expects an organic decline in operating profit of 8.9% for the first half.
It said the COVID-19 pandemic has continued to create significant challenges for its businesses across its three regions.
Western Europe had a "very difficult" start to the second quarter, but saw improved performance towards the end of the quarter due to the gradual reopening of the on-trade channel and subsequent restocking in many markets, as well as good weather in June.
In Asia, its Chinese business rebounded strongly in Q2, and profits improved significantly, driven by cost reductions and the fact that many marketing activities were postponed to the second half of the year. Sales in the other markets in Asia were significantly impacted by the lockdowns, especially its businesses in India and Nepal.
Eastern Europe has so far been less impacted by the pandemic due to the brewer's more limited on-trade exposure.
On 2 April, the Group suspended its outlook for 2020 due to the significantly increased uncertainty concerning the impact of the COVID-19 pandemic on business performance.
Carlsberg said today that although government lockdowns are gradually being lifted, the sales development across our regions in the coming months continues to be volatile and uncertain, not least during the important summer months. Consequently, the 2020 guidance remains suspended.
Carlsberg's full interim financial statement for H1 2020 will be published as planned on 13 August 2020.
Pets at Home Group has appointed former Sainsbury's exec Karen Whitworth as a non executive director and chair of its audit and risk committee.
Whitworth is a qualified as a Chartered Accountant at Coopers & Lybrand (now PwC) and has 18 years' experience operating at board level in a variety of commercial, operational and governance roles across several private and publicly listed organisations.
More recently, she spent 10 years at Sainsbury's, the last three of which she was director of non-food grocery and new business, and prior to that as supply chain director and director of group internal audit.
Ian Burke, Chairman of Pets at Home, commented: "I am delighted to welcome Karen Whitworth to the plc Board as Chair of the Audit and Risk Committee. Karen has extensive Retail experience, particularly in logistics and supply chain, together with a strong Audit background. We look forward to her valuable input."
Convenience chain McColl's is to postpone the reporting of interim results for the 26-week period ended 24 May 2020.
The Company originally intended to release its interim results on 14 July, but has delayed the publication "to ensure the Company and its auditors have sufficient time to complete the results preparation process and review all reporting requirements".
It said confirmation of the revised reporting date will be provided in due course.
On the markets this morning, the FTSE 100 is down a further 0.4% to 6,026.6pts.
Early risers include Finsbury Food Group, up 2% to 60.9p, Marston's, up 1.9% to 47.1p and Bakkavor, up 1.7% to 67.4p.
Fallers include Applegreen, down 4.3% to 330.2p, Tate & Lyle, down 2.3% to 612.5p and Devro, down 1.7% to 137p.
Yesterday in the City
The FTSE 100 fell back 1.6% to close the day back at 6,049.6pts.
C&C Group rose 4.4% to 239p after the announcement of brewing industry heavyweight and current Heineken UK boss David Forde as its new CEO.
Science in Sport jumped 9.5% to 34.5p on the release of a pre-close trading statement for the six months to 30 June 2020 where a sales drop of 5% to £23.6m was less severe than feared.
Other risers included Hilton Food Group, up 1.2% to 1,184p, PureCircle, up 0.9% to 99.5p and FeverTree, up 0.6% to 2,264p.
The day's major fallers included Devro, down 5.9% to 139.4p, DS Smith, down 4% to 271.2p, Greggs, down 4% to 1,526p, McColl's, down 3% to 39p, Greencore, down 2.9% to 115.9p and Bakkavor, down 2.6% to 66.3p.