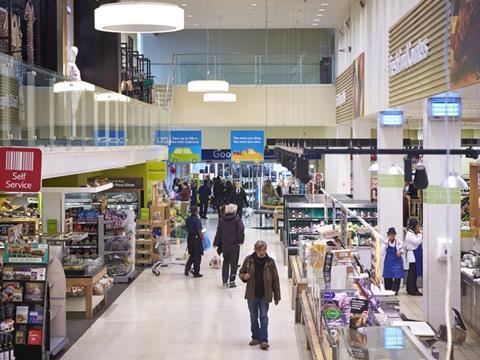 Top story

Supplier and food producers are feeling the pain of the long and brutal supermarket price war in what recovery specialist Begbies Traynor said was a "savage landscape".
The firm's Red Flag Alert research, which monitors the financial health of UK companies, showed that the number of companies making food and beverages suffering from 'significant' distress was now 1,414 businesses, compared with 728 at the same stage last year – a jump of 94%.
Begbies Traynor also warned it was the SME food suppliers which were being "flattened" in the UK retail food industry, as 'significant' distress among this group of businesses increased by 120% year on year, from 574 SMEs to 1,267.
The likes of Tesco and Morrisons have passed their pain down the food chain, with main suppliers putting off payments to companies that in turn supply them.
"These mass price reductions have severe consequences for less established food retailers and suppliers, particularly SME's, who now seem to be locked in a David and Goliath-style battle — although this time it appears David can't win," Begbies Traynor partner Julie Palmer said.
"With £1 deals for fresh produce goods such as bread and milk remaining a firm feature at the major supermarkets, it's no wonder that suppliers lower down the food chain are struggling to achieve a fair price for their produce."
Morning update
Tesco is set to unveil its worst-ever performance in its almost 100-year history this week, which Clive Black of Shore Capital has said will be a "horror show" at a statutory level. The supermarket chain will also have to raise more cash to fill a £5bn black hole in its pension fund, according to a former Tesco adviser. JP Morgan Cazenove, Tesco's corporate broker until 2013, said it found it difficult to believe that Tesco could continue to drive volumes, improve margins and pay down debt simultaneously without raising capital. "The most obvious solutions Tesco could opt for in order to strengthen its balance sheet are … either in the form of asset disposals or a potential share placing." There has been much speculation in the City about whether Tesco CEO Dave Lewis will prefer to raise the money by selling off assets such as Dunnhumby and Giraffe or plump for a rights issues. Lewis and Tesco are expected to reveal a loss for the year of between £4bn and £5bn thanks to falling sales, a £263m accounting scandal, a huge pension deficit and a massive write down of the company's property estate, which analysts are tipping to come in at about £4bn. However, the results will mark an end to the retailer's most miserable year on record and let Lewis get on with delivering his turnaround plan.
Birds Eye owner Iglo is set to be gobbled up by Nomad Foods for €2.6bn, according to people familiar to the matter. Martin E Franklin and Noam Gottesman, the consumer goods tycoons that set up Nomad a year ago, have agreed to take over Iglo from private equity group Permira, The Financial Times has reported. The expected deal, which could be announced as early as today, would be the latest transaction in a series in Europe as boardroom confidence grows.