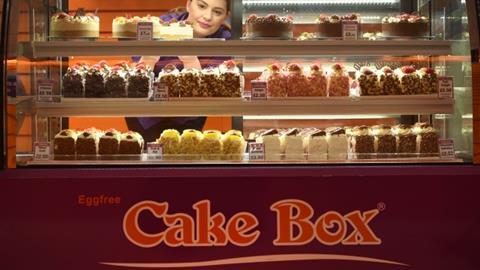 Top story
Cream cake retailer Cake Box is giving back furlough cash and paying shareholders a special dividend after a strong performance since the easing of lockdown and the reopening of stores.
Sales at the business were hit when the 133-strong-estate was forced to close for six weeks during the coronavirus outbreak, but 131 of the stores reopened by 1 June offering a limited range of products.
In the three months since reopening, trading has been "very strong", with like-for-like sales growth of 14.1% in franchise stores. Online sales continued to grow, up 74% compared with the previous year three-month period.
The company said it was also benefiting from the increasing appeal of its delivery service through Uber Eats, Just Eat and Deliveroo.
Since the start of June, the group opened five new stores, including in Swindon and Basingstoke, and continues to target further new store openings, with a good pipeline of franchisees and locations.
Cake Box is also recruiting for new roles at its central HQ to support continuing growth.
As a result of the performance, the business has taken the decision to repay the money from the government's Job Retention Scheme, amounting to £156,000. The business will make no further claims under the scheme and does not plan to make any claims under the job retention bonus scheme.
Cake Box said, with one month left in its first half, it was encouraged by the trading performance since reopening, its level of cash generation and the prospects going forward.
The group added that the board was confident in the strength of the balance sheet and has taken the decision to pay a special dividend of the same amount as the final dividend for the year ending 31 March 2020 that was withdrawn on 14 April 2020. A payment of 3.2p per share will be made on 23 October 2020 to shareholders on the register as at 9 October 2020.
Shares shot up 10% to 191p as markets opened this morning.
Morning update
The health science division of Nestlé is set to acquire biopharmaceutical company Aimmune Therapeutics.
Aimmune's Palforzia is the first and only FDA-approved treatment to help reduce the frequency and severity of allergic reaction to peanuts, including anaphylaxis, in children aged 4 through 17.
The acquisition is an extension of Nestlé Health Science's food allergy portfolio.
"This transaction brings together Nestlé's nutritional science leadership with one of the most innovative companies in food allergy treatment," said Nestlé Health Science CEO Greg Behar.
"Together we will be able to offer a wide range of solutions that can transform the lives of people suffering from food allergies around the world."
Nestlé Health Science currently has a total investment in Aimmune of $473m, an approximate 25.6% equity ownership stake.
Nestlé made its initial investment of $145m in Aimmune in November 2016, followed by further investments of $30m in February 2018, $98m in November 2018 and $200m in January 2020.
Jayson Dallas, MD, president and CEO of Aimmune, said: "The agreement with Nestlé Health Science recognizes the value created by years of commitment and dedication to our mission by the team at Aimmune.
"Delivering Palforzia, the world's first treatment for food allergy, has been a game-changing proposition in the bio-pharmaceutical industry and is transformative for the lives of millions of people living with potentially life-threatening peanut allergy.
"This acquisition ensures a level of support for Palforzia and our pipeline that will further enhance their potential for patients around the world living with food allergies."
Under the terms of the merger agreement, Nestlé subsidiary Société des Produits Nestlé will commence a cash tender offer to acquire all outstanding shares of Aimmune common stock not already owned by NHSc for $34.50 per share in cash, representing a total enterprise value of approximately $2.6bn.
The $34.50 per share acquisition price represents a 174% premium to Aimmune's closing share price on 28 August 2020 of $12.60.
The FTSE 100 opened in the red after the bank holiday weekend. The blue-chip index nudged down 0.2% on opening this morning to 5,951.85pts.
It was damp start on the London Stock Exchange for Ocado and M&S this morning as the pair's new online joint venture finally went live. Ocado opened down 0.1% to 2,494p and M&S sank 2.8% to 108p.
Early risers this morning included Applegreen, which is up 5.3% to 347.5p ahead of an AGM later today, Premier Foods, up 1.9% to 86.6p, and Fevertree, up 1.4% to 2,083p.
Hilton Food Group was part of the early losers first thing, falling 3.3% to 1,145.4p, along with WH Smith, down 2.6% to 1,147p, and C&C Group, down 1.6% to 210.5p.
This week in the City
As we move out of the summer holidays and into September, the week following the bank holiday weekend remains quiet on the markets for company news
The latest FTSE quarterly index review is due for tomorrow evening, with B&M European Value Retail tipped to move into the FTSE 100.
The latest BRC-Nielsen shop prices index is released tomorrow morning.
Household product manufacturer McBride releases its full-year results on Thursday.