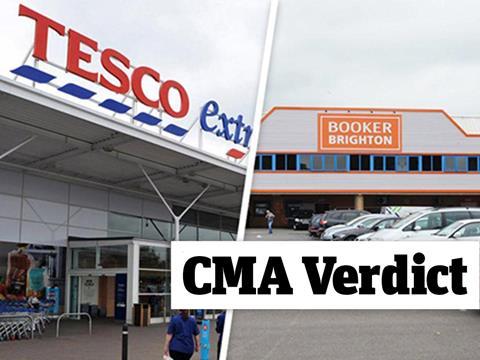 Top story
Tesco and Booker have been formally given the go ahead this morning by the competition authority to complete their £3.7bn merger.
The Competition and Markets Authority's (CMA) declared that it had no concerns after a in-depth examination of evidence from a large number of wholesalers, suppliers and retail chains as well as a survey of hundreds of retailers.
The formal decision follows a provisional green light by the deal watchdog in November.
Tesco and Booker welcomed the decision in short statements to the stock exchange.
"We anticipate respective shareholder meetings towards the end of February 2018, and completion in March 2018," the two companies said.
The CMA decided that Tesco – the UK's biggest retailer – and Booker – the largest wholesaler – do not compete head-to-head in most of their activities.
However, as Booker supplies shops – such as Premier, Londis and Budgens – that do compete with Tesco, the watchdog added that it considered the impact of this carefully.
"Booker does not own the shops it supplies and these retailers are free to set their prices and decide which products to stock," this morning's CMA statement said. "So, although these shops compete with Tesco, Booker cannot directly determine how they compete."
Given Tesco's influence generally in the retail sector, the CMA also examined whether the merged company could raise prices or reduce service quality at either the wholesale or retail levels. It found that existing strong competition in wholesale and retail made this unlikely.
During the course of its phase 2 investigation, the regulator surveyed hundreds of retailers, finding that most shops use more than one wholesaler and frequently switch. A quarter of symbol group retailers and a third of independent shops switched at least once a month, it said.
In addition, almost half of symbol group retailers surveyed and more than a third of independent retailers said that if Booker were to raise prices after the merger with Tesco, they might stop buying from Booker altogether.
The CMA also considered concerns that, after the merger, Booker would be able to use Tesco's buying power to purchase groceries from suppliers at lower prices and that other wholesalers might not be able to compete.
"This could lead to Booker eventually raising its prices if the choice didn't then exist to keep prices competitive. But the CMA concluded that the wholesale market would remain competitive in the longer term, noting that Booker's share of the UK grocery wholesaling market was not sufficient to justify these longer-term concerns."
Simon Polito, chairman of the CMA inquiry group, added: "We have carefully listened to feedback from retailers and wholesalers who operate in what are highly competitive UK retail and wholesale sectors. Retailers have told us that they shop around for the best prices and service from their wholesaler, and we are confident that this will continue after Tesco buys Booker.
"This has been an important investigation for us. Millions of people use their local supermarket or convenience store to buy their groceries or essentials, so it is vital that they have enough choice to secure the best deal for them. Having examined the evidence in depth, we are satisfied this will remain the case following the merger."
The CMA opened its phase 1 investigation into the merger in May. At the end of June, the companies requested a 'fast track' referral to the next stage of the investigation.
The clearance comes despite huge opposition to the deal from the wholesale sector. In October seven of the UK's leading wholesalers wrote a joint letter to the CMA urging it to block the deal. The managing directors of Bestway, Bidfood, Confex, Landmark, Spar, Sugro and Today's warned of a devastating impact on competition and warned Booker would be able to raise prices to the shops that it supplies.
Morning update
Shares in Booker edged up 0.5% to 226.9p this morning on news of the final clearance from the CMA, while Tesco rose 0.2% to 206.5p.
Supermarket real estate investor Supermarket Income REIT has acquired a Tesco Extra supermarket in the North Lanarkshire town of Cumbernauld, Scotland, from Legal and General for £50m.
The deal reflected a net initial yield of 5.5% after the next agreed RPI-linked rent review in March 2018.
The 9.5-acre site occupies a town centre location equidistant from Glasgow and Sterling. It comprises the 117,000 sq ft Tesco Extra store, approximately 570 parking spaces and a 12-pump filling station.
It is being acquired with an unexpired lease term of 23 years with annual, upward-only, RPI-linked rent reviews (subject to cap and floor) on full repairing and insuring terms. The purchase has been funded out of the £20m equity placing issued on the 17 November and from the company's revolving credit facility.
Ben Green, director of Atrato Capital, the investment adviser to Supermarket Income REIT, said: "This store has an impressive trading record on site and plays an important role in Tesco's Scottish online fulfilment network.
"This investment is a strong addition to our growing portfolio, increasing both the weighted average unexpired lease term and net initial yield of the company's portfolio."
Yesterday in the City
Soft drinks group Nichols (NICL) sank 3.2% to 1,538p as investors worried about its international business. The Vimto maker warned that the conflict in Yemen would hit its supply route and affect group profits.
B&M European Value Retail (BME) was among the high flyers yesterday, rising 2.1% to 410.3p.
Greencore (GNC), Compass Group (CPG) and Cranswick (CWK) also made gains, up 2.1% to 222.8p, 1.6% to 1,566p and 1.5% to 3,318p respectively.
Associated British Foods (ABF), Reckitt Benckiser (RB) and Unilever (ULVR) were among the fallers, down 1.7% to 2,814p, 0.7% to 6,667p and 0.6% to 4,183p.