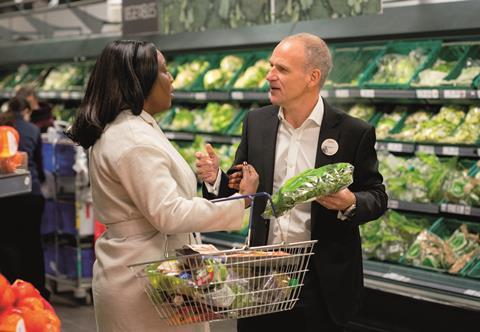 Top story
Tesco (TSCO) chief executive Dave Lewis has pledged to ban brands that use excessive and hard to recycle packaging from its shelves.
Writing in The Guardian this morning, Lewis said the supermarket will "reserve the right not to list" products with too much non-recyclable packaging from next year.
"From next year we will assess the size and suitability of all packaging as part of our ranging decisions, and if it's excessive or inappropriate, we reserve the right not to list the product," he wrote.
"We'll look at this category by category so every product is treated fairly and we'll give sufficient time to make these changes."
He said Tesco set a target in January 2018 to eliminate hard-to-recycle material across the business by the end of 2019.
"Over the last year we've changed the packaging for 800 Tesco brand products, removing 4,000 tonnes of hard-to-recycle packaging. By the end of this year, we will have removed the hardest-to-recycle materials from Tesco products and are working with our branded suppliers to do the same."
He said changes in packaging policy would be rolled out across its 2,648 UK stores, raising the possibility of removing 490 tonnes of plastic by scrapping multipack tins; 50m plastic binders on beer cans, and 44m sporks from its "on the go" food range.
"We can't overlook the fact that for too long, packaging on consumer goods has been excessive," Lewis added.
"We have all looked at the settled contents of a cereal packet and puzzled over the comparative size of the BAG and box. Or opened a bag of crisps and wondered why the packaging is twice the size of the contents."
Morning update
Ocado has experienced another fire at one of its fulfilment centres - this time in Erith yesterday evening, following the fire that destroyed its Andover CFC earlier this year.
Ocado said: "A small fire was reported at Ocado Group's customer fulfilment centre in Erith yesterday evening. The fire occurred just outside the building in a hopper containing waste packaging.
"The London Fire Brigade was in attendance and the fire has now been extinguished. No part of the material handling equipment was involved."
It said that the facility was evacuated, as required whenever a fire is reported, meaning there was some disruption to picking and some customer orders have had to be cancelled.
"We sincerely apologise to those customers affected for the inconvenience this causes. All customers will be offered a re-booking for tomorrow. The fire suppression measures in place performed as intended and the fire did not spread. We would like to thank the London Fire Brigade for their assistance."
On the markets this morning, the FTSE 100 has lost 0.4% in early trading to drop back to 7,175.2pts.
Early risers include Bakkavor, up 2.1% to 104.8p, Science in Sport (SIS), up 1.4% to 55.8p and C&C Group (CCR), up 1.3% to €4.09.
Fallers so far include Ocado (OCDO), down 2.7% to 1,208.5p, Hilton Food Group (HFG), down 2.6% to 925p and Imperial Brands (IMB), down 2.1% to 2,059.5p.
Yesterday in the City
The FTSE 100 regained 1.1% yesterday to rebound from Tuesday's losses and end the day at 7,204pts.
Major risers yesterday included FeverTree (FEVR), up 4.2% to 2,300p on suggestions by Bank of America Merrill Lynch that upmarket mixers are growing in popularity in the US giving the brand plenty of headroom for growth.
Also on the up were Marston's (MARS), up 3.6% following this week's takeover of Greene King, DS Smith (SMDS), up 3.2% to 332.6p, Ocado (OCDO), up 2.3% to 1,242.5p, Kerry Group (KYGA), up 2.3% to €108.30, Just Eat (JE), up 2.1% to 788.4p and SSP Group (SSPG), up 2% to 710p.
Yesterday's fallers included pub group Mitchells & Butlers (MAB), down 4.6% to 334p, C&C Group (CCR), down 3.5% to €4.04, Science in Sport (SIS), down 2.7% to 55p, Applegreen (APGN), down 2.3% to 463p and Glanbia (GLB), down 1.9% to €10.30.