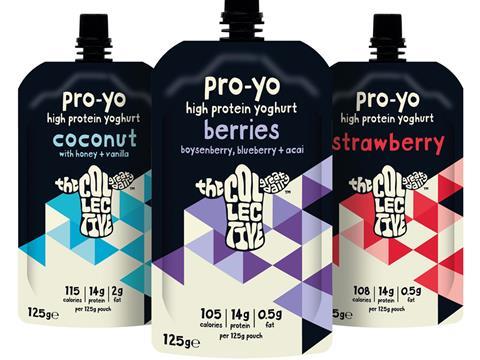 Top story
Premium yoghurt brand The Collective is holding talks with potential investors in the UK and New Zealand to secure cash to accelerate its already rapid growth, The Grocer reveals this week.
The New Zealand-headquartered business has engaged advisors at PwC New Zealand to explore options, with a sale of a minority stake in the group the most likely outcome, according to City sources.
The Collective is expected to attract a "racy" valuation using a sales-based rather than EBITDA multiple, similar to the high prices achieved by snacking brands such as Bear and Natural Balance Foods in recent years, sources added.
Amelia Harvey and the late Mike Hodgson founded the UK business in 2011 as a joint venture with the original New Zealand-based company, launched by chefs Angus Allan and Ofer Shenhav in 2009.
Both businesses have grown rapidly ever since and now need extra financing to keep the momentum going.
"The management are doing a lovely job in the UK and can grow it faster if they can get more support to handle the demand," a dealmaker added. "It's a great brand and should be bigger really."
For the full story of what is happening in the talks see thegrocer.co.uk/finance later this morning.
Morning update
Listed bakery Finsbury Food Group (FIF) has refinanced its debt facilities to allow the business the option to explore future growth opportunities and support its long-term investment strategy.
The new facility is a £45m revolving credit facility provided by a club of three banks: HSBC, Rabobank and RBS. It is also on improved terms, available for five years and includes scope to be increased by up to a further £45m.
Finance director Steve Boyd said: "We are delighted with this successful outcome and this revised facility, with significant headroom, gives us greater flexibility and means we are better equipped to deliver growth and shareholder value going forward."
Elsewhere on The Grocer this morning, we have news that online takeaway service Appetise has slashed its valuation in the hopes of drumming up interest in its £500,000 crowdfunding campaign.
The business, backed by New York fund manager Bergen Capital and former Arsenal FC MD Keith Edelman, originally planned to sell a 16.6% stake in return for the cash on Crowdcube, valuing it at £2.5m. However, it has reduced the valuation to £1m and is offering 33.3% to potential crowd investors following a slow start to the campaign.
Yesterday in the City
Shares in British American Tobacco (BATS) failed to light up yesterday despite the business reporting a 38% jump in annual profits. Sales in 2017 increased 37.6% to £20.3bn, with a 39.1% increase in operating profits to £6.5bn, mostly thanks to the £42bn takeover of rival tobacco giant Reynolds last year. However, organic sales growth of just 2.9% was lower than expected by investors. And volume of cigarettes and tobacco heating products grew by 3.2% in the year, driven by the Reynolds acquisition, but fell on an organic basis by 2.6%. The stock slumped 2.4% to 4,342p.
Fellow London-listed tobacco firm Imperial Brands (IMB) was also hit by negativity in the sector, falling 2% to 2,613p.
McBride (MCB) clawed back early heavy losses to end the day just 0.5% down to 154.6p as investors bought into management's turnaround strategy. Pre-tax profits slumped 79% to £4m in the six months to 31 December as inflationary pressure hit its personal care & aerosols business.
The FTSE 100 slipped 0.4% to 7,252.39 points as BAT and Imperial weighed in the index.
Other blue-chip stocks in the red yesterday included Diageo (DGE), down 1% to 2,470.5p, Coca-Cola HBC (CCH), down 2,450p, Compass (CPG), down 0.6% to 1,544.5p, and Tesco (TSCO), down 0.5% to 206.3p.
Other fallers included Greencore (GNC) and B&M European Value Retail (BME), down 3.1% to 176.5p and 2% to 425.2p respectively.
Ocado (OCDO) was one of the days few risers, up 1.3% to 513p, as was Morrisons (MRW), up 0.8% to 223.6p, and SSP Group (SSPG), up 0.7% to 636p.