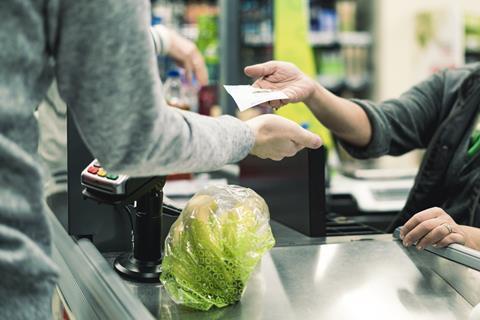 Top story
UK retail sales rebounded in August as volumes recovered from a wet July, despite a drop in fuel sales as prices rose.
The Office of National Statistics found that volumes are estimated to have risen by 0.4% in August 2023, partially recovering from a fall of 1.1% in July 2023.
The rise last month meant sales volumes rose by 0.3% in the three months to August 2023 when compared with the previous three months.
Food stores sales volumes rose by 1.2% in August 2023, following a fall of 2.6% in July 2023 when supermarkets reported that the wet weather reduced clothing sales, and supermarket food sales also fell back.
Despite this partial recovery, food stores sales volumes remained 4.1% below their pre-coronavirus (COVID-19) February 2020 levels, as retailers continued to indicate that the increased cost of living and food prices are affecting sales volumes.
Non-food stores sales volumes grew by 0.6% in August 2023, following a fall of 1.2% in July 2023 when poor weather reduced footfall.
Non-store retailing (predominantly online retailers) sales volumes fell by 1.3% in August 2023, following a rise of 1.9% in July 2023 when wet weather and a range of promotions boosted sales.
However, automotive fuel sales volumes fell by 1.2% in August 2023, with retailers suggesting the fall was linked to a sharp increase in petrol and diesel prices.
The percentage of retail sales taking place online fell from 27.4% in July 2023 to 26.9% in August 2023.
Morning update
GfK's long-running consumer confidence index increased four points to -21 in September, with all five measures up month-on-month.
The index measuring changes in personal finances during the last year is up two points at -13, which is now 15 points better than September 2022.
The forecast for personal finances over the next 12 months increased one point to -2 – 38 points higher than this time last year.
The measure for the general economic situation of the country during the last 12 months is up five points at -47, which is 25 points higher than in September 2022.
Meanwhile, expectations for the general economic situation over the next 12 months have increased by six points to -30, now 44 points better than September 2022.
Joe Staton, Client Strategy Director GfK, said: "Against the backdrop of falling inflation figures, growth in wages and high interest rates, UK consumer confidence rose this month to -21, the best recorded showing since January 2022. The view on our personal financial situation for the past year and the next is registering marginal but welcome growth, while expectations for the UK's wider economy in the coming year show a more robust six-point increase.
"With less than 100 shopping days to Christmas, the four-point boost to the major purchase measure might offer some hope to retailers, who know all too well that many people face financial pressure in the run-up to this year's festive season. While this month's improved headline score is good news, it's important to note many households are still struggling with the cost-of-living crisis and that economic conditions are tough. The reality is that consumer confidence remains suppressed, and the financial mood of the nation is still negative."
Compass Group has announced that Gary Green, COO North America, will retire from the company after 40 years of service.
He will step down from the board on 30 November 2023, however, he remains available to Compass Group until 31 March 2024.
Palmer Brown will assume the role of Group Chief Operating Officer, North America with effect from 1 December 2023 and will remain a director of the board.
Brown will hand over his responsibilities as group CFO to Petros Parras, current regional finance director, Europe Middle East.
Brown joined the US business 22 years ago and has spent most of his working career in North America in a variety of senior finance, strategy, and legal roles.
Petros Parras joined the business in January 2020. Prior to Compass, Petros worked in fmcg businesses including Procter & Gamble, Reckitt Benckiser and Coty in Europe and North America in senior finance, operational and strategic roles.
Ian Meakins, Chairman, said: "Our detailed succession planning has led to the development of an exceptional bench of candidates, and I am pleased to see these two key positions being filled by internal talent.
"Over a career of nearly 40 years, Gary has made an outstanding contribution to Compass Group, and built a remarkable business in North America. Many of the processes and strategic initiatives he's implemented in the region are being adopted elsewhere in the business with great success. In recent years, Gary skilfully navigated the pandemic, building an even stronger foundation from which the business can thrive, and firmly setting it on a path of sustainable growth for the future. The board wishes Gary and his family every happiness following his retirement."
Elsewhere, after nine years as CEO of Nestlé Health Science, Greg Behar will leave Nestlé as of December 31, 2023, to pursue new professional interests outside the company.
Greg Behar helped establish Nestlé Health Science as a leader in nutritional health solutions, growing the company's portfolio to capture attractive long-term trends and expanding into new geographic regions.
Nestlé has appointed Anna Mohl, currently head of international business at Nestlé Health Science, as CEO of Nestlé Health Science and as Executive Vice President and member of the executive board, effective January 1, 2024.
Anna Mohl has been with Nestlé for more than 20 years, starting with marketing and innovation roles at Gerber, Nestlé's US Infant Nutrition business. She joined Nestlé Health Science at its inception in 2010, where she led US Medical Nutrition marketing and Medical Nutrition sales before becoming CEO of Nestlé Health Science US.
Mark Schneider, CEO Nestlé said: "On behalf of our Board of Directors and Executive Board, I would like to recognize Greg's work in shaping and expanding Nestlé Health Science.
"At the same time, we are thrilled to announce Anna Mohl as the next CEO of Nestlé Health Science. Anna brings a deep understanding of nutrition and health with a strong focus on consumers and patients around the world. She is an inspirational leader with a stellar track record who is ideally positioned to drive the growth and profitability of this business."
Nestlé has additionally decided to promote David Rennie, head of Nestlé Coffee Brands to executive VP, effective January 1, 2024.
On the markets this morning, the FTSE 100 is up 0.1% to 7,670.5pts.
Risers include Ocado, back up 1.1% to 655.2p, C&C Group, up 1.1% to 141.6p and Nichols, up 1% to 1,040p.
Fallers include Cranswick, up 2.3% to 3,557.6p, Deliveroo, up 1.1% to 110.9p and SSP Group, up 1% to 222.8p.
Yesterday in the City
The FTSE 100 lost 0.7% to 7,678.6pts yesterday.
Ocado shares slumped 19.9% yesterday to 647.8p after the stock was downgraded by broker Exane on concerns over its weak retail growth.
Other fallers included Virgin Wines, down 9.7% to 46.5p, SSP Group, down 8% to 225p, Deliveroo, down 4.8% to 112.2p, Just Eat Takeaway.com, down 4.6% to 39.7p, Coca-Cola HBC, down 2.1% to 2,250p and Bakkavor, down 2.1% to 94p.
Risers included Marks & Spencer, up 2.2% to 236.1p, C&C Group, up 1.7% to 140p, Coca-Cola Europacific Partners, up 1.7% to €60.00, PayPoint, up 1.5% to 547p, Pets at Home, up 1.3% to 348.8p and AG Barr, up 1.2% to 502p.