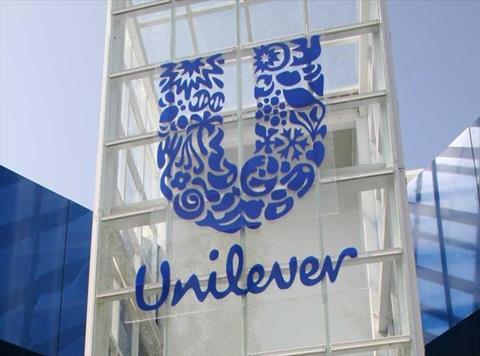 Top story
Unilever (ULVR) has grown underlying sales by 2.6% in the third quarter as it performed strongly in emerging markets. However, the consumer goods giant was held back by declining markets in the US and Europe.
Underlying growth was mostly driven by higher prices, with volumes up just 0.2%.
Emerging markets increased sales by 6.3% in the period, but were hit by natural disasters in the Americas. Developed markets were down 2.3% as the group was hit by poorer weather in Europe.
Revenues in the three months to end of September fell 1.6% to €13.2bn (£11.8bn) as the stronger euro affected sales, with a currency impact of -5.1%. Excluding the spreads business, which is currently for sale, the top line was down 1.5% to €12.5bn (£11.2bn).
In Europe, turnover fell 1.5% to €3bn (£2.7bn) as consumer demand remained weak and the retail environment challenging. Ice cream was the main source of volume decline across the region driven by poorer weather in the quarter against a strong prior year comparator.
This was partially offset by a good home care performance, particularly in the UK, Unilever said
Revenues in the first nine months of 2017 were up 3.1% to €40.9bn (£36.6bn) and 3.5% excluding spreads to €38.7bn (£34.7bn).
CEO Paul Polman said: "The transformation of Unilever into a more resilient, more competitive and more profitable business continues and we are making good progress against the strategic objectives we have set out for 2020.
"The 'Connected 4 Growth' change programme is beginning to make our business less complex and more responsive to fast-changing consumer trends. The new organisation is delivering increased innovation speed and our savings programmes are allowing us to step up investment behind new growth opportunities. We expect to reap the benefits over the coming quarters.
"While conditions in our developed markets remain challenging, we are starting to see signs of improvement in some of our biggest emerging markets including India and China. Growth in the third quarter was adversely affected by poorer weather in Europe compared with last year and natural disasters in the Americas."
Unilever reaffirmed full-year outlook for underlying sales growth within the 3 - 5% range.
Shares tumbled 3.1% to 4,410p as markets opened in London this morning.
Morning update
Improving growth in Asia and emerging markets boosted Nestlé (NESN) in the third quarter. The Swiss food giant reported organic growth of 2.6% for the first nine months of 2017 – up 3% in the third quarter – with emerging markets up 5.1% and developed just 0.8%.
Total reported sales decreased by 0.4% to CHF 65.3bn (£50.5bn) in the nine months, mostly the result of the creation of the Froneri ice cream venture with R&R, as well as negative foreign exchange effects of 0.4%.
It waters division put in a weak performance in the third quarter, with organic sales falling 1% on poor weather in Europe.
Nestlé confirmed its sales guidance for 2017 and now expects organic growth for the full year to be around the level of the nine-month period. The underlying trading operating profit margin for 2017 is also set to improve by at least 20 basis points in constant currency, in line with expectations.
CEO Mark Schneider said: "Our sales results for the nine-month period are in line with our expectations communicated in July.
"Organic sales growth continued to benefit from industry-leading volume growth, which illustrates our ability to innovate and meet consumer demand. Pricing remained soft. Zone AOA [Zone Asia, Oceania and sub-Saharan Africa] saw further improvement in organic growth. As expected, Western Europe returned to positive organic growth, with significant contributions from coffee and confectionery.
"Improving our efficiency is a key priority. We have identified further opportunities to accelerate our margin improvement, leading to a further increase in restructuring and related expenses in 2017. Consequently, we now expect our trading operating profit margin to decrease by 40-60 basis points. The development of our underlying trading operating profit margin is fully in line with our expectations for 2017."
Organic sales jumped 5.7% at spirits group Pernod Ricard in its first quarter to €2.9bn (£2.6bn) on a good performance in the US and Eastern Europe. Growth was most modest in Western Europe, with "strong dynamism" in Germany and the UK but a decline in France and a slow start in Spain. Reported sales were up just 2% after an unfavourable FX impact over the period. Group topline improvement was primarily driven by the Strategic International Brands (+8%) with strong broad-based growth, in particular from Martell, Absolut, Jameson, Ballantine's, Chivas and Malibu.
CEO Alexandre Ricard said: "We have had a very good start to the year, with our growth accelerating and diversifying in terms of both markets and brands. This is again testimony to the success of the strategic direction we adopted two years ago.
"In an environment that remains uncertain, we confirm our FY18 guidance of organic growth in Profit from Recurring Operations of between +3% and +5%. We will continue to implement our roadmap, in particular focusing on digital, innovation and operational excellence."
Yesterday in the City
Reckitt Benckiser (RB) was the big faller yesterday, down 2.5% to 6,857p after it warned for the second time this year that its sales were be lower than expected as it struggled to recover from the global cyber-attack and challenging trading conditions. The group downgraded its revenue forecast from 2% to flat.
Sainsbury's (SBRY) fell 0.6% to 246.3p despite announcing plans to save £500m by cutting 2,000 jobs.
Hilton Food Group (HFG) leapt 6.5% to 840p after it announced it had completed a £84m deal for Seachill to expand its business into chilled fish. A placing raised £56m to fund the deal, priced at 760p a share.
Premier Foods (PFD) jumped 4.6% to 39.75p, with Greencore (GNC) also making strong gains of 4.6% to 199.2p, with Coca-Cola HBC (CCH) and B&M European Value Retail (BME) also among the risers, up 2.1% to 2,647p and 1.6% to 402.1p respectively.