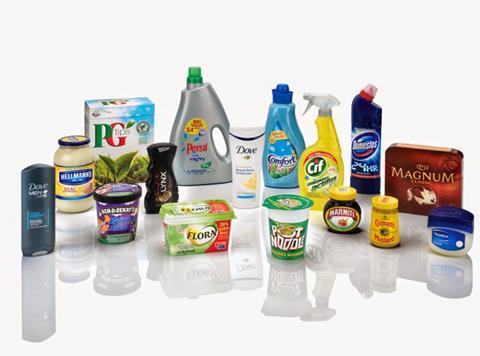 Top story
Unilever (ULVR) has pledged to halve its use of virgin plastics by 2025 to cut its use of plastic packaging by more than 100,000 tonnes to become "the first major global consumer goods company to commit to an absolute plastics reduction across its portfolio".
The consumer goods giant said its "ambitious" new commitments are designed to reduce its plastic waste and help create a circular economy for plastics.
Unilever will accelerate its use of recycled plastics and will help collect and process more plastic packaging than it sells.
It said it is already on track to achieve its existing commitments to ensure all of its plastic packaging is reusable, recyclable or compostable by 2025, and to use at least 25% recycled plastic in its packaging, also by 2025.
CEO Alan Jope commented: "Plastic has its place, but that place is not in the environment. We can only eliminate plastic waste by acting fast and taking radical action at all points in the plastic cycle.
"Our starting point has to be design, reducing the amount of plastic we use, and then making sure that what we do use increasingly comes from recycled sources. We are also committed to ensuring all our plastic packaging is reusable, recyclable or compostable.
"This demands a fundamental rethink in our approach to our packaging and products. It requires us to introduce new and innovative packaging materials and scale up new business models, like re-use and re-fill formats, at an unprecedented speed and intensity."
Unilever's commitment will require the business to help collect and process around 600,000 tonnes of plastic annually by 2025. It will meet this target through investment and partnerships which improve waste management infrastructure in many of the countries in which Unilever operates.
Jope added: "Our vision is a world in which everyone works together to ensure that plastic stays in the economy and out of the environment. Our plastic is our responsibility and so we are committed to collecting back more than we sell, as part of our drive towards a circular economy. This is a daunting but exciting task which will help drive global demand for recycled plastic."
Since 2017, Unilever has tried to tackle the issue of plastic packaging through its 'Less, Better, No' plastic framework.
The group has explored new ways of packaging and delivering products - including concentrates, such as its new Cif Eco-refill which eliminates 75% of plastic, and new refill stations for shampoo and laundry detergent, while launching market innovations including shampoo bars, refillable toothpaste tablets, cardboard deodorant sticks and bamboo toothbrushes
To boost recycling, it has created innovations such as the new detectable pigment being used by Axe (Lynx) and TRESemmé , which makes black plastic recyclable and the Lipton 'festival bottle' which is made of 100% recycled plastic and is collected using a deposit scheme.
Morning update
Tesco Bank (TSCO) has appointed Sir John Kingman to the board as a non-executive director with effect from 1 November 2019.
Tesco said Sir John brings "considerable financial services experience", having been closely involved in the UK Government's response to the financial crisis as Second Permanent Secretary to HM Treasury. In this role, he was responsible for policy relating to business, financial services and infrastructure. He was also the first CEO of UK Financial Investments, the government body charged with managing the taxpayer's banking interests.
In 2018, he was appointed to lead an independent review of the Financial Reporting Council, recommending its replacement by a new and strengthened Audit, Reporting and Governance Authority - a process which is currently underway.
He is also Chairman of Legal & General and UK Research and Innovation.
Graham Pimlott, chairman of Tesco Bank, commented: "I am delighted to welcome Sir John to the board. His experience speaks for itself and will be invaluable as we drive the change required to ensure the Bank can best serve a broad range of Tesco customers."
Meanwhile, Lidl GB has today announced plans to open ten new stores across Greater Manchester, including at City Tower in Piccadilly Gardens, over the next three years as the supermarket ramps up its ambitious expansion plans in the region.
The move, which is set to create approximately 400 new jobs, follows the opening of two new Lidl stores in Littleborough and Stretford earlier this year and adds to the supermarket's current estate of 30 stores across Greater Manchester.
Lidl's future flagship Manchester store at City Tower, Piccadilly Gardens, is set to open its doors to customers on Thursday 17 October.
The discounter is also enhancing its existing store in Golborne, by relocating it to a bigger site on Bridge Street.
Nick Harvey, regional head of property at Lidl GB, said: "Since opening our very first store in Britain in 1994, we've opened 30 Lidl stores across Greater Manchester, providing communities with quality products at prices that make them affordable and accessible for everyone. As customer demand for the Lidl offering continues to grow in Manchester, we're excited and proud to be in a position to continue opening new stores and creating more employment opportunities across the region."
Elsewhere, private label household goods manufacturer McBride (MCB) has appointed a new chairman to replace outgoing chairman John Coleman.
It has appointed Jeffrey Nodland as chairman elect with immediate effect. Nodland joined the board as a non-executive director in June 2019, will work closely with Coleman to ensure a smooth transition of his responsibilities and will formally succeed as chairman following its forthcoming AGM.
Nodland has "extensive experience" in consumer chemicals manufacturing businesses including both private label and contract manufacturing activities. He was most recently President and CEO of KIK Custom Products, one of North America's largest independent manufacturers of consumer packaged goods, where between February 2008 and January 2019 he led the turnaround and growth of the business both organically and via acquisition.
Previously, he held senior positions at speciality chemical businesses including Hexion Speciality Chemicals Inc., McWhorter Technologies and The Valspar Corporation, with responsibility for activities at a number of speciality chemical plants in western and central Europe, including the UK, Belgium, Italy and Germany.
Nodland commented: "I am honoured to take the role of non-executive chairman of McBride . The company has a rich history of manufacturing excellent products for the European retail market. We are excited about the group's future prospects and I look forward to working with a talented leadership team and our dedicated employees."
On the markets this morning, the FTSE 100 has started the week flat at 7,156.6pts.
Early risers include Glanbia (GLB), up 1.8% to €11.63, Diageo (DGE), up 1.4% to 3,333.5p and Unilever (ULVR), up 0.8% to 4,839.5p.
Fallers include C&C Group (CCR), down 9% to 378p, Devro (DVO), down 3.5% to 193p, Ocado (OCDO), down 1.3% to 1,268p and B&M European Value Retail (BME), down 1.2% to 362.4p.
This week in the City
After a flurry of news last week this week looks to be a pause for breath before third quarter reporting season kicks off next week.
The only scheduled company in the diary is the release of full year figures from Stock Spirits Group (STCK) tomorrow, while Procter & Gamble (PG) will hold its AGM.
Tomorrow will also bring the publication of the BRC-KPMG retail sales figures for September.
The Office of National Statistics will publish the UK's monthly balance of trade figures on Thursday, along with the latest UK GDP and manufacturing output figures.