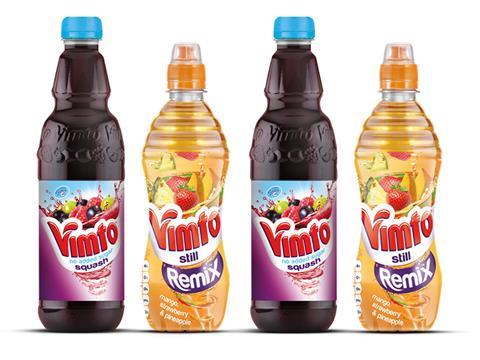 Top story
Healthy Vimto sales have helped Nichols (NICL) continue to power ahead in the UK, but the conflict in Yemen has affected its international business and held back group profits growth.
The soft drinks manufacturer said in a trading update for the year ending 31 December that it expected group sales to continue the strong trend reported at the half year (when revenues rose 12.4% to £63.5m).
UK sales of the Vimto brand are 9% ahead of the prior year (as at November 2017). Nichols added that the performance was significantly ahead of the UK market growth of 2.3% recorded by Nielsen in the year to 2 December).
"As previously reported, this strong sales performance helps mitigate the margin impact from the increased input costs affecting the industry," the group said.
The international business is expected to have grown compared to a year ago but a recent escalation of hostilities in Yemen resulted in the supply route to its Yemeni customer being blockaded, with the company now unable to send any further Vimto concentrate shipments that were planned for December.
As a consequence, management currently expects adjusted group pre-tax profits to be flat for the year.
Shares in Nichols crashed 9.4% to 1,440p as markets opened as investors worried about the uncertainty for the overseas division.
"For the year ahead, we are confident that the strong sales trend will continue in the UK with the Vimto brand being supported by a new marketing campaign launching in the spring," Nichols said.
"In addition, we are well prepared for the introduction of the sugar levy with 100% of the Vimto and Feel Good brands portfolio already below the levy threshold."
Strong growth is expected to continue in Africa for the international business, but the conflict in the Yemen coupled with some reported slowing in the Saudi economy indicated that sales to the Middle East region in the year ahead are likely to be less than previously forecast.
As a result, management currently expects low single digit percentage profit growth in 2018 in comparison to the current year.
"In summary, our diversified business model is expected to deliver continued sales growth into 2018 and the group remains highly profitable," Nichols added.
"In addition, our strong balance sheet and cash generation supports ongoing investment in our growth strategy and our ability to sustain a progressive dividend policy."
Morning update
Morrisons has appointed Kevin Havelock as non-executive director, with effect from 1 February 2018. He will also be appointed to the audit, corporate compliance & responsibility, nomination and remuneration committees.
Havelock has "significant experience" within fmcg, most recently having been a member of the executive committee at Unilever and president of global refreshment, which comprises of the global group's drinks and ice cream brands.
Morrisons chairman Andrew Higginson said: "Kevin is an excellent addition to the Morrisons board. At Unilever, he has been responsible for growing some of the world's most successful food and drink brands and he also knows the UK grocery market extremely well."
Havelock added: "I am really looking forward to making a contribution at Morrisons, a company that I've known and respected for many years."
Logistic operator NWF Group said that trading for the first half to 30 November was ahead of last year, with the company on track to hit full-year expectations.
The specialist agricultural and distribution business delivers feed, food and fuel across the UK. It added that performance in the feeds division had improved as planned with the benefits of previous capital investment being delivered, alongside a recovering dairy market due to higher milk prices.
In food, the business has continued to focus on securing additional customers to fully utilise the Wardle facility. "Whilst this is underway first half performance has been below last year, as expected," NWF said. "Outbound load demand has been robust through the period."
The fuels division performed as planned and ahead of last year, growing volumes and increasing diesel and gas oil sales to offset the normal lower levels of demand for heating oil in the summer and autumn.
Yesterday in the City
Shares in Tyrrells owner Amplify Snack Brands rocketed 71% yesterday to just shy of $12 after Hershey announced it was paying $1.6bn for the snacking group. Amplify has struggled this year after buying Tyrrells for £300m in 2016, with its share price falling as low as $5 in November. Hershey nudged up 0.8% to $115.10 on the deal.
Another mega food deal in the US yesterday also drove up the stock of Kettle Chips owner Snyder's-Lance. The snacking group jumped 7% to $50 as Campbell Soup Co revealed it was expanding its snacking options with a $4.8bn deal. Campbell's shares edged up 0.5% to $49.86 in early US trading.
Procter & Gamble (PG) rose 0.9% to $92.73 by lunch time in the US as Wall Street reacted positively to news that activist investor Nelson Peltz had finally won his proxy battle and won a seat on the firm's board.
In the UK, there was no news flow to spur activity. Ocado (OCDO) was among the best risers, up 2.3% to 344.6p, with PZ Cussons (PZC) also up 1.6% to 315.6p and Cranswick (CWK) up 1.6% to 3,270p.
Conviviality jumped 2.5% to 396p as the City continued to welcome its takeover of Palmer & Harvey's convenience store subsidiary.
Fallers yesterday included Morrisons (MRW), down 1% to 213.4p, Tesco (TSCO), down 0.6% to 206.1p, and Reckitt Benckiser (RB), down 0.3% to 6,713p.