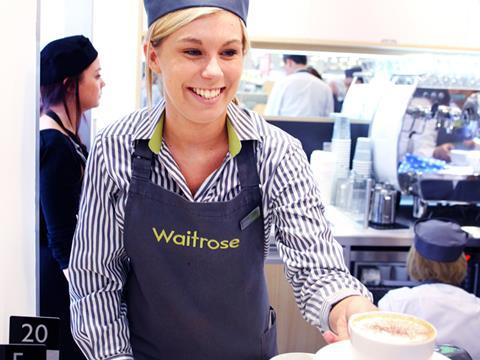 Top Story
Life has been getting decidedly tougher of late for some of the grocer sector's star performers of 2014.
Yesterday, Asda – previously seen as the sector's leader on price and most successful in defending its turf from the discounters – reported a 2.5% fall in quarterly like-for-like sales.
This morning Waitrose's weekly sales updates reveals its dramatic slowdown in new year sales growth has resulted in a year-on-year sales fall. The supermarket said today that total sales, excluding petrol, fell by 0.6% year-on-year in the week to 14 February (a like-for-like sale of around -4.5%) – contrasting with sales growth of 5.7% in the 27 weeks to 31 January.
Waitrose blamed "a period of major promotional activity this time last year", but sales have been slowing in 2015 with growth last week of just 1.1%.
Waitrose and Asda are suffering from tougher comparables as they remained in growth far longer than contemporaries like Tesco (TSCO) and Morrisons (MRW) and delivered strong growth in the first half of 2014. Nevertheless, the numbers look like evidence that its rivals' determination to become more competitive is having a knock on effect on those supermarket players previously more insulated from the price war.
Morning update
After a hectic day yesterday, including numbers from Walmart and Nestle, Rexam's acceptance of a takeover bit and the departure of Majestic Wine's CEO and SABMiller's (SAB) FD, this morning is decidedly quiet in the UK.
Across the channel, Danone has just released its Q4 numbers - with like-for-like constant currency sales up 4.7% to €21.1bn, though down 0.7% on a reported basis. The organic growth consists of a 1.5% decline in sales volume, but a 6.2% increase in value.
There's little dramatic movement in early trading, though a number of the UK-listed fmcg multinationals have started the day slightly down after seeing modest gains yesterday. Rexam, one of yesterday's biggest risers after it accepted a takeover bid, has opened 1% down on concerns that regulators might block the deal.
Yesterday in the City
Analysts and commentators gave a warm welcome to new Tesco CEO John Allan, but the market seems to take a little more convincing. Tesco was down 1.1% to 239.9p yesterday, taking its fall since the announcement of Allan's arrival to 1.7%.
In what looks like something of a vote of no confidence in former Majestic Wine CEO Steve Lewis, the retailer's shares jumped 5.2% up to 347.3p on news of his departure. Majestic has struggled in recent times, eating into margin to support sales. Its shares had previously fallen by around 17% since the end of December.
Drinks packaging manufacturer Rexam also leapt 5.2% to 565p after the announcement it had accepted a sweetened £4.4bn offer from US rival Bull. Rexam's shares are now up over 25% since the start of the year.
The news was less positive for Asda-owner Walmart, which fell 3.2% to $83.52 after revenues failed to hit analyst expectations and market concern over the impact of the retail giant's decision to boost the minimum wage it pays employees. Revenues were $131.6bn with sales rising 1.5% in stores open more than a year.
Investors were more pleased with Nestle's conviction it will see 5% organic growth in 2015, sending the food giant 1.3% higher to CHF72.