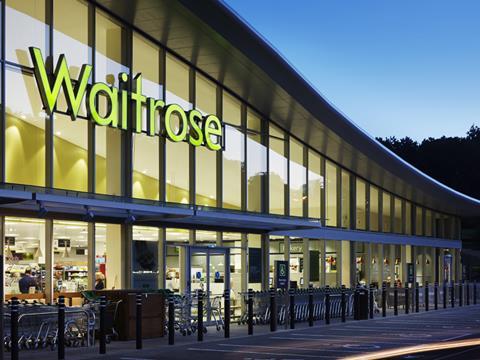 Top story
Sales were up 6.4% at Waitrose last week to £133.9m, largely driven by the current half-price event and the big 25% off wine promotion running in stores.
The rise, which is almost 5% on a like-for-like basis, is a welcome boost ahead of the first-half results for parent group John Lewis Partnership due out tomorrow.
The posh grocer said wine sales increased by more than 31% in the week thanks to the 25% discount customers are being offered when buying three bottles.
Customer director Martin George added that parents stocked up on healthier lunch box options as children went back to school, with sales of our easy peelers soft citrus and pears up 14 and 11% respectively. Sandwich sales also increased significantly, up 32% on last year.
"As autumn approaches, hot pie sales were up 28% and sales of service counter roasting beef increased by 26%, helped by the half price event," he said.
Root vegetable also record a 7% growth in sales during the week, with parsnips up by 62% and fresh vegetables accompaniments up 34%.
Over the past six weeks, sales at Waitrose were up by 1.9% gross, despite a weak August.
Waitrose sales were also up by 1.9% gross – and broadly flat on an underlying level – over the first 26 weeks of the financial year to the end of July, according to retail analyst Nick Bubb.
"That should mean that JLP is in a reasonably good mood about current trading tomorrow, when it reports its first half results," he added.
John Lewis sales were up by 3.5% in gross terms in the week ending 9 September. Fashion was up by as much as 9.8% and electricals were up 2.8%, but home was down by 1.9%.
The group as a whole was up 5.2% to £219.5m.
Morning update
It's a very quiet morning on the grocery/fmcg front, but in wider retail Halfords Group has appointed Graham Stapleton as its new CEO, with effect from 15 January 2018. Stapleton is currently chief executive of Dixons Carphone's software business, Honeybee. Prior to that, he led Dixons Carphone's 'Connected World Services' division from 2015 to 2017 and he was CEO of Carphone Warehouse UK & Ireland from 2013 to 2015. His earlier career encompassed senior leadership roles in Kingfisher from 2001 to 2005 and Marks & Spencer from 1994 to 2001. Jonny Mason has been appointed as interim CEO, in addition to his existing role as chief financial officer, with effect from 22 September 2017.
Current Halfords CEO Jill McDonald is set to leave the company at the end of September, having resigned on 3 May 2017, to take up run the clothing, home and beauty division of Marks & Spencer.
There was a soft start for the FTSE 100 as traders worried about the impact of a weaker pound on the profits of the overseas giants that make up the blue-chip index. Markets in London opened down 0.9% to 7,345.99 points.
FTSE 100 members Diageo (DGE), Tesco (TSCO), Coca-Cola HBC (CCH), Imperial Brands (IMB) and Compass Group (CPG) are all down this morning, 1.6% to 2,539.5p, 1.6% to 182.2p, 1.3% to 2,623p, 0.9% to 3,293.5p and 0.8% to 1,623p respectively.
Yesterday in the City
Aggressive inflation announced by the Office for National Statistics sparked a resurgence in sterling yesterday. The rise in Consumer Prices Index to 2.9% last month saw the FTSE 100 give up 40 points on the back of the news. The strengthening pound left London's blue-chip index down 12.9 points at the end of the day to 7,400.69.
Sainsbury's (SBRY) led the FTSE 100 for grocery stocks yesterday, rising 1.3% to 239.1p, with Associated British Foods (ABF) clawing back some of Monday's losses, up 1.3% to 3,142p.
Other risers included Dairy Crest (DCG), up 0.8% to 600p, Marks & Spencer (MKS), up 0.6% to 322.8p, Britvic (BVIC), up 0.5% to 771.5p and Greggs (GRG), up 0.5% to 1,219p.
British American Tobacco (BAT) was the biggest faller of the day, down 2% to 4,798.5p, with Unilever (ULVR) down 1.9% to 4,441p and Morrisons (MRW) down 1.3% to 243.7p.
B&M European Value Retail (BME), SSP Group (SSPG) and Reckitt Benckiser (RB) were all in the red, down 1.5% to 364.2p, 1.5% to 521p and 0.9% to 7,033p.