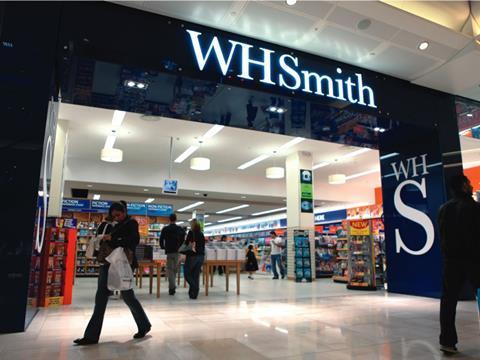 Top story
The WH Smith (SMWH) travel division continued to grow from strength to strength over the Christmas period as sales at the retailer's high street stores continued to decline.
The group delivered a "good performance" in the 20 weeks to 20 January, with total sales flat year on year and like-for-like sales down 1% for the period.
Total sales in travel were up 7%, with like-for-like sales up 3%, as the division registered "good" sales growth across all of the key channels and gross margin continued to grow in line with the plan, driven by category mix management.
The store opening programme in the UK remained on track and WH Smith expect to open around 15 new units this year. Its new large airport stores in Gatwick and Stansted opened in the period and were performing well with good feedback from both landlords and customers, the group said.
In the high street division, total sales were down 5% with like-for-like sales down 4%, in line with expectations. Gross margin was up year on year although slightly less than expected, in part reflecting the lower sales of high margin spoof humour books compared with a year ago.
WH Smith added that its cost efficiency programme would deliver full year cost savings of £12m, slightly ahead of target.
The international business continues to grow and now has 249 units open.
"Our travel business now accounts for almost two thirds of the group's annual profit and we continue to deliver strong sales growth across all our key channels," CEO Stephen Clarke said.
"This was driven by ongoing investment in the business and continued growth in passenger numbers in our airport stores over the Christmas period. Our recently opened new concept store in Gatwick South has performed particularly well and is ahead of plan."
He added: "High street sales were in line with expectations. Our stationery and seasonal ranges, including cards and wrap, performed well with good sales growth versus last year. Book sales were more challenging due to the decline in spoof humour titles and no new, big publishing trends.
"Looking ahead, while there is some uncertainty in the broader economic environment, we remain confident that the group is well positioned for the year ahead as we continue to focus on profitable growth, cash generation and investing in new opportunities."
Shares in the retailer are down 5% to 2,026p this morning.
Morning update
The Christmas sales updates continue this week with Hotel Chocolate and Fever-Tree joining WH Smith this morning.
Posh mixer brand Fever-Tree (FEVR) once again expects full-year profits to be "comfortably" ahead of expectations after another year of soaring sales.
The City darling said this morning that it expected full-year revenue for 2017 to be about £169m, reflecting growth of 66% on 2016 with sales in the second half expected to be ahead of the prior year period by 58%.
The performance in the UK in the second half of 2017 was once again "exceptionally strong". The company gained significant market share from its competitors culminating in Fever-Tree ending the year as the number one mixer brand by value in the UK off-trade channel [IRI - total UK retail mixer market value share - 13 w/e 31 December 2017].
Full year revenue in the UK is expected to be about 96% ahead of 2016, with the group performance over the Christmas period "particularly notable" thanks to "impressive" rate of sales growth across all channels, formats and flavours.
Sales in Continental Europe performed well in the second half of 2017, and it is expected that full year revenue will be circa 42% ahead of 2016.
In the US, strong revenue growth also continued during the second half of 2017, and as a result, full year revenue for the territory is expected to be about 39% ahead of 2016. The establishment of a North American office and the appointment of Charles Gibb as North American CEO, announced in December 2017, were significant milestones and reflected the group's ambition and commitment to the North American market, Fever-Tree said.
Rest of world sales growth accelerated in the second half of 2017 and full year revenue is expected to be about 57% ahead of 2016.
"Reflecting the continued strong performance through to the end of the year, the board expects that the outcome for the full year will be comfortably ahead of market expectations," the group said.
Co-founder and CEO Tim Warrillow added: "I am very proud of our performance in 2017 which has seen Fever-Tree end the year as the number one mixer brand at UK retail.
"Our pioneering approach and commitment to providing consumers with the highest quality range of mixers continues to capture peoples' imagination and is transforming the wider UK mixer category, which as a result is now the fastest growing category across the soft drinks sector.
"While we have seen strong growth across all regions, our performance in the UK over the Christmas period was once again exceptional. Our growing range of mixers and formats are appealing not only to our loyal customers but also bringing consumers back to the category and importantly attracting a new younger audience.
"There is clear evidence that the same trends of premiumisation and mixability that we've previously highlighted are accelerating and we are increasingly excited by the global opportunity this presents particularly as we transition to our own operations in the US."
Shares in Fever-Tree have soared yet again on the back of the results, climbing 6.3% to 2,588p so far this morning.
Luxury chocolatier Hotel Chocolat (HOTC) recorded a double-digit sale rise in the 13 weeks to 31 December as it opened new stores and saw growth across retail, digital and wholesale channels.
Total group revenue for the period increased 15% compared with the prior year, with 10 new shops opened during the six months ended December giving the group a total portfolio of 100 stores in the UK.
Trading since December continued to be in line with management's expectations, the business said.
"We performed well, our new store openings contributed 6% of our growth in the period, with the balance of the growth coming from existing stores, digital and wholesale channels," co-founder and CEO Angus Thirlwell said.
"Constant innovation saw our largest ever seasonal range in Christmas 2017 and we maintained strong availability of products to capitalize on the last minute rush, without any excess stock overhang.
"Highlights included a successful cocoa beauty launch, with a strong story behind it; rooted in our Caribbean eco-hotel and plantation. The launch of Supermilk Pure, our first-ever no-added-sugar milk chocolate, was also very successful and resonated strongly with customers seeking wellness and authenticity without compromise."
Shares in the retailer opened down 1.5% to 340p.
Yesterday in the City
SSP Group (SSPG) shares soared 6.6% to 679p after the travel concession operator said it had made "a good start to the new financial year and has made encouraging further progress in rolling out its strategic initiatives". The business increased sales by 13.5% in the first quarter, driven by like-for-like growth, contract wins and global expansion.
After an extraordinary jump of 28% on Monday after announcing a tie-up with Canadian retailer Sobeys, Ocado (OCDO) edged back 0.1% to 526.2p.
Risers yesterday include Greggs (GRG), up 1.6% to 1,340p, Reckitt Benckiser (RB), up 1.6% to 6,999p, Tesco (TSCO), up 1.4% to 209.9p, British American Tobacco (BAT), up 1.2% to 5,100p and Booker (BOK), up 1.1% to 227.4p.
Cranswick (CWK), Greencore (GNC) and Britvic (BVIC) all ended the day in the red, falling 1.1% to 3,124p, 0.6% to 223.7p and 0.3% to 809.5p respectively.
The FTSE 100 climbed 0.2% to 7,731.83 points.