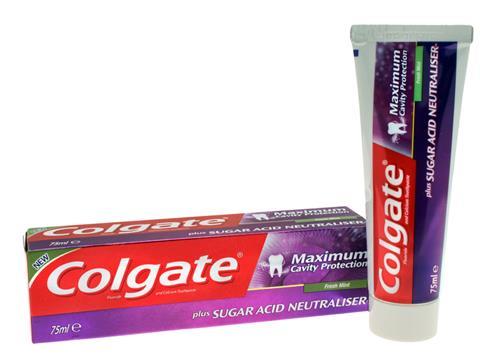 Top story
US consumer group Colgate Palmolive has replaced its British born CEO Ian Cook with the group's COO Noel Wallace.
Cook, 66, has served as Colgate's CEO since January 2009 and become chairman and CEO in July of last year.
Cook will continue to serve as executive chairman after the handover to Wallace on 2 April, but only for a period of up to twelve months as part of a leadership transition.
Colgate said the move is "in with the company's well-established long-term succession planning process"
Wallace, 54, has been Colgate's president and chief operating officer since July 2018 and has served in a variety of roles since joining the group in 1987.
In 2002 he took responsibility for its global toothbrush division and has subsequently led its business in Mexico and the US as well as leading its global sustainability strategy. In 2013, he became President, Colgate Latin America and, in 2016, was named chief operating officer, global innovation & growth and Hill's Pet Nutrition.
Cook said: "Noel is a truly outstanding leader who is extremely well-prepared to lead Colgate after a highly successful 32-year career guiding Colgate businesses all around the world.
"Over the last decade, his senior leadership roles have demonstrated his expertise in formulating and executing global strategy and in guiding operational performance. He is exactly the right leader to take the reins as Colgate's CEO now. He and the Company's next generation of leaders have my complete confidence."
Wallace added: "With our innovation and growth strategy generating renewed momentum and a highly energized team of Colgate leaders around the world, I am extremely excited about our future. I look forward to working with all Colgate people as we enter a new phase of growth, taking full advantage of our longstanding strengths and developing new ones to seize emerging opportunities."
Stephen Sadove, the lead director of Colgate's board of directors commented: "It's very gratifying to see the Board's succession planning process, which began more than two years ago, come to fruition with the happy result of Noel's election as President and CEO, and as a member of the Board.
"Noel brings exceptional experience and integrity to the job of leading Colgate, together with a sharp focus on accelerating growth. We're extremely grateful for Ian's strong leadership as CEO and we are pleased that he has agreed, at the Board's request, to provide transition guidance to Noel as executive chairman."
The move is one of a number of leadership changes at large global consumer groups in recent times, with the CEO roles at Unilever, PepsiCo and Beiersdorf all changing hands over the past few months.
Morning update
Finnish food group Raisio has reported a drop in sales and profits in 2018 as it was hit by difficult market conditions in Russia and Poland and a poor harvest in Finland.
The Group's net sales fell to €228.2m from €234.6m in 2017, with comparable EBIT down to €25.6m from €35.9m.
Headline EBIT was down to €16.6m from €54.1m once the one-off profit of €28m related to the sale of its Southall factory is stripped out of the results.
However, momentum improved in the fourth quarter with sales up to €55.6m from €53.7m in the same period last year, though comparable EBIT slipped to €5m from €6.7m.
CEO Pekka Kuusniemi said 2018 was "a period of strong renewal and construction of the new for Raisio".
In 2018 it was hit by the Russian fish feed import ban, which reduced EBIT by €2.5m in the year.
Additionally, weak consumer markets in Russia and Poland cost the group €2m while an "exceptionally poor harvest" in Finland and an increase in grain prices decreased overall profitability.
Raisio has identified the problem areas in Russia and Poland, carried out corrective measures and managed to turn the direction of the businesses, while the Russian border was reopened in December.
Its Benecol product range expanded into new categories in the year, with increased marketing investment. "In our key Benecol product markets, we have started long-term work to increase healthcare professionals' knowledge on cholesterol and on safe and effective Benecol products proven to lower cholesterol," Kuusniemi said.
In 2019, Raisio expects its net sales for continuing operations to grow and comparable EBIT margin to grow to over 10% of net sales.
On the markets this morning, the FTSE 100 is up another 0.4% to 7,160.1pts this morning.
Early risers include Bakkavor (BAKK), up 2.9% to 144p, Ocado (OCDO), up 2.3% to 961p and B&M European Value Retail (BME), up 1.6% to 329.7p.
Fallers so far include McColl's (MCLS), down 2.4% to 53.3p, Premier Foods (PFD), down 1.9% to 36p and Britvic (BVIC), down 1.8% to 895.5p.
Yesterday in the City
The FTSE 100 was boosted 0.8% to 7,129.1pts yesterday by more positive sentiment around US/China trade relations and a further slip in the value of the pound, which dropped to US$1.2864.
Ocado (OCDO) regained some ground after the fire at its Andover customer fulfilment centre wiped more than £1bn off its value last week, but rising 3.9% back to 939.4p.
Also on the up were Just Eat (JE) on potential merger talks, up 3.8% to 730.8p, FeverTree (FEVR), up 2.6% to 2,719p, Cranswick (CWK), up 2.4% to 2,610p, British American Tobacco (BATS) and B&M European Value Retail (BME), up 2.2% to 324.6p.
Other risers included McColl's (MCLS), up 3% to 54.6p, Nichols (NICL), up 2.5% to 1,445p and Greene King (GNK), up 2.2% to 608p.
The delay in the Competition & Markets Authority's investigation into the merger between Sainsbury's and Asda did not dent City confidence in the deal, with Sainsbury's up 0.7% to 293.9p.
The few fallers yesterday included Hilton Food Group (HFG), down 2.25 to 894p, McBride (MCB), down 1.8% to 134.5p, CAKE Box (CBOX), down 1.5% to 164p, Treatt (TET), down 1.3% to 423.5p and PayPoint (PAY), down 1.3% to 870p.