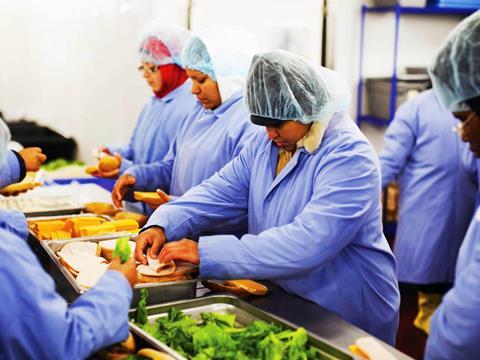 Top story
Strong UK convenience foods sales helped Greencore (GNC) achieve overall growth of 7.2% in the 13 weeks to 25 December.
The group recorded revenue of £356m – 7.2% up on a reported basis and 6.8% ahead in constant currency.
Its convenience foods division recorded revenue of £345.1m, 7.7% higher than the prior year on a reported basis and up 7% in constant currency. In the UK, revenue was 7.9% higher than in the prior year, driven by the annualisation of prior year business wins and the impact of new product launches.
Greencore stated: "While the overall UK grocery retail market remains challenging, our core chilled categories continue to perform well." It added that the construction of a new production facility on the Northampton campus is nearing completion with commissioning on track to commence in the spring.
In the US, reported revenue was 6.5% higher than in the prior year and 1.3% higher in constant currency. Revenues were impacted by the closure of the Brockton facility in November, but progress continues to be made on ramping up production capability in the Quonset, Rhode Island facility and the construction in Seattle is "progressing to plan".
The ingredients and property division, which now represents less than 5% of group activity, recorded revenues of £10.9m in Q1, 6% lower on a reported basis and 3.4% higher on a constant currency basis.
Greencore re-affirmed its outlook, stating: "The business has had a good start to the year and our major investments in capacity and capability enhancement are proceeding to plan. We remain confident in our ability to deliver performance in line with market expectations."
Greencore shares are down 1.9% to 345.8p in morning trading.
Morning update
Conviviality (CVR) has named former Argos chief operating officer David Robinson as managing director of its retail arm, the business unit focused on its franchise store operations.
Prior to his COO role at ARgos, Robinson was commercial director and sat on the Argos Board; and before that he was commercial director at Homebase and has also worked at Dixons and ran his own events management business.
Additionally, the company has appointed Mark Simmonds as commercial finance director for Conviviality Retail. He joins from Mitchells and Butlers where he was director of financial planning and analysis.
Elsewhere this morning, PZ Cussons (PZC) has issued its interim results for the six months ended 30 November 2015. Revenues were down 0.2% to £385.9m, representing a like for like decline of 0.3% as the impact of currencies hit the reported results. On a constant currency basis revenues were up 9.6%. Pre-tax profits were down 3.7% to £42.1m, but up 2.1% on a constant currency basis. ·
The company said the results reflected strong performance in Europe offsetting a difficult trading environment in Nigeria and the impact of weaker currencies in Asia and Africa. Chairman Richard Harvey commented: "The group continues to maintain a strong pipeline of new products with good examples of successful new launches in the period being St Tropez's new in shower gradual tan lotion and the new range of Carex bodywash products… It is particularly pleasing to note that our European businesses are performing strongly and are offsetting the challenges in emerging markets and the impact of currency weakness, and highlights the importance of geographic and category diversity that continues to serve the group well."
Finally, Stock Spirits Group, the Central European branded spirits producer today, has updated the market on trading for the full-year to the end of December 2015, and Q4 of 2015 financial year. Trading in Q4, and therefore for the full-year 2015, was in line with the guidance. It therefore expects group EBITDA for 2015 to be in the upper half of the range €50m - €54m, after taking into account currency fluctuations.
The FTSE is down again this morning, falling 1.5% to 5,788pts.
Most large grocery stocks are in the red, led by Marks & Spencer (MKS), down 1.6% to 411.2p, and Imperial Tobacco (IMT), down 1.7% to 3,527p.
Conviviality is flat this morning at 203.8p, while PZ Cussons has plunged 7.5% to 253.2p. Ocado (OCDO) is also down 2.8% to 263.8p.
Yesterday in the City
The FTSE 100 was down once more yesterday, driven lower by another oil-related sell-off as the price of Brent crude fell by close to 5% on concerns over oversupply. The FTSE 100 ended the day 0.4% down to 5,877pts.
However, the biggest story in the fmcg world was the continued rise of Fever Tree (FEVR). The premium drinks mixer manufacturer gained 9.2% yesterday to set another all-time closing high of 640p after announcing a 71% rise in full year sales and upgrading full year earnings expectations.
There were also strong gains at PZ Cussons before its trading update this morning, up 2.7% to 273p yesterday. Also on the rise were SSP Group (SSPG), up 3.1% to 289.5p, Cranswick (CWK), up 2.2% to 1,955p, and Majestic Wine (MJW), up 2.1% to 348p.
The sector escaped heavy falls yesterday, but Tesco (TSCO) slipped 2.7% to 156.2p to stem its recent better trading momentum.
Also falling were Poundland (PLND), down 2% to 145.4p, McColl's Retail Group, (MCLS), down 1.6% to 140.75p, and Ocado, down 1.6% to 271.5p after its recent Amazon-inspired rally.