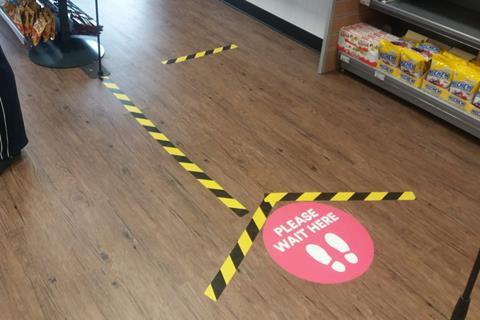 Vita Coco CEO Giles Brook said "non-essential, impulse items" in particular could see sales slump

Some brands believed the stockpiling of 'mainstream products' was the main cause for falling sales
Challenger brands are bracing for a further retail sales slump as social distancing rules implemented in supermarkets have focused shoppers on well-known brands.
Fast-growing startups warned store measures set up to slow the spread of the coronavirus outbreak, such as limiting customer numbers and floor markers to help maintain a two-metre distance, would lead to a reduction in sales as shoppers "linger less" and focus on bigger brands.
"Shoppers have less time to browse shelves," said Rafael Rozenson, founder of Vieve Protein Water. "This means they will tend to focus on brands they are familiar with."
Furthermore, as consumers limited their outings, frequency of shop was likely to reduce, said Vita Coco CEO Giles Brook.
He added: "People's appetite to hang around and dwell in the supermarket will also reduce because of the wait times and two-metre distancing rules.
"While, as shoppers go off their list, there is a danger, particularly for non-essential, impulse items to see sales soften."
Other challenger brands however, pointed to stockpiling as the main cause for falling sales, as supermarket staff were forced to focus on restocking products like toilet roll, rice and pasta, which consumers have been hoarding since the pandemic began.
Huib van Bockel, founder of Tenzing, added: "If people continue to stockpile mainstream products, us challenger businesses will go out of business within the next three months.
"Which consequently means people will be eating pasta, with a side of bog roll and washing it down with hand sanitiser for years to come."
Concerns over the speed of restocking were widespread among startups, which being less fast-moving feared their replenishment was "lower down the priority scale of supermarkets", said Laura Clacey, co-founder of Sxollie Cider.
Rozenson added: "It seems the supply challenges are forcing supermarkets to focus on brands and product lines that generate the most volume, which means challenger brands can be overlooked.
"If we are in stock, we should sell through just given the amount of volume going through retail at the moment, but retailers are simply deprioritising challenger brands."