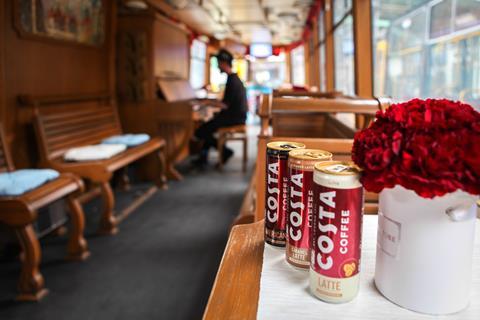 Costa Coffee branded products will launch into European markets next year as Coca-Cola HBC (CCH) plans to expand its portfolio into the "lucrative" coffee business.
The London-listed Coca-Cola bottler will launch a full range of Costa products in "at least" 10 of its 28 markets, including Bulgaria, Greece, Hungary, Poland, Romania, Russia and Switzerland.
The range will include beans, roast & ground coffee, pods and ready-to-drink beverages, to address "consumer needs and preferences across multiple channels and occasions".
A range of "fully supported" Costa branded coffee machines will also become available to customers.
Costa's retail stores, already present in 8 European markets, are not an "area of priority" for Coca Cola HBC, with the current plans focusing on offering just the product range.
"Adding a brand as strong as Costa Coffee to our portfolio will allow us to capture more consumer occasions, to partner even more closely with our customers across all channels and strengthen our ability to address every drinking moment throughout the day," Coca-Cola HBC CEO Zoran Bogdanovic said.
"Our well-established infrastructure, processes and capabilities around coffee means that we will hit the ground running with this exciting opportunity."
The "lucrative" coffee market is a multi-billion-dollar category across Coca-Cola HBC's 28 markets and is forecast to grow at an annual rate of 4%, the company claimed.
The Coca-Cola Company (KO) agreed a £3.9bn deal to acquire Costa Coffee from Whitbread (WTB) in August 2018 and has since then focused on expanding the vending and ready-to-drink products side of the business.
In June,the soft drinks giant unveiled three Costa RTD cans, including Classic Latte, Caramel Latte and Black Americano flavors, with the trio featuring among the products launching in Europe.
Coca-Cola was "thrilled" to partner with its bottler in pursuit of its aim of becoming a "total beverage company," said global ventures president Jennifer Mann.