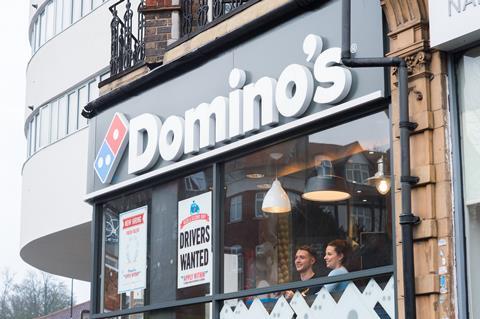 Top story
Domino's Pizza Group has reported a rise in first half sales, driven by "rapid" growth in its UK delivery business during the coronavirus lockdown period.
The group said like for like sales growth has been strong during the first half of the year to date, with trading in the period prior to the lockdown "robust" with an increased order count.
At the start of the lockdown period it stopped customer collections, which accounted for 21% of sales and 31% of orders in 2019.
However, its sales performance from delivery grew rapidly with an increase in order count and a growth in items per order and therefore average ticket. This increase in sales from delivery more than offset the lack of sales from collection, although total order count has declined during the period.
Additionally, it also saw a change in consumer purchasing behaviour and average basket composition, with a higher proportion of sides and desserts, which, whilst aiding our sales performance, has impacted our margins.
Like for like sales in the period for from 31 December to 14 June were up 3.7%, with sales from 23 March onwards up 5.1%.
However, its business in Ireland, which is a much smaller part of the Group, has seen a weaker performance, against a strong comparative last year.
Domino's said it believes "wider consumer spending weakness due to the Covid-19 lockdown has been more pronounced in Ireland".
As the lockdown begins to ease, the firm is now seeing a gradual re-introduction of contact free collection across the system, although it expects this to take some time to recover to prior levels.
Its supply chain has maintained full availability to stores throughout the period.
It has also supported our franchisee partners, including changing payment terms so that cash passes through the system quicker, and incurring the costs of items necessary to ensure safe operations such as Contact Free Delivery boxes and face masks.
However, these changes have meant that we have incurred considerable additional costs across its operations during the lockdown period, which have more than offset the benefits from the increased sales we have achieved.
Domino's therefore expects that EBITDA for the first half of the year will be slightly lower year on year.
Due to uncertainty about the easing of lockdown and the associated costs, it remains "unable to provide guidance for the full year."
CEO Dominic Paul commented: "I joined the Group at a time of unprecedented trading conditions and have spent my first few weeks as CEO becoming fully immersed in the business. I have been hugely impressed by the hard work, dedication and agility of our colleagues and our franchisee partners to keep Domino's delivering, and I would like to say a big thank you to the entire team.
"Throughout this crisis we have focused on looking after our people and working together with our franchisee partners to safely serve our customers and help our communities. I am proud of the performance of our system during this period, and that the vast majority of our stores have remained open. I am looking forward to giving a more detailed update on our performance and sharing my first impressions of the business at our first half results presentation in August."
Morning update
Agri services group Origin Enterprises has issued a trading update for the three and nine months ended 30 April 2020.
Group revenues, for the nine-months ended 30 April 2020, decreased by 6.7% to €1.2bn (7.7% on an underlying basis).
The fall in revenues in the period reflects the in-year impact of reduced market demand for agronomy services and crop inputs, principally in Ireland and the UK, due to a lower level of intensive autumn and winter crop plantings as a consequence of the wettest autumn winter planting season in 30 years.
It said its markets experienced extremely dry conditions in the third quarter which persisted into June, leading to significant soil moisture deficits which negatively impacted overall crop potential for farmers and growers, thereby resulting in a lower intensity of crop input investment spend.
The COVID-19 global pandemic brought about operating restrictions implemented across all its operating geographies.
In line with government and health authority guidelines, the Group has implemented a range of extensive measures to ensure continuity of service to the agricultural community.
Revenues for the third quarter were 1.6% higher at €604.8m, with an underlying increase of 1.5% "demonstrating the operational robustness of the group's operations".
The persistent and prolonged dry conditions across its Ireland & UK and Continental European means it expects demand will be lower than had been expected at the time of its half year trading update in early March.
However, in what has been a challenging year due to extreme weather conditions and the operational challenges presented by COVID-19, the group expects to deliver a resilient financial performance for its full year results, with full year adjusted fully diluted earnings per share of between 23 to 26 cents.
Elsewhere, logistics company Wincanton has reported a strong year of revenue growth, driven by a big boost to its grocery retail business.
It posted year on year revenue growth of 5.2% to £1.2bn for the year to 31 March – with notable growth in Retail Grocery (+26%) and Retail General Merchandise (+5.8%).
This growth was driven by new business in the year, including transportation and vehicle maintenance services contract with Morrisons and contracts with Wickes, Dwell and Sofa Club in its Home and eFulfilment business.
All major contract renewals were successful in year, including Sainsbury's, Waitrose & Partners, Williams Sonoma Inc., Ibstock, Müller Milk, Lucozade Ribena Suntory and adidas
Underlying profit before tax grew 7.3% to £52.9m and EPS growth was 6.9% to 35.8p.
Its bottom line improvement was driven by revenue growth, strong operational performance and reduced levels of debt.
It also completed a chief executive review, to refocus strategic direction and organisational structure aligned to growth focus: "Great people delivering sustainable supply chain value"
However, due to the coronavirus crisis year to date revenue is down 10% year on year with negative impact on year to date profitability mostly in closed book contracts.
May revenue up 7% from April and there are signs of gradual increase in activity levels in segments most affected (namely construction and transport services).
CEO James Wroath commented: "Wincanton delivered another year of strong performance in FY19/20, since when the COVID-19 crisis has created significant challenges for the Group and our customers. The measures we have implemented have ensured great service has continued during the crisis period and opportunities for future growth have continued to emerge. Furthermore, profitability continues to recover as our sectors return towards normal levels of activity.
"The overall direction of our strategy following my initial review has not been altered by COVID-19. Wincanton has a strong business model with an experienced management team, diversified service offerings and an excellent reputation. I expect to use this foundation as a springboard for growth to drive even greater success in the future.
"We remain on course for what I anticipate will be an exciting next phase of growth and achievement for Wincanton as a result of the huge commitment of our staff and our disciplined approach."
On the markets this morning, the FTSE 100 has opened the day up a further 0.9% to 6,298.5pts to build on yesterday's strong gains.
Early risers include McColl's, up 6.4% to 46.7p, Greggs, up 3.3% to 1,795p and Marks & Spencer, up 1.8% to 111.5p.
Domino's Pizza Group leads the fallers, down 10.4% to 303.6p so far this morning, while Science in Sport has lost 5.9% to 32p and Carr's Group is down 2.7% to 107p.
Yesterday in the City
The FTSE 100 ended the day up 2.9% to 6,242.8pts on hopes the US is preparing a US$1trn investment into its economy and less bad than feared UK unemployment numbers.
Amongst yesterday's strong risers were Premier Foods, up 7% to 56.7p, McColl's Retail Group, up 6.4% to 46.7p and McBride, up 5.5% to 69p.
A number of FTSE 100 names were amongst the biggest gainers, including Just Eat Takeaway.com, up 6.3% to 7,674p, Imperial Brands, up 5.1% to 1,548p, British American Tobacco, up 4.7% to 3,130.5p and Diageo, up 4.1% to 2,836p.
Food to go players also gained, with Greggs up 5.2% to 1,738p and SSP Group, up 3.7% to 277.2p.
The days few fallers included Naked Wines, down 4% to 360p, Finsbury Food Group, down 3.9% to 62.5p and Hotel Chocolat, down 3.2% to 300p.