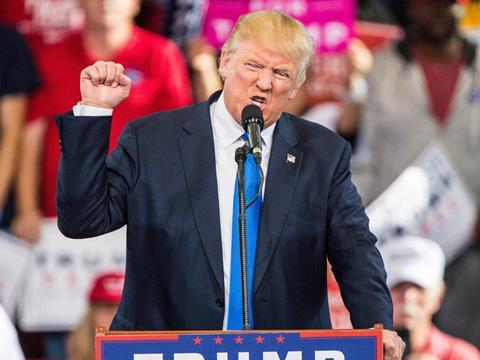 Donald Trump has romped home to a historic election victory in the US. But what is his election likely to mean for the UK food & drink sector? Here's our roundup of industry and City reactions and analysis.
More uncertainty
Uncertainty has been the watchword ever since the EU referendum in June, and the election of Trump – a president with no prior experience of political office and who employed decidedly colourful campaign rhetoric – will bring more of the same. Much more.
"This creates another layer of uncertainty"

Mike Coupe, Sainsbury's CEO
"We live in uncertain times and this creates another layer of uncertainty," said Sainsbury's CEO Mike Coupe this morning, as he announced the retailer's latest results. "We had no idea this morning, it's very difficult to predict. But we are very clear about what we are going to do." Asked about any possible impact on food prices, Coupe said this, too, was impossible to predict. "There are cost pressures within the supply chain our job is to mitigate the pressure on our suppliers to reduce our costs to mitigate any impact on customers with the effect of the election I expect there aer other currency fluctuations and we will deal with those as we have done. There are always things happening around us. Our job is to get on with our job. And we've done a pretty good job over the past couple of years."
Joanne Denney-Finch, IGD chief executive, says it will take time to assess what Trump's election will mean in practice. "For our sector, it will just add to a climate of perma-uncertainty," she adds.
"After Brexit, the only certainty was uncertainty," says Clive Black at Shore Capital. "Mr. Trump's election brings more imponderable items with renewed focus on the forthcoming Italian election plus events to come in France and Germany. If a trend is being set then their respective establishments may need to also think about buying some suitcases."
For the time being, however, the longer-term impact is difficult to predict. Andrew Kuyk, director general at the Provision Trade Federation, says: "Markets (currency and shares) react to sentiment, and much of the initial movement is because of expectations rather than anything that has actually yet happened. The reality is that no one really knows what a Trump Presidency will mean, either for the US or for the global economy, or for current and future trade deals."
Peter Cusick of Roythornes solicitors, strikes a similar note: "It appears the election of Mr Trump will only increase the uncertainty that UK food manufacturers are currently experiencing. Following the post-Brexit devaluation of the pound, a period of calm in order to deal with the effects of increases in raw material costs would have been highly desirable."
A special trade relationship?
Among the biggest areas of uncertainty will be global trade relations. Trump's cynicism towards free trade deals is well documented and has raised deep concerns about how global trade relations will develop under his presidency.
The key focus now is figuring out if Trump's campaign rhetoric will be matched by policy, says Mike Meek, procurement director at Allmanhall. "Donald Trump's Senior Economic Advisor, Dan Dimicco has indicated that the UK could go to the front of the queue regarding any future trade deal with the US, however, Trump himself has expressed protectionist views, by promising to put American workers and industry first, and denigrating trade deals, such as NAFTA and TPP. These protectionist views will impact global economic growth and the nature of international trade.
"This is not the apocalypse. Trump is a businessman, so sense may prevail. But my biggest is worry is when he comes under pressure: he's unpredictable," says Jeff van der Eems, former CEO of UB International. "My fear is the move against free trade and towards isolationism will put us backwards."
This would rob UK manufacturers of an important post-Brexit coping mechanism, says Cusick. "Some food companies will be looking at non-EU exports to markets such as North America as a way of boosting sales and Mr Trump's stated aim of an America first policy could make exporting to the USA more challenging."
"Trump may fast track our trade agreement with the US, which is not bad for Britain as a 'special' trading partner"

Rahul Kale, Typhoo
"Trump has pledged to increase trade protection and reduce immigration - policies that would simultaneously weaken economic growth and increase inflationary pressures," adds Standard Life Investments. "It is plausible that the new administration will not ramp up tariffs on Mexican and Chinese imports, content instead to bury the prospect of new trade agreements and make more use of enforcement clauses in existing agreements."
Others, however, hope a Trump-led US may well be more inclined to strike a more favourable (and faster) trade deal with a post-Brexit UK than may have been the case under a President Clinton (or, indeed, if the UK had remained part of the EU).
Rahul Kale, director for international business at Typhoo, says the US is Typhoo's biggest export market and he is hopeful trade relations between the UK and the US will be constructive under President Trump. "Given the fact that Obama prior to Brexit had indicated that Britain will have to be in the queue to make any deals with America, Trump may fast track our trade agreement with the US, which is not bad for Britain as a 'special' trading partner," he says.
"At a trade level, Mr. Trump's election may indeed bring the UK to the top of countries with which the USA may wish to do a trade deal," agrees Black at Shore Capital.
Walter Zanre of Filippo Berio is also positive about the implications of a Trump presidency. He will be "good for business" once the initial market turbulence dies down, he says, with the UK grocery industry set to feel little or no adverse effect. Trump has vowed to stimulate the economy, and Zanre is inclined to believe him.
Van der Eems agrees the UK could benefit, but warns trading with the EU must remain a priority. "In a narrow fashion, the UK might benefit by helping the country to strike a trade deal quickly with the US - but Britain's biggest trading block is Europe and the country won't want to do anything that jeopardises its trading negotiations with the EU."
Denney-Finch says: "The UK has a trade surplus of £0.8bn with the US for food and groceries and so our interests lie in the continuing flow of trade. "IGD will be helping our members to work through the implications through our Brexit and Beyond service."
Currencies
The dollar tumbled overnight as it became clear a Trump victory was on the cards, but has since bounced back and there has not been a mass Brexit-style sell-off of the dollar.
The euro is currently just 0.14% up against the dollar over the past 24 hours and the pound is only 0.25% up, while the dollar has slipped 1.4% against the Japanese Yen.
More significantly the dollar has risen 8.5% against the Mexican peso on fears over what a Trump administration will mean for the trade of Mexican goods into the US.
David Lamb, head of dealing at FEXCO Corporate Payments, comments: "In part this [stability against sterling] is down to the pound having lost its safe haven status. Right now, many see swapping dollars for sterling as jumping from the frying pan into the fire.
"The President Elect's moderate victory speech has settled nerves to a degree, and there is at least consensus on one thing – America is taking a leap into the unknown and the potential for dollar volatility beckons."
The lack of dramatic movement against major Western currencies is no reason to be reassured, however, warns Rabobank. "The threat that Trump's policy could lead to a widening of the budget deficit is now impacting longer term treasury yields. The fear that trade spates could slow growth have also lessened expectations regarding Fed rate hikes. The combination of both these fears suggests that the dollar is vulnerable and we are forecasting further broad-based weakness in the coming months. AUD, CAD and NZD are also vulnerable as rate cuts fears in these countries build."
For sterling, meanwhile, some hope a recovery could be on the cards. "We will watch with interest to see how sterling reacts versus the dollar because there could be some strengthening, which may ease inflationary forces," says Black.
Like many exporters, Kale at Typhoo is keeping a close eye on the situation. "The dollar is likely to weaken, which Trump may prefer if he wants American manufacturing to return. That may have an impact on British exports to and import from America!"
Analysts at Societe Generale also see potential benefits for emerging market currencies. "A weaker dollar would clearly be unhelpful to Euro and dollar earners, but should underpin and accelerate recent emerging markets currency recovery, leading to lower inflation, higher GDP and real wage growth," they write.
Commodities
Many commodities are traded in dollars, so a weaker dollar long term will take pressure off commodity inflation, says van der Eems. But that will be short term, he warns, and "we're in for inflation regardless of what Trump may or may not do".
Stefan Vogel, analyst at Rabobank says: "A weaker US dollar will make US exports more competitive on the global market and thus might lead to strong US soybean and corn exports in 2016/17."
Mintec, meanwhile, says the possible impact is too early to tell. Following the election results in US, USD fell in value against other major currencies in the early hours of 9 November. But it has quickly rallied and is back at normal levels. It is too early to say if there will be any significant effects on commodity pricing."
Who stands to gain?
Consumer staples are typically seen as a safe haven during times of uncertainty, says Societe Generale, so big consumer goods businesses could stand to benefit from the Trump presidency. Soc Gen analysts pick ABI as a potential winner of a Trump presidency: "The market might perceive Trump supporters as the left behind ex Bud drinkers," they write. Similarly, PepsiCo could benefit because snacks and soft drinks are both "low-ticket blue collar" categories, though this could be tempered by some exposure to Mexico.
However, the most immidate impact is almost wholly negative with few consumer goods stocks on the up and most trending downwards.
One of the few notable risers is UK-listed GlaxoSmithKline, which is up 2.1% to 1,590p.
Who's most exposed?
The long-term impact of President Trump is impossible to gauge at this early stage. But, in an analysis ahead of the elections, Soc Gen pointed to a handful of companies that will be worth watching, particularly because of their exposure to Mexico, which has been subject of some of Trump's most robust pre-election rhetoric. Key companies to watch out for in this regard include Heineken, believes SocGen, as the company has a major presence in the country, with about 12% of its sales coming from there.
Market worries are focussed on Tate & Lyle (TATE), the UK-listed sucralose producer with large US operations, down 9.5% to 677p. Heienken is down 4.9% to €70.04 on its exposure to Mexico and South American food group Marfrig is down 4.1% to BRL5.40 on worries over trade barriers for imports from Latin America.
Most major US fmcg players fell in trading in the US today given their position as major global exporters. Kraft Heinz (KHC) was down 3.8% to $85.01, Mondelez (MDLZ) was down 3.5% to $44.38, Kellogg (K) fell 3% to $74.69 and AB InBev (ABI) dropped 2.3% to $113.01. There were also 2%+ falls for Philip Morris and Coca-Cola.