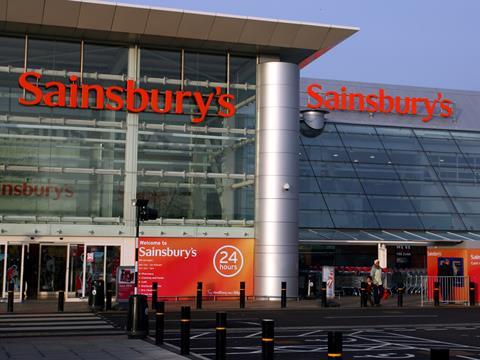 Top story
Supermarket sales were boosted by the early Easter period to rise 1.1% in the 12 weeks to 27 March, according to the latest market share figures from Kantar Worldpanel.
Kantar said the early Easter gave the market a sales boost of £152m, adding 0.6% to the overall growth rate.
Sainsbury's (SBRY) continues to lead the big four after growing sales by 1.2% during the period, while Tesco's (TSCO) sales decline lessened for the fourth consecutive month after falling 0.2% year on year.
Morrisons (MRW) saw sales fall by 2.4%, which was an improvement on last month, while Asda saw sales drop 3.9% in the period.
The Co-operative saw sales increase by 3.9% – its fastest growth since the Somerfield acquisition in 2011. Lidl retained its place as the fastest growing supermarket, increasing sales by 17.7% and Aldi grew sales by 14.4% to reach a new record-high market share of 6%.
Shoppers continue to benefit from falling grocery prices, with like-for-like prices 1.5% lower than this time last year.
Meanwhile, Nielsen found that sales during the four-week period ending 26 March 2016 were up 2.5% versus the same period a year ago. Sales volume during the four-week period increased 1.3% versus the same period a year ago – halting a run of six consecutive declines.
"Although the early Easter gave retailers a welcome boost, sales during the core two-week Easter trading period were down 2% versus last year, due to deflation and further price cutting," said Nielsen's UK head of retailer and business insight Mike Watkins. "Only confectionery, alcohol and, to a lesser degree, some fresh foods provided positive industry growth. Getting back to sustained sales growth really requires deflation to be replaced by low inflation."
Nielsen said Marks & Spencer (MKS) (+4.2%) and Waitrose (+2.9%) enjoyed the biggest increase in year-on-year sales after the discounters during the 12 weeks ending 26 March. Asda (-4.7%) and Morrisons (-2.3%) experienced the biggest declines in year-on-year sales.
Morning update
The City has decided Tesco is the big loser in this morning's Kantar and Nielsen market share updates as despite its improving sales trend Tesco's shares are 2.6% down to 185.9p this morning.
Morrisons has also fallen 0.9% to 199.2p, while Sainsbury's is down a more modest 0.3% to 275.9p.
Elsewhere, meat supplier Cranswick (CWK) said it continued to see positive trading during the fourth quarter of its financial year ended 31 March 2016. Total full year sales volumes were 12% higher than the previous year with full year underlying sales volumes up by 10% and corresponding revenues ahead by 5% due to lower pork prices.
Export sales grew strongly in the final quarter "maintaining the positive momentum seen in the previous nine months and reflecting the ongoing robust demand for pork products in Far Eastern markets", Cranwsick said.
It added that it invested in excess of £30m across its asset base during the last financial year to support future growth and drive further operating efficiencies. This level of investment is expected to continue through the current financial year.
Cranswick stated: "With experienced management at all levels of the group, a strong range of products, a well-invested asset base and a robust financial position, the board remains confident in the continued long-term success and development of the business." Its full-year results are out 24 May.
Tate & Lyle (TATE) has released an extremely brief trading statement that says fourth quarter performance of the year ended 31 March 2016 was "in line with both expectations and the outlook included in the trading statement of 11 February 2016". Tate & Lyle will announce its full year results on 26 May 2016.
Stevia producer PureCircle (PURE) has released a trading update for the year ended 30 June 2016. It said developments in the global sweetener market, including regulatory approvals in India and Brazil and government action against sugar in the UK, have continued to favour the mid to long term growth prospects for stevia.
Trading in its third quarter to 31 March has continued to be strong and it has more than $40m of projects in the pipeline. Assuming that not all these projects launch in the fourth quarter 2016, it expects year on year sales growth for the FY16 full year to be not less than 10%. Additionally, at forecast full year foreign exchange rates, strong improvements in profit margins are currently expected to continue. Even if not all sales projects close in the 2016 financial year, it still expects net profit for the full year to be in line with consensus.
Chief executive Magomet Malsagov commented: "The market for stevia and our sales activity both continue to grow strongly. However, as I said in March, the trajectory of our sales growth will be uneven and is dependent on the pace and extent of customer roll-outs. Although the precise level of our short term growth is uncertain, our operating margins continue to strengthen, which gives us confidence in the increasing future profitability of the group."
The FTSE 100 has slumped 1.1% to 6,097.7pts this morning as soft oil prices have returned to hit the energy and mining sectors.
Tate & Lyle and PureCircle are both down 2.5% to 573.5p and 370.4p respectively. Cranswick is 1.6% down to 2,131.4p.
Other notable fallers this morning include Poundland (PLND), down 2.1% to 152.5p and Booker (BOK), down 1.7% to 170p.
The few risers include Finsbury Food Group (FIF), up 1.2% to 117.9p.
Yesterday in the City
The big mover yesterday was Ocado, which leapt 8.7% to 326.7p on rumours it is close to signing its first international retail detail. The online retailer hit its highest share price level of 2016 after reports suggested it was in negotiations with Florida-based Publix Super Market after bringing in Mace to advise on US strategy.
It was a generally positive day for the markets after falls on Thursday and Friday with the FTSE 100 ending the day up 0.3% at 6,164.7pts.
Fyffes (FFY) was boosted by 5.3% to 119p after acquiring Canadian mushroom producer Highline Produce on Friday.
Other notable risers included Tate & Lyle, up 2.4% to 588p, Poundland (PLND), up 3% to 155.8p, Greencore (GNC), up 1.8% to 383p and Cranswick (CWK), up 1.6% to 2166p.
There were also share price rises at Associated British Foods (ABF), up 1.5% to 3393p, Dairy Crest (DCG), up 1.3% to 614p and, despite worries over its quarterly clothing sales set to be announced on Thursday, Marks & Spencer (MKS), up 0.8% to 410.4p.
Premier Foods (PFD) eased back 1.3% to 56p despite weekend suggestions McCormick may up its offer to 70p to secure a deal. B&M European Value Retail (BME) was down 0.6% to 261.2p and Booker (BOK) fell 0.8% to 172.9p.