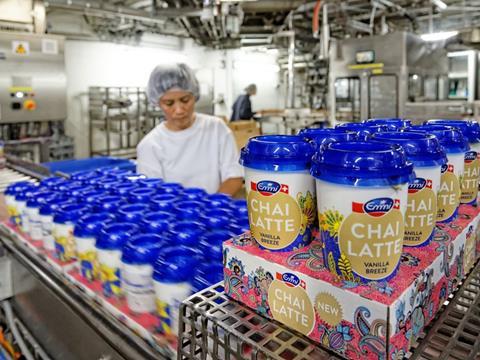 Swiss food group Emmi beat revenue expectations in the first half of 2015 despite sales slipping 3.8% to CHF1.56bn.
Emmi said its organic revenue fall of 1.7% was a "slightly better than expected" result and thanks to a stronger than anticipated performance in continental Europe.
The dairy group reported adjusted EBIT of CHF84.9m, a rise of 14.3% from the CHF74.3m recorded in the first half of 2014, while adjusted net profit was CHF46.6m compared with CHF45.2m last year. Adjusted net profit margin rose 0.2 percentage points to 3% meaning Emmi exceeded its profit targets.
Urs Riedener, CEO of Emmi said: "This encouraging performance is mainly due to the range of measures that have been consistently applied since the beginning of the year, as well as enhanced earnings in the Europe and Americas business divisions. Our goal in the second half of the year is to keep the decline in sales within reasonable limits – particularly in Switzerland."
In the Switzerland, sales were 3% below the same period last year at CHF874.2m, reflecting the decline in retail business, the fierce price competition in the industrial business and flagging tourism due to the strength of the Swiss franc.
Sales in the rest of Europe were CHF230.8m, a decrease of 1.3% in organic terms. "The division therefore withstood the turbulence of the euro better than expected," Emmi said.
In the Americas, sales amounted to CHF387.3m, a decline of 5.1 %. In organic terms, but excluding currency and acquisition effects growth of 3%.
However, the group warned: "Emmi expects the market situation to remain challenging for the rest of 2015. In Switzerland, higher retail tourism and import pressures, the fierce price competition in the industrial business, and declining consumption in the food service sector will be noticeable"
"The company anticipates that the negative effects of the weak euro on sales in Switzerland might be even greater in the second half of the year."
It still expects an organic decrease in sales of -3 % to -2 %, but upgraded its EBIT expectations to between CHF170m-180m (previously CHF150m to CHF160m) with a net profit margin slightly over 3%.