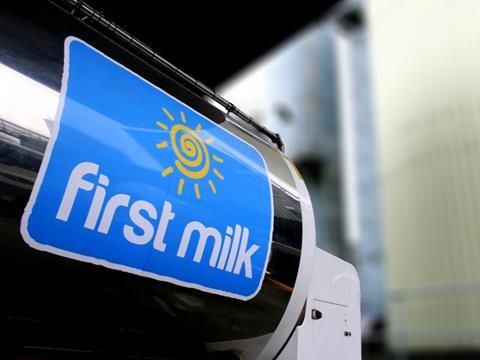 First Milk slashed its net loss by £23m and returned to operating profit last year after stripping back its operations and selling loss-making businesses.
Its annual accounts for the year ended 31 March 2016 showed a dramatic 34% collapse in annual sales amid lower milk prices and increased global supply not being matched by growth in demand.
This supply and demand imbalance caused a "significant" reduction in sales volumes of bought-in milk during the year.
However, First Milk chairman Clive Sharpe said the business is "smaller, but in much better shape" after its ongoing turnaround plan improved profitability during the period.
Operating profit (before exceptional items) rose to £6m during the period after recording an operating loss of £22.1m last year.
The net loss for the year reduced by £23m to £5.1m from £28.1m and net bank borrowing almost halved from £60.3m to £32.1m.
The bottom line improvement was driven by the sell-off of loss making business, including Glenfield soft cheese and exiting its Westbury skimmed milk powder, butter and cream business.
Since year-end First Milk has also sold its CNP sports nutrition business, which was bought back closer to break even during the 2015/16 trading period.
First Milk also reduced costs by downsizing central functions and improved operational performance and product quality in its hard cheese business.
Sharpe commented: "The reduced value of milk and other dairy ingredients, accompanied by a significant reduction in the volumes of bought-in milk and the impact of divestment of loss-making businesses, led to a significant drop in group turnover in the year. The business is smaller, but is in much better shape than last year."
"Through the turnaround we have continued to invest in the capital assets of the business, including a major project to renew the cheese belts at the Lake District Creamery, costing over £3m, which was completed on time and on budget."
Capital investment across all its sites dipped slightly to £4.8m from £5.4m in the previous year. The cost of implementing the turnaround plan resulted in an exceptional charge of £5.1m.
Sharpe continued: "Whilst the year to 31 March 2016 has been a difficult year for the dairy industry, First Milk's business is now on a firmer footing. Milk prices are finally starting to rise, and we have been pleased to deliver the first fruits of the turnaround plan in the form of higher, non-market driven, milk prices to members."
He added that this improvement in financial performance has continued into the current financial year, with operational profit on track to rise again next year and debt reduction allowing First Milk to increase the milk prices paid to members by 2p per litre above market related movements since year-end.