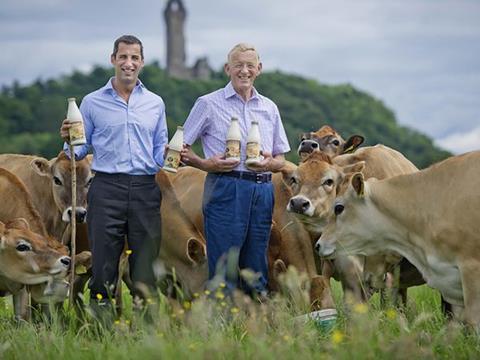 Deflation in the dairy sector saw sales by Scotland-based Graham's the Family Dairy fall by just over £3m to £83.6m for the year to 31 March, latest accounts have shown.
However, a series of new supply deals helped pre-tax profits remain relatively flat at £1.43m, compared with £1.5m the previous year.
Turbulence in the global milk market delivered a "great deal of instability" during the year, Graham's said, with an oversupply leading to "significant balancing costs for Graham's and deflation in the market".
However, it continued to pay its farmers "the highest price in Scotland", and with the global dairy market showing signs of recovery in the second half of 2016, Graham's had increased its farmgate price in recent months, it added.
The company invested £1.4m in plant and machinery, and after acquiring First Milk's Glenfield Dairy last November extended its offering to include a new quark, cottage cheese sour cream range, all of which achieved multiple UK listings.
The 2015/16 financial year also saw Graham's become exclusive milk and whipping cream supplier to all 68 Starbucks stores across Scotland, while the company signed a seven-figure supply deal in March with Brakes Scotland.
"We are pleased to have delivered a solid performance during what has been an incredibly challenging time for the entire dairy industry," said MD Robert Graham. "As farmers ourselves, we understand the pressures farmers face and this is why we continue to pay them the highest price in Scotland."
Price increases
It comes as Arla this week announced its latest farmgate price increase for January, with a two eurocents per kg price rise equating to a 1.51 pence per litre increase from New Year's Day.
January also sees a new quarter's (October to December) average exchange rate introduced to the dairy co-op's pricing mechanism, resulting in a 0.17 pence per litre increase, taking Arla's UK standard litre to 26.31p.
"Markets continue to be strong, due to the reduction in global milk production coupled with ongoing strong demand," said Arla Foods amba board director, Jonathan Ovens.
"In Europe, the markets for added value products continue to strengthen, while spot prices are weakening," he added. "The organic market in Europe remains strong."
Arla said the price increase was its fifth in as many months, representing a 31% uplift in its milk price since 1 September.