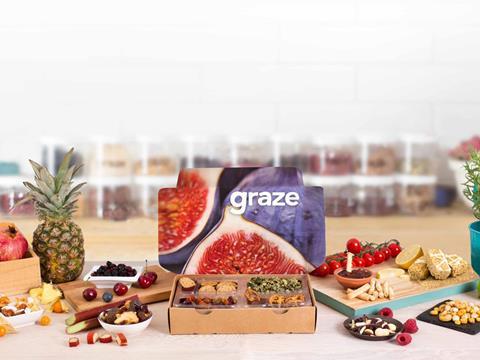 Sales have continued to fall at Unilever-owned snacks player Graze as the loss-making business was hit by the collapse of on-the-go consumption during the pandemic.
Graze, which was bought by consumer giant Unilever in February 2019, saw sales drop 12% to £38m in the 2020 calendar year from £37.4m for the previous 10-month period.
The accounts blamed Covid's "severe" impact on the on-the-go snacking category as outlets were shuttered by pandemic restrictions.
A pivot to take-home formats delivered growth and continued to do so in 2021, but could not fully mitigate the collapse in food to go, it said.
Additionally, its DTC business continued to decline as it moved away from its roots as a snack box delivery service to focus on mainstream grocery listings. However, this decline in online sales was less than expected due to higher DTC demand during the lockdowns.
The effects of the pandemic added to the previous closure of its US business to bring annual revenues down from £54.7m in its last full year before the Unilever buyout.
Graze posted a loss of £3.5m last year compared with a profit of £22.6m in 2019, which was driven by a £29.2m accounting gain from its £150m sale to Unilever.
On an operating level, losses were cut from £8.8m in the previous 10 months to £5.2m last year.
The accounts said the current losses partly reflected one-off temporary costs incurred to ensure continuity during Covid.
Unilever saw off competition from Kellogg's and PepsiCo to acquire Graze from previous owner Carlyle, though the £150m price tag was understood to be below the US PE firm's £300m expectations.
The accounts state Graze's growth will be driven by use of Unilever's country and channel capabilities and through expansion as a multichannel retailer in the UK and Europe.
Unilever and Graze did not respond to request for comment.