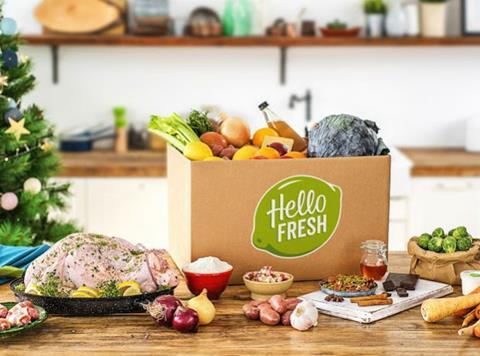 Top story
Global meal-kit supplier Hello Fresh has recorded a surge of sales in the first three months of 2020, further boosted by the coronavirus lockdowns in many of its key markets over recent weeks.
The German listed business said the number of active customers in the first quarter increased by 68.4% on a year on year basis to 4.18m.
This led to "very strong" year on year revenue growth of 66.4% €699.1m as it delivered over 111 million meals to customers in the first quarter
Group AEBITDA amounted to positive €63.1 million, which corresponds to a 9.0% margin and represents a market improvement from the €26.1 first quarter loss last year.
HelloFresh said this sales uplift was achieved "despite currently challenging operating environment" and that strong trading had continued into the second quarter.
It said additional demand caused by the COVID 19 lockdowns meant that second quarter growth and margins were "meaningfully" above "very high" first quarter levels and the group has raised its full year guidance as a result.
Expected group revenue growth has been increased from previously about 22- 27% on a constant currency basis to now 40% to 55%.
The expected Group AEBITDA margin has increased from previously 4% to 5.5% to now 6% to 10%.
Dominik Richter, co-founder and CEO, commented: "On top of our already very strong first two months of the year, our meals have attracted significant additional demand in the second half of March, as the global pandemic hit all of our markets in short order.
"Especially in those times, it makes us proud that we were able to deliver 111 million meals to families throughout the world, allowing them to enjoy incredible home-cooked meals from the safety of their homes at a very affordable price point."
Expected Group revenue growth is increased from previously about 22- 27% on a constant currency basis to now 40% to 55%. The expected Group AEBITDA margin has increased from previously 4.0% - 5.5% to now 6.0% to 10.0%.
HelloFresh has also donated €3m to food banks, including contributions of food and €170k of cash support.
The company's shares are up 7.9% this morning to a new all-time high of €35.58.
Morning update
The British Honey Company, the recently listed producer of British Honey-infused spirits, said it has successfully offset a drop spirits sales with revenues from alcohol sanitiser products in recent weeks.
Whilst there has been a "considerable" reduction in sales of the company's core drinks products over the last six weeks, the Company's recently introduced "Drip+Drop" alcohol sanitiser product has had a "fast and successful start".
Launched in the last week of March, sales have "considerably exceeded management expectations" and generated revenues of more than £500k, which the company said has more than offset the decline in revenues from its core product offering.
The company will continue to focus current production capacity on this product line in the short to medium term whilst demand remains extremely high.
British Honey also believes it is better placed to cope with the current economic turmoil than the majority of its peers due to the strength of its balance sheet, underpinned by the proceeds from its recent IPO and its capacity to secure supply.
BHC has responded to alcohol supply issues faced across the industry by "ring-fencing" in its warehouse enough alcohol to meet anticipated demand for its alcohol sanitiser and infused spirits products until at least the end of the calendar year (including the Christmas period, the peak period for spirit sales).
British Honey also continues to develop its collaborative Agreement with US-based List Distillery, based in Florida for the joint development and distribution of both sanitiser products and existing infused spirits brands, on a reciprocal basis, in the UK and the United States.
British Honey CEO, Michael Williams, commented: "Very early on during the Covid-19 outbreak we identified a clear opportunity for the company to move into the production of alcohol-based sanitisers, to meet exceptional demand and supply shortages, given the basic ingredient is the same as for our infused spirit brands. I'm delighted to report that sales of these products have been exceptional.
"Whilst there is no doubt that, across the industry, problems in the alcohol supply chain are starting to emerge, I am pleased to confirm that we as a company have sufficient alcohol for our own spirits business plans through to the end of 2020. List Distillery are also continuing to supply rum and bourbon from their distillery in Florida.
"The health, safety, and welfare of our employees remain our first priority. Our production and support operations are fully committed to meeting our customers' needs with all staff continuing to work normal hours, albeit with various measures taken to enable required social distancing and adherence to government guidelines.
German consumer group Beiersdorf has recorded a drop in sales in the first quarter of 2020 as a result of the global spread of the coronavirus.
Organic Group sales fell by 3.6% in the first three months of the year.
In nominal terms, group sales stood at €1.91bn, down 1.9% on the prior-year figure of €1.95bn.
Organic sales in the consumer business segment fell by 3.3% in the first three months of the year.
Sales by NIVEA fell by 0.6%, while the Derma business unit achieved strong sales growth of 11.5%.
Its healthcare business unit, mainly comprising the plaster business, also performed very positively with growth of 10.1%. However, its LA PRAIRIE brand was particularly hit by the drop in international travel and recorded a 35.8% decline in sales.
Stefan De Loecker, CEO of Beiersdorf commented: "The global COVID-19 crisis is changing our life and work radically. From the very beginning, we have focused on ensuring the health and safety of our employees, continuing to serve our consumers, and supporting communities in their fight against the coronavirus.
"As expected, the ongoing COVID-19 pandemic has affected the company's results for the first quarter. Our selective cosmetics brand LA PRAIRIE has been particularly hit by the drop in international travel. At the same time, our core brand NIVEA remained steady with only a slight fall in sales, while our Derma and Healthcare brands achieved strong, double-digit sales growth.
"Beiersdorf's foundations are strong enough to enable us to master and overcome this unprecedented crisis together – and emerge from it stronger in the long term. Despite today's major economic challenges, we will stay on course with our strategy and will maintain investing in our initiatives under C.A.R.E.+."
On the markets this morning. the FTSE 100 has started the day on the front foot by rising 1.8% to 5,854.7pts.
Early risers include Compass Group (CPG), up 4.2% to 1,303.5p, FeverTree (FEVR), up 3.9% to 1,713.5p and WH Smith (SMWH), up 3.1% to 1,118p.
Fallers include Bakkavor, down 2.1% to 73.4p, Stock Spirits (STCK), down 1.2% to 183.8p and Naked Wines (WINE), down 0.7% to 337.5p.
Yesterday in the City
The FTSE 100 started the week flat at 5,753.7pts.
Hotel Chocolat (HOTC) ended the day up 3% to 340p despite yesterday saying the closure of its shops over the crucial Easter period had had a material impact on trading.
Other risers yesterday included Bakkavor, up 7.1% to 75p, Total Produce (TOT), up 5.7% to 92.5p, Ocado (OCDO), up 4.5% to 1,687.5p and Greencore (GNC), up 3.2% to 177.5p.
But it was another sobering day for food to go retailers as travel shares crashed across the world.
SSP Group (SSPG) fell 11% to 247p, WH Smith (SMWH) dropped 9.7% to 1,084p and Greggs (GRG) fell 6.4% to 1,604p.
Other fallers included TATE & Lyle (TATE), down 4.6% to 663.4p, PZ Cussons (PZC), down 4.2% to 178.2p, Associated British Foods (ABF), down 3.8% to 1,761p, Cranswick (CWK), down 3.5% to 3,600p, Hilton Food Group (HFG), down 3.1% to 1,176p and Naked Wines (WINE), down 2.9% to 340p.