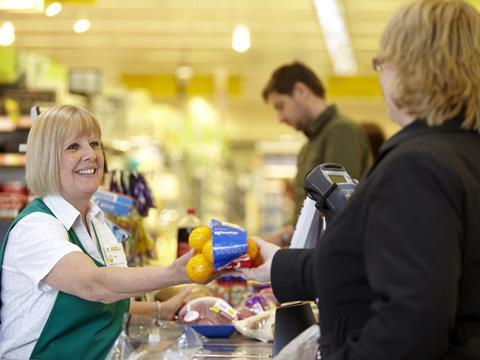 Top story
Growth of branded products, which outstripped own-label sales for the first time since May 2015, helped grocery sales rise 3.5% over the 12 weeks to 12 August.
Kantar Worldpanel found the branded growth of 3.9% boosted total grocery market growth to 3.5% as customers spent on brands such as savoury snacks, ice cream and soft drinks during the hot weather.
With growth up 2.7%, Morrisons (MRW) regained its position as the fastest-growing of the big four supermarkets, according to Kantar, just ahead of the 2.6% growth at Asda.
Tesco (TSCO) saw strong growth from its Express convenience stores to increase total sales by 1.8%, while Sainsbury's (SBRY) experienced its fastest rate of growth since January 2018, up 1.2%.
Co-op posted its fastest rate of growth in nearly seven years, with sales up 7.8% in the period.
Aldi remained the fastest growing supermarket, with double-digit growth of 12.6%, helping the retailer up its share of the market to 7.6%. At Lidl, sales rose by 8.6% to help the retailer secure a 5.5% share of the market.
Head of retail and consumer insight at Kantar Worldpanel Fraser McKevitt commented: "Consumers' willingness to spend that little bit extra to fully enjoy the summer sunshine has helped push brands ahead of their own-label counterparts.
"The grocery market experienced strong growth buoyed in particular by the recent heatwave. Over July, thirsty Brits spent an additional £67 million on alcoholic drinks, while non-alcoholic beers were cheered on by the sun with sales up 58% compared to this time last year. Soft drinks also increased – up 28%."
Nielsen found the warm summer weather had boosted industry sales by 4.2% in the four weeks to 11 August.
It said that during the last 12 weeks, the big four supermarkets (Asda, Morrisons, Sainsbury's and Tesco) saw more shoppers, visiting more often and spending more at each visit as a result of the warmer temperatures and the prolonged heatwave. In the last week of July, when the hottest days of the year were recorded, retailers experienced the best growth of the four week period ending 11 August.
Over the last four weeks, volume growths at supermarkets improved to 2.9%, up from 2.2% in the previous four weeks. Two thirds of this additional purchasing came from growth in soft drinks and fresh fruit and vegetable sales.
Outside the top four, the Co-op was the fastest growing retailer (disregarding discounters Aldi and Lidl), experiencing growth of 6.6%, while the strong performances from the supermarkets has taken the edge off the discounter growth.
Asda's 12-week growth was the best of the big four at 3.5%, followed by Morrisons and Tesco both at 2.2% and Sainsbury's at 0.9%.
Aldi sales were up 12.1% in the period, while Lidl was up 8.1%.
Mike Watkins, Nielsen's UK head of retailer insight, said: "As one of the hottest summers on record, these past 12 weeks have given a real boost to sales at supermarkets. This is welcome news for the industry after a lacklustre start to the year following the 'beast from the east' and a squeeze on spending as inflation continued to bite.
"Over the last four weeks, we also saw promotional activity fall back to 26% of sales, the lowest since March 2017. Looking ahead, retailers and brands will begin to invest more in targeted promotions around upcoming events such as back to school, Halloween and Christmas to encourage incremental spend and will be less reliant on general promotions around the weekly shop.
"The next few weeks will now set the tone for the rest of the year. Shoppers will return from holiday, kids will go back to school, and there will be a return to more usual shopping patterns. We are expecting the momentum to continue with industry growth of around +3%, just ahead of inflation, and volume growths to remain positive."
Morning update
Dutch dairy products group Royal FrieslandCampina has agreed a deal to take over activities of Best Cheese Holland, including its brands Parrano and Tjiezi to boost its presence in cheese used for cooking and dairy snacks as dippers.
The Parrano brand is best known for its cheese flakes, grated cheese and powder cheese in Italian style and is sold by major Dutch retailers. With the acquisition of dairy dipper activities, including Tjiezi, FrieslandCampina capitalises on the growing need for dairy snacks in, among others, Europe, Asia and North America.
The acquired activities will be integrated in FrieslandCampina Consumer Dairy with effect from 15 September 2018.
Roel van Neerbos, President FrieslandCampina Consumer dairy commented: "The acquisition of the brand Parrano and the dairy dippers fits in well with our ambition to provide dairy products for all consumption moments. These brands are a fine addition to our cheese activities."
FrieslandCampina and Best Cheese have also reached an agreement in principle on the acquisition of the import and sales activities of Best Chees in the United States of America.
On the markets this morning, the FTSE 100 has opened down 0.1% to 7,581.2pts.
The City has welcomed this morning's market share figures, with Morrisons up 0.8% to 266p and Tesco up 0.6% to 257.3p. Sainsbury's is flat at 334.5p.
Other early risers include McBride (MCB), up 3.8% to 138p, Reckitt Benckiser (RB), up 0.8% to 6,879p and WH Smith (SMWH), up 0.7% to 1,981p.
Fallers include PureCircle (PURE), down 5.1% to 382p, Stock Spirits (STCK), down 1.3% to 194p and FeverTree (FEVR), down 1.1% to 3,422.4p.
Yesterday in the City
The FTSE 100 ended the day up 0.4% to 7,591.2pts as hopes of positive trade talks between the US and China boosted confidence.
In the US PepsiCo (PEP) was unchanged after the announcement of its $3.2bn deal to buy Sodastream, edging down 0.1% to US$114.84.
In the UK notable risers included Vimto maker Nichols (NICL), up 3.4% to 1,467.5p, while PZ Cussons (PZC) rose 2.1% to 238.8p.
FTSE 100 risers on the day included Associated British Foods (ABF), up 1.4% to 2,370p, Ocado (OCDO), up 1.2% to 1,059 and Coca-Cola HBC (CCH), up 0.9% to 2,636p.
Fallers yesterday included Premier Foods (PFD), down 4.3% back to 40.6p, Stock Spirits (STCK), down 2% to 196.6p, Kerry Group (KYGA), down 1.6% to €95.35, C&C Group (CCR), down 1.2% to €3.38 and Cranswick (CWK), down 1% to 3,288p