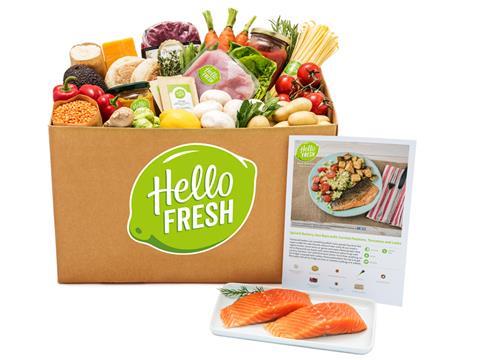 Meal kits are intended to make life easier for time-conscious consumers. The ingredients needed for delicious meals turn up at your door with easy-to-follow instructions. The idea is gaining traction with consumers, but already has financiers convinced.
Investment in the sector has been abundant in recent years, with more than $550m channelled into global players HelloFresh and Blue Apron alone.
Now the UK is getting in on the act, with direct-to-consumer (DTC) darlings Gousto and Mindful Chef securing a total of £18m and £6m in funding respectively, while recipe kit provider SimplyCook has just secured £4.5m in expansion funds.
But profitable success with consumers is proving a slightly harder nut to crack. HelloFresh has seen its share value halve to €7.40 in the past six months after failing to deliver profits, while Blue Apron sits at barely 10% of the value at its initial float in 2017.
So how promising is the sector? And when will profits materialise?
Investment
SimplyCook's just-announced £4.5m in funding takes the amount raised in the sector in the three weeks of 2019 to almost £30m – and adds the business' name to the raft of UK recipe kit firms benefiting from investment.
Gousto alone has secured more than £75m in funding since its launch in 2012, with the majority coming from venture capital funds and private investors. However unlike some of its competitors, it has received major trade backing, with Unilever Ventures taking part in four of its last five funding rounds.
While there is increasing trade interest in DTC – Nestlé Purina cashed in on pet food specialist Tails.com in April and fmcg heavyweights have placed bids to buy Graze – money in the sector is dominated by private equity and venture capitalists.
The need to raise brand awareness and scale production makes early-stage growth in a DTC business cash-intensive.
But the focus for investment should also be making the business' overall proposition as effective as possible, says Alex Petrides of vegan meal supplier Allplants.
"The key is constant investment there," he says. Having "constant proposition development and improvement as part of scale" keeps "the consumer's interest".
Blue Apron secured huge investment, at $199.4m, prior to its IPO in 2017, but now sits at $1.40 on the Nasdaq stock exchange after shedding 88% of value since its $10 IPO. While the business invested in marketing to continue its scale, its failure to channel funding into improving and changing its proposition is where it lost value, believes Petrides.
Growth
Private equity firms have leapt into the sector with hopes of large, quick returns on the back of heady growth estimates. Piper said it expected 10 times growth in the meal kit market upon the announcement of a deal with Mindful Chef. But some City dealmakers are less convinced.
"I'd be gobsmacked if we saw that. People are fickle, people forget, people have different habits and it's expensive," commented one City player. "I'm not positive on that category at all – if it's a healthy meal kit but if it's fulfilling a specific function, then I'm more positive on it."
Others are more confident. The necessary drivers for consumer growth exist in the category, argues Grant Thornton's Trefor Griffith, giving investors ample justification to bank on propositions they like. "The drivers are favourable: people want to eat healthy products which are convenient but do require some cooking. I think for those companies it's all about establishing a strong market position and then getting scale on the back of it."
Consumer interest in the sector has undeniably grown. HelloFresh has increased user numbers by 40% to 1.8 million globally in the past year. In the UK, Gousto has seen sales growth of around 100% over the past 12 months, and has just reached annualised sales over £100m for the first time.
"A billion meals are eaten in the UK alone each month," believes Gousto CEO Timo Boldt. "And we are selling 1.5 million a month. The proportion we deliver is tiny and we are only scratching the surface."
Gousto experienced a £13m pre-tax loss in its last reported financial year, but that has clearly not scared off investors. The business has secured more than £46m in funding since that financial period.
The decline of Blue Apron last year has highlighted the importance of marketing investment to the sector. After slashing marketing spend by 31% and 33% respectively in the final two quarters of 2017, its sales started a downward spiral resulting in six straight quarters of decreasing revenues.
Profitability
When should focus shift from growth to profit? Alessandro Savelli, founder of DTC fresh pasta meals supplier Pasta Evangelists, says it's a question he worries about "every day".
"The balance between profitability and growth is a hard one, but one has to be very wary of being value-destructive," he says. "Ultimately, getting people to change habits is very hard and means lots of marketing dollars, but you still need customers to make a repeat purchase if you ever want to stay afloat."
Petrides, who has secured more than £8m from investors since leaving Propercorn to set up Allplants in 2017, says the timescale by which they will focus on profits is "yet to be decided".
The difficulty in setting such a time frame raises a stark question for investors: when does the wait become too long?
US meal kit supplier Chef'd, which employed 350 staff and raised more than $35m in funding, ceased online operations in July 2018 after burning through the funds of venture capitalists and industry investors, including Campbell Soup Co and Smithfield Foods. Elsewhere, frozen meal delivery firm Everdine, backed by HelloFresh's incubator Rocket Internet, closed its UK business in the summer after it wrote a £1.7m net loss in 2017.
While EIS and SEIS tax relief programmes in the UK help to diminish risk for these sorts of investments, the losses can still be colossal. Recent concerns from investors over when they are ever likely to see returns has seen many turn away from the sector, according to City sources.
"With Mindful Chef, a lot of people looked at it and said no because they could not get comfortable that it would ever become sustainably profitable," one dealmaker said. "You only need to look at what has happened to the big businesses in the space to come to that conclusion, and those are the big ones who have economies of scale."
Jonathan Buxton, who advised Piper's investment in the healthy meal kit brand, unsurprisingly disagrees. "Mindful Chef is an exciting proposition, and the team has successfully built their customer base cost-efficiently. Customer knowledge is invaluable with e-commerce like this, and their skill there, backed by Piper, means there is huge potential."
Investors in the industry have had a hard ride of late, but the upturn might have started. Blue Apron, described as "tarnishing" the sector by Savelli, saw value shoot 28% to $1.40 on Tuesday 15 January after announcing it was on track to be profitable in the first quarter of 2019.
While Blue Apron's market value falls heavily short of expectations from only two years ago, investors will hope it's a significant sign of emerging stability for an increasingly competitive sector.