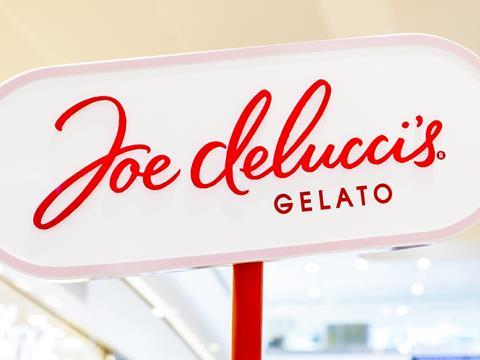 Creditors of posh gelato brand Joe Delucci's face losses of more than £2.5m, despite the business being rescued from administration by a £200k buyout from a former employee, a report by administrator CVR Global has revealed.
The ice cream brand had grown annual sales to over £5.2m since its founding over a decade ago. But it ran into trouble after a sharp downturn in profitability spurred by the Brexit vote and a "challenging economic climate on the UK high street" according to CVR Global, which was appointed on 8 January after attempts to agree a Company Voluntary Agreement failed.
The administrator's report revealed that more than 40 unsecured creditors, including HMRC, JJ Food Service, Birmingham City Council and numerous landlords, were owed a combined £2.6m, with none likely to receive a penny.
The Royal Bank of Scotland and RBS Invoice Finance were owed a collective £778k as secured creditors, bringing the brand's total debt to almost £3.3m. It is anticipated that RBS Invoice Finance will get its £228k debt paid in full, with RBS set to receive 35% of its original £550k sum. No payments had been made at the time the report was authored.
A proposed CVA would have seen an estimated return of 38.5p in the pound for all creditors. This was amended to 50p in the pound in late November, before it was ultimately rejected.
A pre-pack sale was agreed to former operations manager Alexandra Beer for £200k after the negotiations deteriorated, with the brand's co-founder and director, Richard Pierce, employed in a new role as head of new business and brand development.
"The CVA was supported by many of our creditors, along with our bank and HMRC," said Pierce. "Out of 48 creditors, four voted against. Despite our best efforts to deliver funds back to our creditors via the plan, two of the creditors that voted against the plan carried enough of a percentage to force us into an administration."
It is understood debt initially stood at £1.6m at the time of the CVA, with creditors being offered an £800k return. A further £900k relating to the value of existing leases still to run was added to the debt during the administration process.
Following the rejection of the CVA it became "apparent that the company's working capital position would continue to deteriorate without any formal strategy or proceedings in place", CVR's report said. Without enough capital to continue trading after the administration, the decision was made to sell the business, for which Beer was the highest bidder.
Prior to the brand's collapse, overseas supply costs had significantly increased to the point that Joe Delucci's was "unable to pass said increases on to its customer base", said CVR joint administrator Craig Povey. "The company also suffered even more, following changes to local authority rates policies, which resulted in units that were not previously subject to business rates falling chargeable, with such charges being 'backdated for up to three years'."
Yet, following the purchase, the brand now had "a solid platform to continue on its journey of recovery".
Alexandra Beer added: "Out of unfortunate situations, you have to somehow take the positive… and we have been forced to look at ourselves, our operation and offer, and most importantly our product for which we are renowned.
"Because of this, we have emerged with a far superior product than ever before and so we now put our best foot forward and focus on continuing to build and grow this fantastic brand."