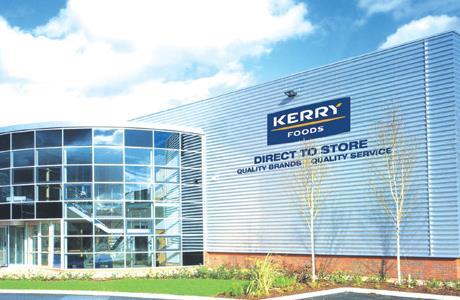 Top story
Revenues at Irish food giant Kerry Group (KYGA) have grown ahead of the market at 2.4% in 2014 to €5.8bn (£4.3bn) thanks in part to "relatively benign" input costs which led to a pricing decrease of 0.5%. Continuing volume growth of 3.4% in the ingredients and flavours division (€4.3bn) was partially offset by a 0.7% decline in the consumer foods arm (€1.5bn).
However, the group was not immune to the currency movements and the strength of sterling, which drained £2.7bn of sales from British firms in the year to September 2014 [The Share Centre]. Kerry's sales were 1.4% lower than its total in 2013 on a reported basis as a result of currency fluctuations.
Trading profit at Kerry increased by €25m to €636m in the 12 months to 31 December 2014, a rise of 5.3% on a like-for-like basis, as trading margin expanded by 60 basis points to 11.1%.
"We recorded another year of good growth, business margin expansion and an 8.1% increase in adjusted earnings per share in 2014," CEO Stan McCarthy said. "The consumer environment across developed and developing markets is changing rapidly but Kerry is well positioned to capitalise on global growth opportunities. We expect to achieve another year of good growth in 2015."
Kerry has proposed a final dividend per share of 31.5 cent, taking total dividend for the year up 12.5% to 45 cent. Adjusted earnings per share at the group were up 8.1% in 2014 to 278.9 cent.
Kerry shares – which have risen 9% so far this year – opened 2% down this morning on the back of the full-year announcement to €63.11.
Morning update
Independent butchery chain Crawshaw Group has reported a 5% rise in its like-for-like sales in the year ended January 2015 and also expects a "materially" better result than originally forecast. The value operator said in a pre-close trading update that its figures were up by 5%, which represented a slowdown from 11% in 2013-14.
In an earlier trading update last month Crawshaw reported that cash margins had increased year on year. It added this morning that, despite making some investment in our growth plan in the year, it now expected the out turn for the full year to be "materially higher" than the current market forecast. "The investment in our growth plan will accelerate further in the year to January 2016 as planned," the group said.
Chairman Richard Rose added: "Our average spend continues to increase reflecting the excellent quality and value we offer. All our stores are profitable and we are excited about the planned shop openings in the near future plus the arrival of our new CEO in the next week."
Shares in the group have shot up by 11% to 41.9p so far this morning on the back of the improved margins forecast. It provided a welcome halt to the decline of its stock, which has fallen 23.6% from 55p so far in 2015 after being one of the best-performing shares on AIM in 2014.
Yesterday in the City
Primark and British Sugar owner Associated British Foods (ABF) closed the day 0.7% higher at 3,058p after posting a pre-close trading update for its first half. The strong growth of Primark continued to be offset by weakness in the sugar business, but ABF reassured investors its previously stated guidance remained in place. Shore Capital analyst Darren Shirley said the update held "no surprises" and expected the stock to be broadly unchanged post the announcement.
British American Tobacco (BAT) was another of the day's risers, climbing 2% to 3,727.5p on the back of news the Benson & Hedges owner was "evaluating" putting together a deal to buy the near-25% of Brazilian subsidiary Souza Cruz it does not currently own. BAT said any public tender offer would be at a price per share of R$26.75 – a 30% premium the average share price over the past three months. Souza Cruz's rose more than 10% during the day before slipping back to 7.4% higher to R$25.40 at the last time of checking.
The FTSE 100 finished the day pretty much flat at 6,912.2 points after flirting with record highs in the morning. The blue-chip index of shares came with a few points of the December 1999 intraday high of 6,950 before poor results by HSBC dragged the total back down.