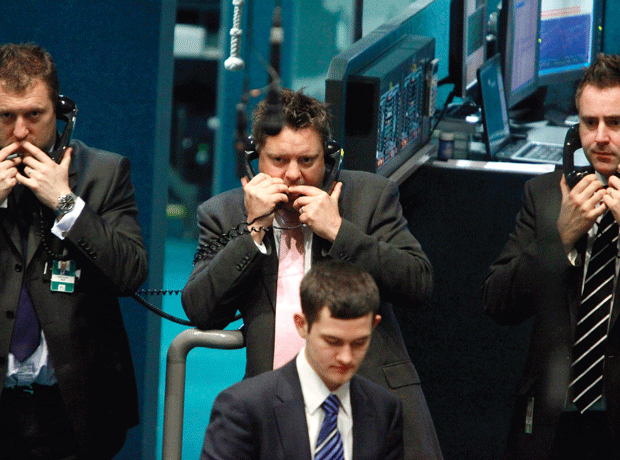 Top story
The pound has dropped in value by almost 2% overnight against the dollar as markets come to terms with the shock UK general election result that has produced a hung parliament.
Before the reveal of the general election exit poll at 10pm last night the pound was at $1.2956, but fell sharply when the poll suggested PM Theresa May would lose her majority.
The value of the pound fluctuated in the early hours of the morning as a dramatic night of election results unfolded, but is currently 2% down at £1.2699 – sterling's lowest level since the election was called in mid-April – as the uncertainty of a hung parliament was confirmed.
The pound also lost 1.9% of its value against the euro – dropping from €1.1553 at 10pm last night down to €1.1329
The fall in the value of the pound will provide a further headwind behind mounting UK inflation, with UK CPI reaching 2.7% last month as the cost of commodities and imported goods rose largely due to the post-Brexit collapse of sterling.
As happened post-Brexit, the FTSE 100 has opened up 1.1% to 7,529.7pts as the fall in the pound effectively boosts UK-based companies' international revenues and profits.
The FTSE 250, consisting of more UK-focussed stocks has opened down 0.4% to 19,653.1pts.
Markets are likely to continue to be volatile as the post-election picture continues to emerge.
It seems likely The Conservative Party will seek to form a minority government but it is far from clear whether this will be led by Theresa May.
The shock result will also have a knock-on effect to the Brexit negotiations, which are scheduled to start in a matter of weeks. Opinion is split over the impact of the hung parliament on the government's negotiating position, although there is market hope that the greater strength of parties with a softer approach to Brexit could see the likelihood of a 'hard' Brexit reduced.
Morning update
On a company level the big fmcg beasts have benefitted once more from the collapse in the pound.
The FTSE 100 opened up 1.1% at 7,529.7pts, with international-focussed fmcg giants boosted by the translation impact of international revenues.
Diageo (DGE), is up 2.3% this morning to 2,337pts, Reckitt Benckiser (RB) up 2% to 8,007p, Unilever (ULVR) is up 1.9% to 4,350, Compass Group (CPG), up 1.8% to 1,683p, British American Tobacco (BAT), up 1.7% to 5,600 and Imperial Brands (IMB), up 1.5% to 3,600.5p.
However, UK retailers have been hit by worries over what the falling pound and political uncertainty does to consumer spending power.
General retail seems to have taken the biggest hit, with Marks & Spencer (MKS) down 2.3% to 358.3p, Sainsbury's (SBRY) down 2.7% to 260.2p and Primark-owner Associated British Foods (ABF), down 1.4% to 2,930p.
Tesco (TSCO), Morrisons (MRW) and Ocado (OCDO) were down by more modest figures – with Tesco 0.4% down to 179.3p, Morrisons 0.3% down to 242.9p and Ocado down 0.7% to 285.7p.
Away from politics, but sticking with the economy -prices in the chilled aisles are continuing to drive inflation in the supermarkets, but overall grocery inflation has eased for the second consecutive month.
While the UK's headline consumer price index (CPI) measure of inflation was up to 2.7% in April, inflation in grocery, as measured by The Grocer Price Index - collated by Brand View from more than 60,000 supermarket SKUs - stood at 0.9% in the month to 1 June - down from the 1.1% rate recorded to 1 May and the 1.4% to 1 April.
This still marks the fourth consecutive month of rising grocery prices year on year, after almost three years of deflation, which peaked 12 months ago at -3.1% in the year to 1 June 2016.
See the full story on thegrocer.co.uk later this morning.
The Grocer also has an exclusive story over the rescue of Yorkshire Brewery GreyHawk from administration.
Yesterday in the City
The FTSE 100 yesterday slipped 0.4% to 7,450pts despite the – ultimately mistaken – expectations of increased political stability following the general election.
The emergence of potential more shareholder opposition to Tesco's (TSCO) takeover of Booker (BOK), saw the latter's shares ease by 3% to 191.1p though Tesco was one of the market's few risers, climbing 0.9% to 178p
There were notably FTSE 100 fallers yesterday, including Diageo (DGE), down 1.9% to 2,285p, Imperial Brands (IMB), down 2.2% to 3,547p, Unilever (ULVR), down 1.7% to 4,269p, Reckitt Benckiser (RB), down 1.6% to 7,852p and British American Tobacco (BAT), down 1.4% to 5,507p.
Other fallers included Hilton Food Group (HFG), down 2.2% to 734.5p, Glanbia (GLB), down 2.1% to €17.56 and FeverTree Drinks (FEVR), down 2% to 1,709p.
Ocado rebounded after tough few days of trading following the announcement of its first international retail partnership, taking back 1.3% to rise to 287.8p.
Other risers yesterday included McColl's (MCLS), up 2.6% to 199p, PayPoint (PAY), up 2.3% to 930p and Hotel Chocolat (HOTC), up 1.9% to 361.8p.