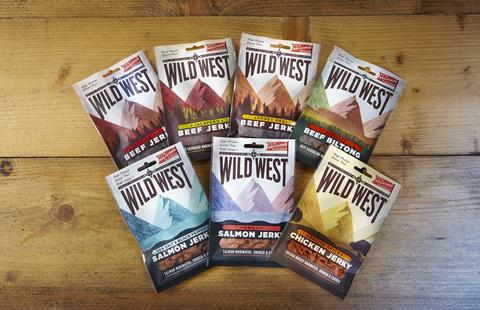 Sales have grown strongly at biltong and jerky manufacturer Meatsnacks, but the company made an overall annual loss due to soaring cost increases.
Europe's largest beef snack manufacturer, Meatsnacks Ltd, which formed after the merger of The Jerky Group and biltong-manufacturer Cruga in 2015, saw sales grow from £12m to £12.9m for the year ending 31 July 2017.
But cost increases of more than £1m offset gains and caused operational profits to decline. It resulted in an overall loss of £80k for the company, compared to a £276k profit the previous year.
The company, which has brands including Wild West Jerky, Hogbites pork crackling, Bundu biltong and Texas Joe jerky, blamed market pressures for declining margins.
The market for meat-based snacks is continuing to expand in Europe, said company director James Newitt, despite a "challenging year" for the business.
As a result of growing European markets, sales progressed from £12m in 2016 to £12.9m for the year.
But operating profits decreased from £491k to £358k as a result of increasing costs, which rose to £8.6m for 2017, from £7.4m.
Cost increases in production and distribution offset gains in sales, but the business has pumped money into new product development and rebranding, said MD James Newitt.
"It's always quite difficult trying to push all of those increases through to the major multiples," said Newitt. "I guess the key thing for our business over that 12 month time period is how much investment we are putting into relaunching and rebranding our packaging.
"If you look at the meat snacking industry, penetration is typically at around 5%. So we are investing in the branding to increase our rate of sale and also bring new clients to the category.
"We have made significant capital investment in the business during that time so we've upgraded our retail packing facilities, we've upgraded our cooking factory and we've also built a new salmon processing factory, which is significant new product development for us."
Meatsnacks has recently launched an "artisan" jerky and biltong brand, called Krave, which is aimed to gain more interest from "female and millennial" shoppers.
Investment has also been made into the company's recent salmon jerky ranges, alongside new packaging and recipes for its biggest selling brands, Wild West and Cruga.