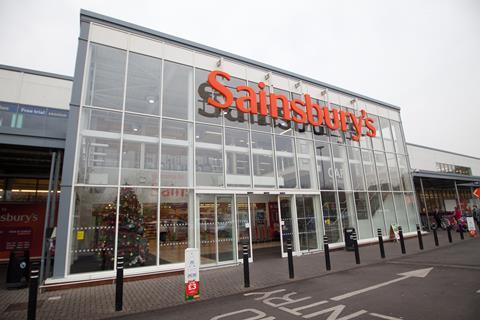 Sainsbury's has overtaken Asda to reclaim its place as the UK's second-largest grocer by market share in the 12 weeks to April 21, the latest Kantar snapshot of the market shows. But Mike Coupe, Sainsbury's chief executive, came under renewed pressure ahead of today's annual results with his group the only major supermarket to suffer sliding sales – off 1.2% year on year during the period (The Daily Telegraph). Sainsbury's sales slide as Aldi continues rapid growth as Sainsbury's faces increased competition from fast-growing discount chains Aldi and Lidl as well as a revived Asda and Tesco (The Guardian).
The Independent asks what the opening of Sainsbury's first self-service outlet with no checkouts means for Britain's retail sector. The newspaper says there is little doubt stripping out tills from supermarkets will mean fewer jobs in retail, a sector that employs more than any other in the UK. Perhaps half of jobs related to retail could be automated as that technology improves and costs comes down, according to some estimates, it says.
Tesco has pressed ministers to impose a 2% online sales tax to help pay for a reduction in shops' business rates (The Guardian). It made detailed proposals for a revamp of the system in written evidence to a Treasury select committee investigation. Tesco suggests the government could raise £1.5bn via an online sales levy of 2% on physical goods, as defined by existing VAT regulations. Tesco said the government could use that revenue to fund a 20% cut in business rates for all bricks-and-mortar retailers. Small businesses could be exempted from the online sales levy, it said.
Mondelez posted stronger quarterly profit than expected as price increases across its portfolio of snacks in North America helped combat rising costs, (The Financial Times £). The Cadbury owner reported net earnings of $914m, down from $1.05bn compared with the equivalent quarter the previous year. A negative impact from currency drove a 3.4% dip in net revenues to $6.54bn in the March quarter.
Plant-based Beyond meat has raised the size and price range of its offering for its float earmarked for later this week to give it a potential $1.5bn valuation (The inancial Times £). An SEC filing said the group would sell 9.6m shares at $23-$25 a share, raising up to $240m in its initial public offering. The amount it plans to raise is 30% higher than its previous $184m estimate. The (BBC) asks whether the firm is really worth $1.5bn noting the company has reported losses since it was founded in 2009 because of investment in "innovation and growth".
Grosvenor has built a £1.7bn ware chest that could see it invest in high street shops, reports (The Times £) but it has an eye to turning premises into homes. Mark Preston, chief executive, said he thought the high street had been written off too quickly and there was "the opportunity for a change of use to residential".
The Food and Drug Administration has given Philip Morris International the green light to sell its IQOS heated tobacco devices in the US sooner than expected. The Financial Times £ says the move paves the way for the product to compete with Juul in the tobacco alternatives market.
Imperial brands plans to sell its premium cigar business which has a 50% stake in Corporación Habanos, Cuba's official exporter. The intended disposal forms part of a £2bn divestment programme. (The Financial Times £)

Nivea skin cream company Beirsdorf plans to invest €80m a year to open up new markets and strengthen its product offerings. Lex in the The Financial Times £ says the Herz family-controlled company is keen to go shopping for bolt-on acquisitions, with cash of €4.4bn to spend. But deals in the sector would be pricey. Lex says investors have recovered their nerve since February when it warned of "historic disruption" in the European consumer sector.
Greene King shares slid 7% on Tuesday after investors gave Rooney Anand a last day to forget as chief executive (The Times £) even though Anand said in a trading update that the Suffolk brewer of Abbot Ale and Belhaven performed "strongly".
Whitbread's proceeds from the £3.9bn sale of Costa has allowed Whitbread to remove its pension deficit and invest in its German hotels expansion (Financial Times £). (The Times £) notes the company dropped its previous guidance for the current financial year for flat pre-tax profit, warning the UK market would suffer weak Revpar. Full-year pre-tax profit edged up 1.2% to £438m. Revenues increased 2.1% to £2.15bn.
Illycaffè has benefited from the Chinese and American thirst for its signature pure Arabica espresso (Financial Times £). Revenues climbed 5.1% at constant currency to €483m. Net profit, excluding the effects of a one-off tax reform, rose 8.4 per cent €16.7m.
McDonald's has reported its 15th consecutive quarter of global sales growth (The Times £). Comparable sales climbed 5.4% cent in the first quarter compared with the same period last year. The UK and France powered a 6% gain in comparable sales outside the US. The (Financial Times £) says Americans with a taste for donuts at breakfast helped the company return to form in the US. (The Daily Telegraph) says the new Veggie Wrap and the Big Mac with bacon helped drive sales in the UK and Ireland. Its McCafe range launches a new Iced Latte on Wednesday. The Daily Mail notes the online business also performed well. Orders through the MyMcDonald's app and its delivery service accounted for almost one in ten sales during the period.
Eating more rice could help fight obesity, a study by Doshisha Women's College of Liberal Arts, Kyoto, Japan, has found (Bloomberg). Researchers discovered that people following a Japanese or Asian-style diet based on rice were less likely to be obese than those living in countries where rice consumption was low.
Free-to-use cash machines are disappearing at "an alarming rate", says (Sky News). Almost 1,700 converted to charge fees in March alone, Which? said, using figures from ATM network Link. The (BBC) says the country could lose 13% of its free ATMs in only a few months.
The Insolvency Service said 350 shop owners collapsed between January and March – 25% higher than the same period last year and up 40% compared with the last three months of 2018 (The Daily Mail). Total company administrations reached 451 in the first quarter of 2019, latest figures from the Insolvency Service (Sky News). The fallout is the deepest since the first quarter of 2014. The Guardian points to Brexit uncertainty and struggling high-street retailers. (The Independent) says Begbies Traynor research shows almost 500,000 UK businesses were in significant financial distress in the first three months of 2019 – one in seven of all companies.