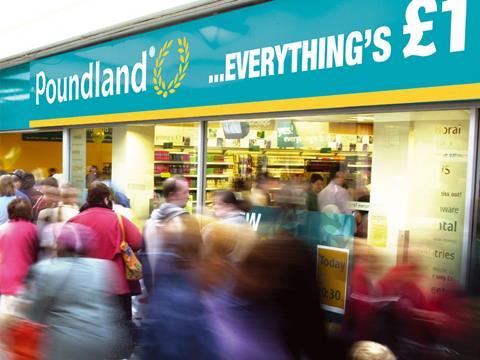 Three retailers dominate the business pages this morning as Poundland is frustrated by the monopoly watchdog, Co-op's rescue plan gains traction and Walgreens Boots Alliance reports first half results.
The Guardian reports discount chain Poundland may have to sell 80 shops to get the 99p Stores takeover across the line. The retailer is facing an in-depth probe by the Competition and Markets Authority after the market watchdog said the initial investigation into the planned would lead to "a realistic prospect of a substantial lessening of competition" in 80 areas where the two chains overlap. The Times (£) said the decision could delay the proposed merger by at least six months, or potentially even derail it. The Telegraph added the £55m deal was facing more intense scrutiny after the CMA warned it could pose a threat to customers. And The Daily Mail quotes a strongly worded analyst note by Shore Capital's Clive Black who ridiculed the probe as "mind-boggling". Black said the CMA's move, which hit Poundland's share price, wiping about £40m off its market value, sounded "like a plot from political satire The Thick Of It". "This is the stuff of the madhouse," he added.
The Financial Times (£) says the Co-op has emerged from the "rescue" phase after the newly slimmed down group returned to profit to draw a line under the most turbulent periods in its 170-year history. The Co-op posted a pre-tax profit of £124m after a recovery in its grocery stores and the sale of its pharmacies and farmland. Allan Leighton, the new chairman of the Co-op, hailed the performance as "not just another commercial turnaround" (The Telegraph). Despite the return to the black, the Co-op scrapped its member dividend and did not expect to reinstate it until at least 2018, The Times noted. Last year the Co-op paid out £34m to members in dividends.
America's biggest drugstore group and the owner of Britain's Boots chemist chain is planning to close 200 stores in the US, The Times reports. Walgreens Boots Alliance, formed out of the merger of Walgreens and Alliance Boots, said it would close 200 retail pharmacies across the country as part of a cost-cutting programme aiming to save $1.5bn by the end of 2017. No closures of Boots stores in the UK have been announced.It comes as the Boots owner reported a 33% jump in profits to $1.2bn (£800m) in the second quarter to the end of February. Walgreens has seen sales rise since taking over the UK high street chain last year, with overall sales up 35% to $26.6bn (The Telegraph).