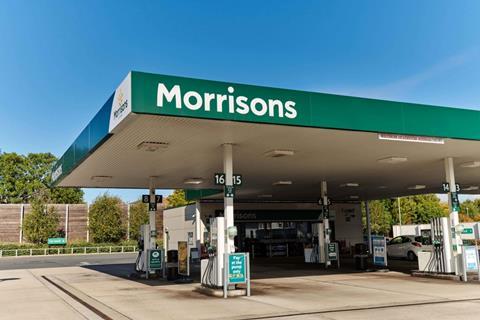 Motor Fuel Group is in talks over a £2bn deal to gobble up Morrisons' petrol forecourts after Britain's biggest independent fuel retailer raked in record profits during the cost of living crisis (The Times £). A deal for CD&R-owned MFG to acquire Morrisons' 340 fuel retail sites could be worth up to £2.5bn and may be agreed during the autumn. (Sky News)
Retail bosses have written to the chancellor calling for a freeze in business rates in the autumn statement to avoid the industry being charged hundreds of millions of pounds in additional tax. (The Times £)
Rising taxes risk "severely undermining" the fight against inflation, a group of more than 40 major British businesses have warned the Chancellor. (Telegraph)
The supermarket price war will intensify this week, with Waitrose set to cut the prices of 250 household staples (The Times £). Waitrose has cut the price of roast dinner staples and other items in the grocer's latest bid to retain cash-strapped customers (Telegraph).
Sharon White looks to reassure partners with John Lewis results. The group, which has made a half-year loss in three of the past four years, normally makes its profits in the second half of the year, so investors will be paying close attention to its outlook for the full year and the Christmas trading period. (The Times £)
John Lewis is set to report another loss this week as new chief executive Nish Kankiwala unveils his first set of results since taking the helm at the struggling retailer. (Daily Mail)
Why John Lewis has a Waitrose problem as the grocer's deteriorating performance risks undermining the Partnership's turnaround plan. When Waitrose workers opened an email from retail director Tina Mitchell last week, few were surprised to find it was about cost cutting. (Telegraph)
High streets risk becoming a "looting ground" for criminals gangs, the boss of John Lewis has warned, as the department store calls for a Royal Commission review into dying town centres. (Telegraph)
Supermarkets have criticised "unnecessary" new rules requiring them to label thousands of products "Not for EU" in post-Brexit regulations brought in by the UK government (The Times £).
The Restaurant Group is finalising a deal to sell the Frankie and Benny's and Chiquito's restaurant chains to the owner of Café Rouge, in the latest concession to activist investors pushing for a shake-up of the struggling casual dining operator (The Financial Times £). The owner of Cafe Rouge is in talks to buy Chiquito's and Frankie and Benny's, two of Britain's best-known restaurant chains (Sky News).
When will the UK reach peak Aldi and Lidl, asks The FT. After two decades of aggressive expansion carrying them to controlling a joint 17.9% of the total UK grocery market, some believe the two chains are reaching saturation point, even if the ongoing cost of living crisis is providing a boost. (The Financial Times £)
As disruptors go, Aldi and Lidl take some beating. The German-owned discounters have come from nowhere to upend British food retailing in a way that not even Amazon – the ultimate category-killer – could imagine, as new research for The Mail on Sunday reveals. (Daily Mail)
The value of one of the hottest start-ups of the pandemic has dropped to less than a quarter of what it was 18 months ago. Getir, the Istanbul-based grocery delivery company, is in talks to raise $500 million in a new funding round led by the Abu Dhabi sovereign wealth fund. (The Times £)
Sharply higher interest rates have dried up the flow of venture capital. Consumers also appeared to have cast aside their inner sloths to fetch their own litre of milk. Companies, particularly lossmaking ones, now have to accept lower valuations to raise new funds, or risk flaming out. (Financial Times £)
Tobacco companies were back in the spotlight last week as the backlash against vaping was reignited by startling statistics. Official figures showed that one in six people aged 16 to 24 use e-cigarettes at least occasionally, up from one in nine in 2021, fuelling fears that vapes are too appealing to young people. (Daily Mail)
The Co-op is using undercover security guards to patrol aisles on the lookout for thieves, as retailers battle a shoplifting epidemic. (Telegraph)
Diageo lost the first round of its legal battle with Sean "Diddy" Combs after a New York court denied the drinks giant's request for the case to be determined through arbitration. (The Times £)
Costa Coffee recalls sandwiches and wraps over fears they may contain 'small stones'. Customers affected by the recall are encouraged to return the listed products to the store with a receipt for a full refund, with Costa Coffee apologising for the concern. (Sky News)
The supermarkets' next big product is your data, writes Helen Thomas in the FT. Personalised online and in-store advertising could prove very profitable for retail chains. "There has long been talk about the opportunity presented by the growth in ecommerce, combined with supermarkets' customer data particularly from loyalty programmes." (Financial Times £)
How British chicken got caught in the country's economic storm. More than most other products, the industry's problems encapsulate not only the fragility of the UK's food systems but the issues plaguing the broader economy: inflation, labour shortages and rising wages. (Financial Times £)
A farmer says she has been "struggling massively" to find seasonal workers for this year's harvests. Others have told the BBC that they are offering customers "pick your own" options to improve their resilience. (BBC)
Lipton's Nathalie Roos: I'll make PG Tips as cool as coffee. She says the lack of attention Unilever had paid to the business provides an opportunity to expand it and make a profit in the process. Not just growing the company, but the tea market generally. (The Times £)
Has the plant-based food revolution lost its sizzle? There has been a boom in the market for plant-based foods and products that mimic meat in recent years. But that boom has hit a blip amid a cost of living crisis and increasing consumer worries about ultra-processed food. (The Guardian)
Amazon and eBay have removed a super-hot tortilla chip linked to the death of an American teenager from sale. The parents of Harris Wolobah believe that the One Chip Challenge caused his death last week. (BBC)