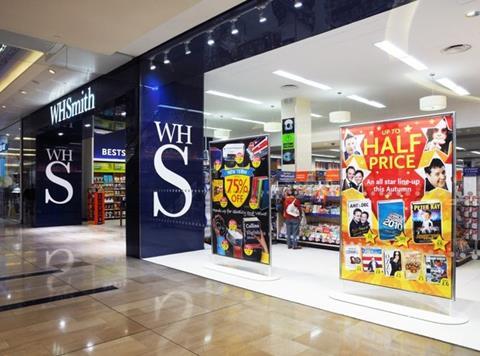 WH Smith raised its interim dividend as continued growth in its "travel" business outweighed a further decline in sales from high street stores (Financial Times £). Revenue for the six months to the end of February was up 8% to £695m, a 1% rise on a like-for-like basis, the retailer said in results released on Thursday. The newsagent and stationer said pre-tax profit dipped by 21% to £65 million even though group revenue jumped (The Times £). The group had booked £16 million of exceptional costs linked to its purchase of In Motion, an American travel rival, and a restructuring programme. Looking ahead, the group said its hospital stores "will have overtaken our rail channel, by revenue, as our second biggest channel this financial year" (Daily Mail).
The boss of WH Smith on Thursday said he will start selling some of the drinks, stationery and chocolate he stockpiled as Britain is now not expected to leave the EU until at least Halloween (Standard).
WH Smith is paying no rent on about 20 of its shops, its boss has revealed, in the latest sign of turmoil on the high street (Telegraph £).
"WH Smith find travel broadens the margin and revenue lines," writes Matthew Vincent in the FT's Lombard column (£). "UK train commuters who are used to a 99p price tag on a 65p packet of Polo mints will be unsurprised by the 40 basis point improvement in WH Smith's travel store margins, and the forecast-beating 7% rise in its half-year travel store profit, to £44m."
Amazon will suffer "multibillion-dollar failures" as it experiments with new products and services, Jeff Bezos, its founder, said yesterday (The Times £). In his annual letter to shareholders, he said Amazon's size meant it had to take larger risks, but he also assured investors that "a single big winning bet can more than cover the cost of many losers".
A war of words erupted between two of the world's biggest retailers after Amazon boss Jeff Bezos threw down the gauntlet to rivals, urging them to match his own pledge to boost wages for rank and file staff (Telegraph £). The battle for retail supremacy has often pitted Amazon and Walmart against one another and on Thursday, the two were back at, gibing over wages and taxes (Financial Times £).
Reckitt Benckiser has been dragged deeper into the Indivior scandal after two of its bosses were accused of making 'fraudulent' claims about opioid addiction drugs (Daily Mail). Current Reckitt chief Rakesh Kapoor and predecessor Bart Becht – two of the highest-paid executives ever at British companies – both made false claims about the safety of Suboxone, according to American prosecutors.
"Food companies have come under pressure as purchasing tastes change and shoppers shun big brands," write Alistair Gray and Richard Henderson for the Financial Times (£). "Wall Street is reassessing whether makers of soap, cereal and ketchup are really so reliable in a period when rapidly changing consumer tastes undermine the value of big consumer brands. "I've been covering this sector for 20 years and I don't remember a slew of profit warnings like this in such a short period of time," said James Edwardes Jones, analyst at RBC Capital Markets in London."
The confectionery giant Mars has bowed to pressure to remove a product that dispenses M&M's in the style of a slot-machine game, after MPs and an academic said it risked normalising gambling for children (The Guardian).
More than 160,000 people are petitioning McDonald's to add a vegetarian protein option to its menu across the US – just as it added the "McVegan" internationally (The Guardian).