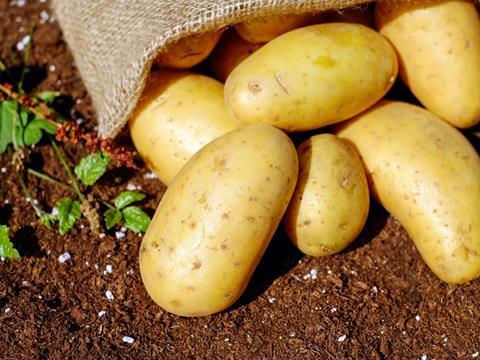 The UK's £1bn potato growing sector has been hit so hard by extreme weather and coronavirus that its largest customer is stepping in with £25m of support to secure its supply chain. Canadian company McCain, which makes frozen chips and other potato products for UK retailers, restaurants and chip shops, will invest £10m this year and another £15m over the next four years to help growers overcome hits to supply and demand, and risks linked to Brexit (The Financial Times £).
Ice cream maker Ben & Jerry's has taken on Home Secretary Priti Patel over moves to stem the surge in migrant Channel crossings. But a Home Office source soon hit back, defending Ms Patel's handling of the crisis, adding if that meant upsetting the social media team "for a brand of overpriced junk food then so be it" (Sky News).
Jobs were lost during lockdown at the fastest pace since the financial crisis a decade ago, official figures show (The Times £).
The UK economy shrank by a fifth in the second quarter of 2020, falling into the deepest recession on record. Official data released on Wednesday showed that gross domestic product fell by 20.4% quarter on quarter, with widespread contractions across all sectors (The Financial Times £).
Rishi Sunak is weighing options to shelve his autumn Budget if Britain is hit by a big second wave of coronavirus (The Financial Times £).
It has emerged that Liz Truss, the international trade secretary, backed away from signing a historic post-Brexit trade deal with Japan last week in support of a British cheese worth 0.007 per cent of total UK exports to the country (The Times £).
People are losing faith in Boris Johnson's ability to deliver game-changing trade deals after Brexit that can create jobs and prosperity, according to internal government research (The Times £).
Diners used the chancellor's meal deal discount 10.5 million times in the first week of the "eat out to help out" scheme as the cost of government job support rose to more than £44bn (The Times £).
Pizza group Domino's UK predicted higher than usual sales this summer as demand has been boosted by the late end to the Premier League and more people taking domestic holidays (The Financial Times £).
The new chief executive of Domino's Pizza Group said yesterday that he was optimistic about repairing the delivery group's relationship with its franchisees, but it was going to take "some time" to achieve (The Times £).
A boom in demand for fancy dinners at home during lockdown has almost doubled the number of households using Hellofresh, prompting the meal-kit business to boost its targets for the year (The Times £).
Sunny weather and the reopening of non-essential shops across most of the UK has fuelled an increase in consumer spending close to pre-pandemic levels, according to data from the BRC and KPMG (The Guardian).
Debenhams is to cut a further 2,500 jobs in its department stores and warehouses in the latest blow to hit the high street (The Guardian).
The department store group, which is in its third insolvency process in two years and last month put itself up for sale, said in a statement on Tuesday that while the 124 stores it has reopened in the UK are "trading ahead of management expectations", it needed to align costs with reality (The Financial Times £).
As shopping centre and high street landlords survey the wreckage left by coronavirus, warehouse owners are facing a different problem: how to deal with record demand. Amazon's sprawling expansion and the pandemic-propelled rise in ecommerce is spurring record take-up (The Financial Times £).
The Trafford Centre, Britain's fourth-biggest shopping mall, is being put up for sale less than two months after its parent company, Intu Properties, collapsed into administration (Sky News).