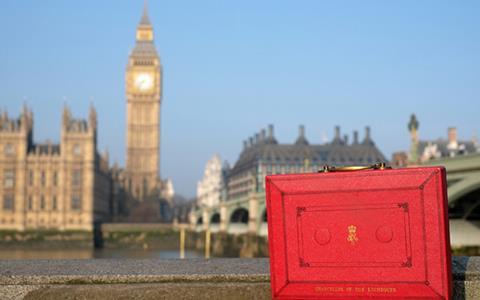 Rishi Sunak turns on taps with £30bn splurge, writes The Guardian. Rishi Sunak's first budget is 'economic shock and awe' (Sky News), Rishi Sunak unleashes biggest spending spree since Norman Lamont (The Telegraph), Rishi Sunak announced the biggest budget giveaway for almost 30 years yesterday (The Times £).
A fresh round of high street bloodletting is expected after major chains, who are closing stores and shedding jobs, were overlooked by emergency business rates cuts (The Guardian). Tens of thousands of England's retail, leisure and hospitality firms will not pay any business rates in the coming year, the chancellor has announced (The BBC).
The chancellor threw a lifeline to the Scotch whisky industry by pledging to lobby the US government to remove "harmful" tariffs as he froze duty on all alcoholic beverages, including spirits, for a year (The Financial Times £). Rishi Sunak has offered a cocktail of measures to boost the spirits of pubs and drinkers affected by coronavirus and economic uncertainty (The BBC).
But big business was hit when the Chancellor confirmed that a planned cut to corporation tax would be scrapped – handing firms a £32billion bill over the next five years. (The Daily Mail)
Britain's economy flatlined in January, according to official figures that dash hopes of a post-election revival (The Times £). The economy flatlined in January as the much-anticipated 'Boris bounce' following the election failed to materialise (The Daily Mail).
Morrisons has cut the price of more than 500 everyday groceries including beef mince, coffee and biscuits as it battles to climb out of a sales slump (The Guardian). Morrisons is slashing the price of more than 500 products. The supermarket chain said it is cutting the cost of hundreds of everyday items in 'the coming weeks' to save customers money. (The Daily Mail)
PepsiCo is seeking to boost its presence in the fast-growing energy drinks category, announcing it will buy Rockstar Energy Beverages for $3.85bn (The Financial Times £). Young people's thirst for energy drinks has prompted Pepsico to agree a $3.85 billion takeover of Rockstar Energy Beverages (The Times £).
Buying a distant number three player is not the obvious way for PepsiCo to get its energy drink buzz. Rockstar, with its distinctive black and gold logo, has less than 6 per cent of the market in the US. The challenges are reflected in the price… Rockstar is a fixer-upper. With a bit of hard work, the purchase could end up being a well-timed bargain. (The Financial Times £)
Shepherd Neame, the Kent brewer and pub operator, said that although it was concerned about the impact of Covid-19, it had "seen no discernible change in customer behaviour". (The Times £)
Sales of no or low alcohol beer are up 30% since 2016, as 18-24 year olds increasingly shun alcohol. (The BBC)