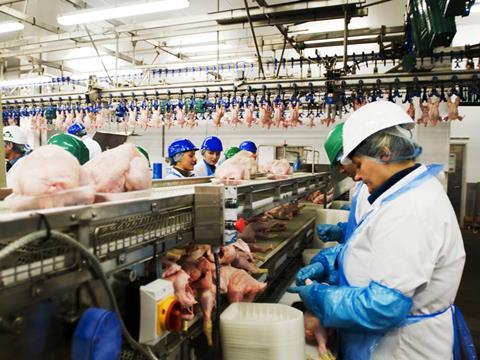 Hundreds of poultry workers in Scotland are to lose their jobs due to the closure of a plant belonging to 2 Sisters Food Group, which has been dogged by a controversy over food standards. On Thursday, the UK's biggest supplier of supermarket chicken said it will shut the Cambuslang factory in South Lanarkshire in August. The site employs about 450 people. (The Guardian)
WH Smith profits slip after colouring craze fades, writes The Times (£). WH Smith was unable to shake off the gloom gripping the high street as it posted a fall in profits, despite a solid performance at its travel business.
WH Smith has raised its half-year dividend despite posting stagnant profits that were propped up by its international expansion (The Telegraph). WH Smith on Thursday posted a stagnant profit with an acceleration in its travel division overshadowed by weakness at its high street stores (The Financial Times £).
Greene King has stuck to its profit guidance, shrugging off any expectations of a downgrade, in what will come as a blow to short-sellers who had been circling the group (The Telegraph). Investors in Greene King breathed a sigh of relief yesterday after fears of another profit alert proved wide of the mark, sending shares of the brewer and pub operator up nearly 14 per cent. (The Times £)
More clouds gather over UK retail, writes The Financial Times (£). A clutch of UK retailers reported weak trading and store closures on Thursday in the latest sign the high street is struggling with rising costs, oversized property estates and downbeat consumer sentiment.
The crisis gripping the High Street looks set to claim another 2,300 jobs as retailers complain of the toughest trading conditions for 25 years. Carpetright is planning to close 92 stores, putting 300 workers at risk, while the remaining 75 Toys R Us shops will shut in the next two weeks with the loss of 2,054 jobs (The Daily Mail), The boss of Carpetright says he is "confident and bullish" about his plans to revive the ailing business after announcing plans to close 92 shops and reduce rents at another 133 through a company voluntary arrangement (The Times £).
Hostess Brands, the maker of Twinkies and Ding Dongs, on Thursday named consumer packaged goods executive Andrew Callahan its new president and chief executive. (The Financial Times £)
McDonald's shares took a few quarter-percentage point poundings in morning trade after local health officials in Kentucky said they are investigating a case of a food handler being infected with hepatitis A. (The Financial Times £)
The boss of online grocer Ocado used £68million worth of shares to cover the cost of his divorce, it has emerged. London Stock Exchange filings reveal that Mr Steiner, 48, used more than 25 million shares as collateral for a loan to fund divorce obligations in November 2016. (The Daily Mail)
France's L'Oréal beat analyst expectations during the first quarter as rising Asian demand for its high-end beauty products drove sales. (The Financial Times £)