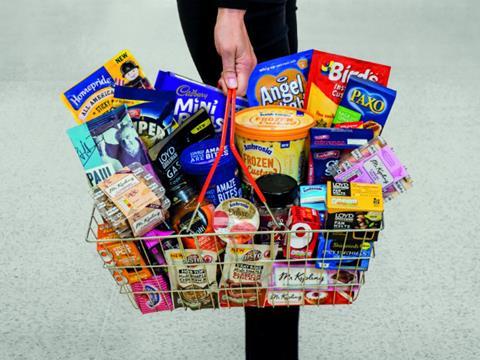 Premier Foods' chief executive Gavin Darby has said he will step down in January after six years at the helm of the maker of Mr Kipling cakes and Bisto gravy (Financial Times £). The heavily indebted company, which fended off an effort by activist investor Oasis this summer to unseat the chief executive, also said it had begun discussions with potential buyers for its Ambrosia custards and rice pudding products. Darby claimed that his departure was not the result of activist investor pressure and said that "the planets had all aligned" as he reached his sixth anniversary at the Mr Kipling cakes and Batchelors soup maker (Telegraph). The company behind brands including Oxo and Angel Delight also revealed it was stockpiling ingredients in order to protect the company against the risk of delays at ports should the UK crash out of the EU next March without a deal (The Guardian, Daily Mail).
"Darby's day of reckoning has been a long time coming," writes Ashley Armstrong in The Telegraph. "Eyebrows were more than raised yesterday when Premier Foods boss Gavin Darby claimed his exit was a result of "the planets aligning". But it's all so exceedingly unbelievable given the ear-bashing he received from investors in July and considering he privately told an investor recently that he was committed to another three years with no plans to leave."
Discounter B&M European Value reported profits in line with expectations in the half-year to September, but said same-store sales growth edged up just 0.9% in a "difficult and uncertain retail environment" (Financial Times £). The company said there was a slowdown in July and August sales because it had sold through much of its gardening and outdoor product categories earlier than normal after the fine weather in May and June (The Times £). The boss of B&M Bargains has said he plans to exploit the torrid retail climate by snapping up shops from retail casualties and the stores that Asda and Sainsbury's will inevitably be forced to sell to gain competition approval for their merger (Telegraph).
Sales at Sainsbury's and Waitrose went into reverse in the last three months to lag behind their supermarket rivals, sparking fears of a tough festive trading period (Telegraph). According to new industry figures, Sainsbury's suffered its first decline since June as sales fell 0.6% to £4.2bn, making it the worst performer of the UK's so-called Big Four supermarkets in the three months to 4 November. Sales at market leader Tesco crept up 0.4%, while Asda posted a 2.6% rise and Morrisons increased by 1.5%. Aldi has had a storming quarter, recording the greatest year-on-year gain in market share by any retailer in almost four years (The Times £).
Sainsbury's and Asda have blamed Aldi and Lidl for the loss of 'billions of pounds' in sales over the past five years as the supermarkets prepare to join forces in a £14bn merger (Daily Mail). The role of discounters, the market in Northern Ireland, petrol retailing and the deliverability of price cuts are set to be the main battlegrounds in the debate over whether the merger of Asda and Sainsbury's should be allowed, according to documents filed with the regulator (Financial Times £). The Competition & Markets Authority, which is scrutinising the proposed combination of the UK's second and third-largest supermarkets, has published a host of responses to the deal on its website over the past few days. The National Farmers Union has warned that its members will feel the impact of any squeeze on suppliers that will result from the merger of Sainsbury's and Asda (The Times £).
John Walden, the former boss of Argos and Homebase, has been appointed the chairman of Holland & Barrett as the health and wellness retailer prepares for a significant digital expansion (The Times £).
Juul's chief executive Kevin Burns has said underage use of ecigarettes has become a "serious" problem as the company pulled sweet flavours of its nicotine liquids from more than 90,000 retailers to comply with an imminent regulatory crackdown (Financial Times £). The San Francisco start-up, which has expanded rapidly since its 2015 launch to control about 70% of the US ecigarette market, laid down a series of actions on Tuesday that analysts estimate could affect about half of its sales.
Smokers who spend time with people who vape are about 20% more likely to try to quit, according to research that allays fears that e-cigarettes will "renormalise" tobacco (The Times £).
Campaigners are calling for a ban on high-calorie milkshakes, some of which contain as many as 39 teaspoons of sugar (The Times £). The Toby Carvery's unicorn freakshake topped a list published by the charity Action on Sugar of sugary milkshakes served at restaurants and fast-food outlets in the UK. One serving contains 1,280 calories.
Amazon is to open headquarters in New York city and Virginia, ending a year-long contest to house the world's largest online retailer (The Times £). The company will invest $5 billion across the two campuses that will each accommodate more than 25,000 employees. The two areas had been whittled down from a long-list of 283 cities.
The chief executive of Flipkart, the Walmart-controlled Indian ecommerce company, has stepped down following an allegation of sexual misconduct and a finding of what Walmart called a "lack of transparency" in how he responded to the claim (Financial Times £).
Starbucks will lay off about 350 corporate employees as part of a broader restructuring plan, according to a memo chief executive Kevin Johnson sent to employees on Tuesday (Financial Times).
Tyson Foods, one of the biggest food producers in the world, said it will raise prices across its business segments in an effort to claw back higher costs associated with tariffs, freight and labour (Financial Times £).
Coca-Cola has scaled back its UK Christmas truck tour after opposition from local authorities and fresh demands from health bodies for it to stop handing out free sugary drinks (The Guardian). Usually the tour, which first ran in 1995, is hosted by councils, shopping centres and other landowners as part of their Christmas festivities. This year more than a third fewer visits are planned than last time.
John Lewis has blamed mild weather and tough price cuts elsewhere on the high street for a dramatic slump in clothing and homeware sales (The Guardian). The retailer's overall sales fell more than 8% last week but the picture in its clothing and homeware departments was worse, down more than 11%.
US salad-and-bowl restaurant chain Sweetgreen announced a $200m financing round led by Fidelity Investments that values the company at more than $1bn (Financial Times £).