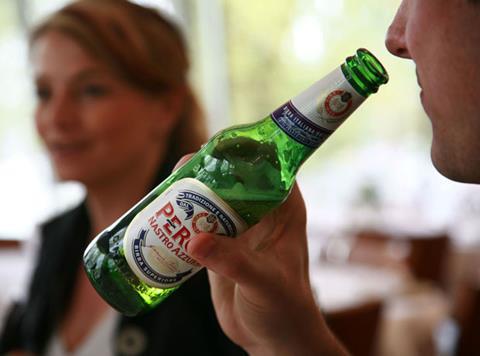 The papers are lining up with their takes on the creation of 'Megabrew' after AB InBev agreed terms on a deal to buy rival SABMiller.
"Thousands fear for jobs" writes The Times (£), which writes that AB InBev is "renowned for cost-cutting and analysts said that shrinking SABMiller's 69,000-strong workforce — it employs 750 people in the UK — would be central to extracting estimated synergies of as much as $2bn." The Times (£) also speculates the deal could kick off a fresh round of consolidation for the gloabel brewers as the new company is forced to shed brands, while The Times (£) also hails SAB's "Ice-cold" chairman Jan du Plessis forced suitor to up the ante five times.
The Financial Times (£) has a mini-profile of "unflappable" AB InBev chief exec Carlos Brito, while the paper also says the deal is vindication of the UK's new takeover system (The Financial Times £).
The FT's Lex column analyses the deal, noting: "What did they mean by "very substantial"? Four per cent, as it turns out." It concludes: "There is plenty of regulatory toing and froing to be done before anyone needs to pick their form of payment. Plenty of time to sit back and watch the proceedings with a cold Budweiser." (The Financial Times £)
The Telegraph takes its readers step-by-step through the "fraught final negotiations that sealed the £68bn takeover", while the paper also saysit was "desperation to unlock African growth" that fuelled the mega-merger (The Telegraph).
The Guardian says the deal "leaves a bad taste in the mouth for many", arguing SABMiller has "rolled over" in face of £44-a-share offer and the creation of Megabrew doesn't benefit its staff or customers.
The Daily Mail warns the deal could see beer prices in the UK rise by as much as 10p, while the paper also notes SABMiller can drown its sorrows with £2bn compensation if £68bn brewery takeover goes flat. (The Daily Mail)
Away from the brewers, there is plenty of coverage of Sainsbury's retail and operations director Roger Burnley is moving to rival Asda to become its chief operating officer (see The Grocer story here – The Times £, The Telegraph, The Guardian). The Telegraph says the move "annoints another succesor" to Asda CEO Andy Clarke.
The UK is in need of new taxation ideas, writes the FT. Business rates are not the cause of the pressure on retailers but they are ripe for reform. (The Fiancial Times £)